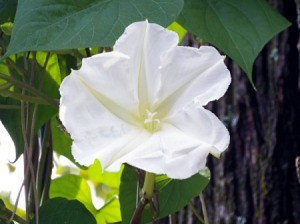 A lot of us are proud of our moonflower vines. We like to take pictures of them in bloom. With the blooms opening at night, we aren't always able to get the picture we would like. Some cameras take better night pictures than others. Even so, the more natural light available, the better.
Since we know the flowers open at night, I think a lot of us wait inside til after dark, then go out to take pictures. This might not be the best thing to do. Many moonflowers will open at the beginning of dusk, a time when natural light is excellent for picture taking.
If you are an early riser, you may find the overnight blooms still open before sunrise. Bright dawn light, but no direct sunlight, is another excellent lighting situation for taking pictures.
The picture here was taken in late afternoon, around 4:30, when the sun was still very strong. To my advantage, this particular bloom was on the shaded side of the tree. That slightly lower light level, compared to the surrounding light, was enough to trigger the bloom to open.