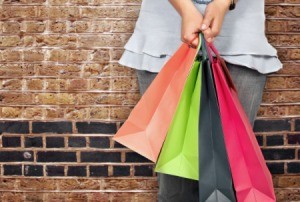 Like every teen, I wanted the latest clothing trends plus all the other things teens think they can't live without. At 16, my parents put me on a monthly "clothing allowance", which was seemingly quite generous until I learned what all I had to pay for out of this.
My first shopping trip and I came home empty handed. I could buy that item or I could hang on to my money. After a few days, I realized the item didn't mean all that much to me. As the months passed, my values began to swing in a different direction. I'd become quite proficient in handling money and had learned to be frugal. My parents had made it clear that I was not to ask for more money as it wouldn't be forthcoming. What better life lesson could a parent give a child?
By joan from NW ON
Comments
April 12, 2018
0

found this helpful
Top Comment
This is just great to read! Thank you for your passion about helping kids with financial skills. When I was younger, I didnt have anyone to teach me financial stuff. The book that helped me was, Rich Dad Poor Dad. This is also a good site: www.Preparemykid.com
Kelly Ann Butterbaugh
1

found this helpful
For the budget conscious teenager there are ways to save costs and still enjoy the perks of being a teenager. While limitations on frivolous activities are an obvious answer, there are ways to enjoy some of those frivolities while saving some pennies.
Music Selection
Music is important, and so is having the newest hit. However, opt for a download of one or two favorite songs instead of buying the entire CD. Often download packages can be purchased which allow a person to pick and choose the best songs. However, do some planning. Listen to the samplers online and see how many songs on the CD appeal to you. If you like five songs, it pays to buy the CD. If you only like two or three, download them.
Similarly, shop around before buying a CD. Don't buy the CD (or movies!) the week that it's released; prices are highest. Be patient and wait two or three weeks. The price will drop by $5 once it's not a "new release." Then, check if online prices offer free shipping for combined purchases. Compare this to store prices and choose the best deal offered.
Cell Phones
Cell phones are possibly the biggest budget breaker. Simply said, monitor your usage. If your plan allows you 1,000 minutes, don't use more than that. Text messages add up quickly as well, and the more you make them a habit the more friends will text you, costing you money each time. This is your chance to learn a valuable budgeting lesson which will be used the rest of your life. If that's too much to do, consider a pay ahead plan that limits your usage for you.
Need the coolest case for your phone? Changing cases to the stylish, yet expensive, cases available at the mall actually voids any warranty or service plan on your phone. So, even if you've found the dirt cheap cases on-line avoid cracking open your phone to keep it stylish. Instead, check for phone tattoos (available at Cingular stores among others.) These are similar to stickers except they leave no sticky residue when they're removed. With a computer and a printer you can create custom skins for your phone, and change them on a whim. Four skins are available for $10, half the price of a designer case.
Fashion Cents
It sounds undesirable, but get past the initial thought of second hand shops and see what they offer. Designer duds are too costly, but some people can afford to purchase the newest styles and replace them on a regular basis. What do these people do with their clothes once the fashion of the month is over? They sell them to consignment shops. No one will know where from where the outfit came if you don't tell them.
Another current fashion trend is the independent retro look. This look can only be gotten from thrift store finds. Think of it - be the most fashionable person in class AND have the most money in your pocket!
Comments
May 16, 2007
0

found this helpful
Top Comment
A part-time job at a store gets you at least a 10% discount on almost everything they sell, and you learn about the merchandise - what sells, what gets returned, what isn't worth your hard-earned money.
By Ashley (Guest Post)
August 29, 2008
0

found this helpful
Top Comment
I do babysitting. I made a notebook filled with things (mag clipping)s of what i admire & want So I put $20 -$30 bucks every time I get paid or if you cant afford that much put $1.00 a day away I glued and stapled an envelope to my book.
I write down how much I put it and the date. I am trying to reach $500 in just a few weeks. Good luck.
Do you know how a young teen can save money? They always want to spend, spend, spend, but she wants to save now!
By Sally Time from FL
Answers
December 2, 2010
0

found this helpful
Best Answer
Open a savings account for her at the bank.
Do the old envelope system which is putting amounts of cash in each envelope labeled for a certain bill or goal. Distribute to that cause and it's best to have some cash less than what's in the envelope(s) to spend as mad money for starters. It takes a very disciplined and determined teen to begin saving all of it right away.
December 2, 2010
0

found this helpful
Best Answer
One simple way would be to encourage her to save her spare change in a jar. Anytime she has a dollar or so, stick it in the pot. She'd probably be amazed at how much is in there after a few months!
Answer

this Question

...
September 4, 2007
0

found this helpful
My daughter was complaining that she did not know how she was going to teach my grandson how to save money. He likes to spend his alloted amount each week and then ask for more. His Grandpa's suggestion was to take a five gallon water jug and start putting his change in it at the end of every day.
Joshua has become very proud of his savings in the bottle, he can actually see the amount grow each week. Now, every time we go to visit, Joshua will ask if Grandpa has any change in his pocket to add to his savings bottle.
Once the jar is filled he will also have fun rolling the money to take to the bank. Do not use the machines at the grocery stores to roll your change, as they end up costing you about 7% of what you have rolled. That is, of course, unless you have an account at an institution like Commerce Bank, which offers the service gratis - a rare commodity these days in banking.
By Bobbie G from Rockwall, TX