Teaching a Puppy Not to Jump or Bite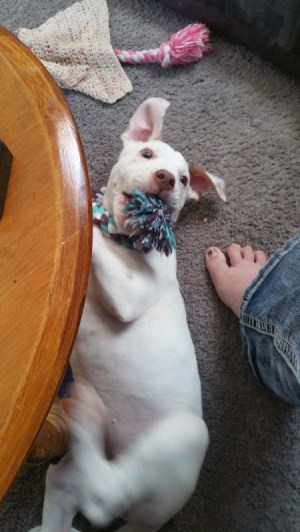 So I have a 5 month old Pit Bull and I'm trying to figure out some other ways to get her to stop chewing on hands and jumping on people when she greets them. After she has greeted someone she doesn't seem to jump on them anymore. I've tried few things when she tries to chew on hands that my trainer told me to do (i.e. if she's chewing on a hand to push it into her mouth more and saying ouch (which will work for few minutes and then she's right back at it). I did learn that she doesn't like hot sauce, but who really wants to have that on their hands all the time.
Add your voice! Click below to answer. ThriftyFun is powered by your wisdom!
May 5, 2016
0

found this helpful
LOL, yeah, hot sauce on your hands 24/7. Basically, when a dog bites, you've probably been told this: never pull back your hand. That makes it a game of "keepaway hand" and the dog will only want to bite more or worse, clamp down and hang on.
Here's something you can try. Grab her butt or thigh with your other hand just hard enough to distract her attention. Then say "HEY!" or something like that. You want her looking at you. She has to pay attention to you to be trained. As soon as she looks at you, stick a chew toy in her mouth in place of the hand. You'll pretty much have to have these with you or within arm's reach.
You'll have to teach her "down" as well. Grab her butt to get her attention to you, then say "DOWN!" and point down. Make sure you're using a very firm voice and standing straight upright. If you really mean it she should sense what you mean and do it.
Dogs are domesticated animals and used to taking cues from humans that are much subtler than this. But your dog is a puppy and just needs to be trained to look at you to see how you're reacting to what she's doing and respond to you.
Add your voice! Click below to answer. ThriftyFun is powered by your wisdom!
Related Content