Diana
Bronze Tip Medal for All Time! 51 Tips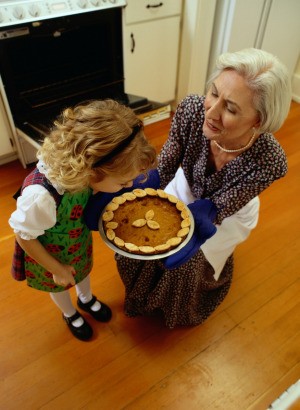 After the meal has been eaten and the last of the leftovers stowed in the fridge, we host a Thanksgiving Scavenger Hunt. It helps us burn off some calories and keeps the kids occupied for 20 minutes or so. You could also do it before the meal.
We divide all the kids up into groups (an assortment of ages and talent) and provide a prepared list of items for them to find. The team that collects the most items in the shortest amount of time wins a prize (usually candy or some Thanksgiving trinket). We always try to include some easy and unusual items and allow the teams to get creative in their interpretation of the list, which make it more fun!
Here are some items we've placed on the list in years past:
Corn: cans of corn, Indian corn or a page town out of a coloring book have all been received in the past, as has a corn cob pipe!). Potato: the neighbors are used to us knocking on their doors by now, haha! Nuts, leaves (specify variety, color or number), twigs (shaped like letters of the alphabet, specific length, etc), sand (we live by the river), a photo of (you name it), we like to have the team standing by a specific "landmark", etc.(good use for the teenagers cell phones), mushroom, acorn, feather, pumpkin (again canned works!), piece of litter, things that can be found in a guy's pocket or a ladies purse (chapstick, bobbypin, receipt), coin dated 2009 or a specific state quarter, etc.
My favorite is putting a turkey on the list and having their team select grandpa to fulfill their requirement! Make it specific to your neighborhood or yard.
Everyone has a good time and it is always good for a laugh! After the winner has been determined, enjoy your pie. Be sure to take a lot of pictures! This has become a tradition for our family!
By Diana from Prospect, KY
Read More

Comments