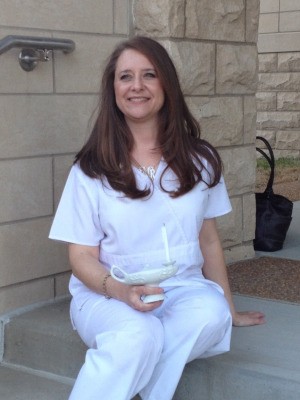 My oldest daughter Angela had lost her home in a horrific fire a few years ago. She picked up the pieces of her life as a wife, mother and an employee of a local insurance company. She rebuilt their lives through organization through her paperwork regarding the fire, insurance claims for the losses that occurred which included the contents of their home, animals, vehicles, etc. She coordinated the demolition of the burned out home and other details regarding the rebuilding of their home life without a home. They lived in a motel room that was small for three people but she created it a "home" for them.
In the meantime, she found a home to purchase and bought that home and began to furnish it with the insurance compensation monies. She shopped frugally to furnish their new home and used her crafting skills to decorate it. She was downsized to unemployment in her job and made the decision to return to college and pursued a nursing career. She was consistent in her studies, frustrated at times, but she had set a goal to be a Registered Nurse.
She befriended some of her fellow nursing students to have study sessions, used all the resources of the nursing program to enable her to succeed and, in May 2017, she recited her Florence Nightingale Pledge in a beautiful, inspirational Nurses Pinning Ceremony. I presented her my high school graduation charm bracelet (I removed my charms from the bracelet). At the time she came out of the room where she was dressing for the Nurses Pinning Program, I presented the Bracelet to her by placing it on her wrist. My sister had presented that bracelet to me because my mother had died three days before I graduated from high school so to pass the legacy of my mother, the Bracelet was presented to her namesake.
My daughter Angela will place the bracelet on the wrist of her daughter when she graduates college, then pass it down to my other granddaughters at the time of their graduation to wear in memory of their grandmother. My daughter Angela will keep the bracelet as a family heirloom. The bracelet is on her wrist she is holding her nurse's oil lamp.