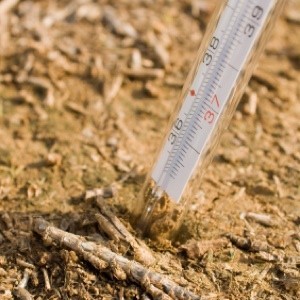 Gardeners can't always rely solely on the calendar to tell them when it's time to plant, especially when it comes to measuring the temperature of the soil. Plants that are started in cold soils may grow slowly, develop poorly, or succumb to disease-IF they ever get off the ground at all! Here's what you need to know about soil temperature and the adverse affects that too-cool soils can have on your plants.
How Soil Temperature Affects Germination and Growth
Life is fragile, so seeds are fussy. They are happy to put forth the extraordinary effort needed to produce a plant, providing of course, that the conditions are just right. Soil temperature, light, and moisture all work together to trigger seed germination. When the soil is cold, the seed may not germinate in the ground. If it does, it may be weak and lack the strength and vigor needed to develop properly, and may be at greater risk of succumbing to pests and disease.
Heat is the catalyst for many biological processes. When soil temperatures are low (and biological processes slow), certain nutrients are made unavailable or less available to plants. This is particularly true in the case of phosphorus, which is largely responsible for promoting the development of roots and fruit in plants. So, no heat = less nutrients = poor growth.
How Warm is Warm Enough?
The answer to this depends on what type of seeds you are trying to germinate and/or what type of plants you are trying to grow. Most cool season vegetable crops will germinate when soil temperatures reach the mid-40's to mid 50's. They grow best when in daytime air temperatures of between 60-80 degrees F. Warm season vegetables crops prefer soil temperatures in the mid 50's to mid 60's for germination and need summer-like air temperatures (70-95 degrees F) to achieve optimal growth.
Many extension agencies websites and gardening books include charts listing both the minimum and optimum temperature ranges for vegetable seed germination and growth. Here is an example from the Alabama Cooperative Extension System: www.aces.edu
Flower seeds have soil temperature preferences, too. Check the back of seed packets for specific instructions.
Using a Soil Thermometer
An easy way to take the guesswork out of calculating soil temperatures is to use a soil thermometer. From the low-tech dial probes to thermometers with high-tech digital read-outs and automatic shut-off features, most hardware stores and garden centers carry them. Probe thermometers are designed to fit easily into your shirt pocket and are inexpensive ($7-$10). These will work just fine for most gardeners. Keep in mind that some thermometers do not give readings past 140 degrees F, so if you want a thermometer that will also read the temperature of your compost pile, look for one with a range that exceeds 160 degrees F.
To take a reading, simply insert the probe into the soil to the appropriate depth--2 inches for small seeds and early season crops, and 4 inches for warm season vegetables like tomatoes. Leave it there for at least 5 minutes before checking the results. Readings should be taken over a period of days, in different locations throughout the garden. Use a journal to record how the temperatures fluctuate daily and which part of your garden warms up first. This will help you when its time to plan next year's garden. Once the temperatures stay at the desired level for 3 days in a row, it is safe to plant.
Working With Mother Nature
Mother Natures takes her own sweet time to warm up soil temperatures in the spring. To speed up the process and avoid problems, gardeners can do several things:
If your winter has been unusually long and cold, frost pockets may be deep and the soil slow to warm up. You can speed up the process by raising the temperature artificially. This can be done by applying plastic sheeting or commercially made row covers to the soil.
Start your seedlings indoors. Many (although not all) vegetable seeds can be started easily indoors. This allows you to control light, moisture, air and soil temperature until conditions in the garden are right for transplanting.
Amend your soil. Soils that drain well warm up earlier in the spring. Heavy soils like clay can be amended over time by adding organic matter on regular basis.
If all else fails, simply wait. Eventually, Mother Nature will work her magic. She may dip into your growing season a bit before your soil reaches the optimum temperature, but if you wait long enough, it will happen.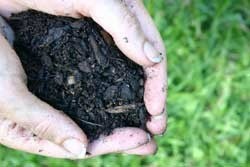 Many vegetables, like tomatoes, beans, squash and peppers need soil temperatures to reach nearly 70ºF before their growth can really take off. By solarizing your soil a month before you set out your warm-weather vegetables, you can fast forward your garden calendar and speed up your harvest by as much as two weeks!
The Benefits of Solarization
Solarizing your soil accomplishes two things. First of all, it increases the temperature of your soil so plants can get off to a faster start. The faster your plants mature, the earlier you can harvest them. Even on cloudy days the sun still works some magic, but on clear, sunny days the sun can raise the air under the plastic to a blistering 160ºF. This is enough to warm the top layer of soil to a depth of 6 to 8 inches (a perfect depth for the roots of young plants). During solarization, the high temperatures also kill the seeds and roots of any weeds residing in the upper layers of the soil, as well as harmful microorganisms.
Prepare the Soil
To prepare your soil for solarization, start by gently turning over the soil in the area you will be planting. Do this about a month before you normally set out your warm-weather vegetables. You don't need to dig deep, just down far enough to remove any surface weeds and leftover plant debris from last fall. Go over the area with a rake to smooth it out and if the exposed soil is dry, give it a thorough watering. If you have a soaker hose, plan on snaking it through the area before you cover it with plastic. This way you can water the area again in two weeks and speed up the process even more.
Cover the Soil
After preparing the soil, lay the plastic down over the area you want to preheat. Cover the edges of the plastic with a little soil to weigh it down and keep cold air from seeping in. To keep the plastic tight, place rocks or small stakes around the perimeter or try tucking the edges of the plastic into the soil.
Wait, Then Plant
After about four weeks your soil should be sufficiently warm to start some warm weather crops like beans, squash, tomatoes, peppers, and eggplants. You can either remove the plastic or leave it on and cut holes or slits in it for planting. Let the soil dry a bit until it reaches the right consistency for planting.
When planting, try to keep your holes and furrows fairly shallow so you disturb the soil as little as possible. Only the weeds and weed seeds in the upper layer of soil have been solarized, so you want to avoid bringing any new seeds to the surface.
If you decide to leave the plastic on, make sure you protect your plants from the sun by covering the entire area (including the plastic) with 3-4 inches of mulch after planting. If you don't, the plastic will continue to heat up and overheat, or worse, kill off your young plants. You'll also need to create slits in the plastic for watering. The plastic will help keep moisture in, but it also prevents moisture from evaporating so be careful not to overwater.
Color Matters
Most farm and garden stores carry plastic tarps and sheeting in a wide range of sizes and prices. If you only have a small area to cover, you can also try cutting up heavy-duty lawn size trash bags or the plastic drop cloths used for painting. Plastic tarps and sheeting also come in an array of colors including clear, black, white and red. The color you choose can have an effect on your results.
Clear Plastic: It allows solar radiation in, but doesn't let it back out. For simple heating, a clear plastic is the best.
White and Red Plastic: These two colors don't heat the soil as well as clear plastic, but they reflect light back onto plant leaves, which encourages new growth. Tomatoes are said to be especially fond of red plastic, while potatoes are said to prefer white.
Black Plastic: Black (or other dark colors) is the best choice if you want to heat your soil and kill weeds at the same time. Black will prevent any light from reaching the soil. When combined with heat, black is the most lethal combination for weeds.
By preheating your soil, you'll be able to harvest some of your warm weather crops up to two weeks earlier than usual. Combine solarization with early producing varieties and get ready for your earliest harvest ever!