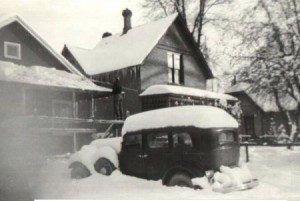 Keepsakers in my Chitwood line: Camden County Missouri/Durango, Colorado Chitwoods
As I realize with some surprise that spring is here, I also realize that now is the time for deep spring cleaning. Deep spring cleaning is something I have seldom done. Oh, I rearrange things, clean under the furniture as I realize the dreaded dust bunnies have reproduced, you know, that sort of cleaning. But today as I was deciding which never worn clothing to give away, which clutter should be part of my clutter no more, which school things to finally part with after six years in retirement, which vacation pictures I should sort and keep or toss, which art should find a new home, all of these things, then I realized once again that I have that Chitwood gene, the keepsaker gene.
As I walk through our tiny Chitwood house, the one that was built the year I was born, I am amazed to see that there are common little things that have remained the same since the day we moved in. My childhood nightlight, a simple orange single bulb glow, though used almost every night for 70 years, has never needed to be replaced. The stopper in our bathtub, hard rubber, still keeps water in our cast iron tub. The lock on our back door probably predates the house by fifty years, but it still locks our back door every night. The porcelain kitchen sink still bears the many intertwining hairline crack marks left over from burning letters, an unfortunate circumstance that gave our lives a tumble a couple of lifetimes ago. The metal stoppers in those sinks are still the same ones we have always used. The strong wooden front door with three staggered windows is the same one that appears in 70 years of growing up photos for four generations of children. The kitchen table that was ancient when I was a child, the kitchen table that had massive legs was meant to be transformed into a rocking crib for a new baby, but that magnificent crib never transpired so the tables comforting presence is still part of the kitchen memories in our smallish kitchen and the baby for which the crib would have been fashioned is now a grandpa himself. The cupboards simple, not stylish were made by my mother, Tillie Chitwood's brother after the war and have never been updated. Simply varnished back then, still the same varnish today, no not even repainted. The pie cupboard on the back porch is the same one my father, Bud Chitwood lovingly spent hours repairing for my mother. It holds all kinds of household repair necessities at this stage of its life instead of the homemade pies, jellies, jams and relishes that it once held; pies and relishes made from Grandma Daisy's garden out back, and then followed by Tillie Chitwood's preserves in later years.
A couple of years ago, we decided to replace old mattresses just because we never had purchased new ones. To our surprise and to the utter astonishment of the new mattress crew who removed them, those old mattresses along with their springs in the Chitwood home had tags from 1926. Pretty comfortable all in all for so many years, dust mite people would be aghast but there was no scientific evidence about dust mites or purchasing new beds every six years back then. My father, Bud Chitwood, had placed a piece of plywood under each mattress in 1960 or so, sheets were changed once a week and mattresses were dutifully turned every few months. 1926 would be the year my grandparents moved to town from the ranch up the Animas Valley so it makes sense that they splurged on new beds. The old mantle clock from the Chitwood ranch still keeps perfect time, though the ranch, all 160 acres of it, third homestead up the Animas Valley in 1876, did not last three generations. The telephone landline which has remained the same all my life has not been replaced by a smartphone our phone number is still the same one I have had all my life.
Yes, we are keepsakers, we Durango Chitwoods, keepsaking is as much a part of some of us as the Chitwood name, from bathtub plugs to nightlights to telephone numbers. We still are retaining the old and searching for missing pieces of our past to present to the future. We are the keepsakers, the can't tossers who keep our own research energy alive.