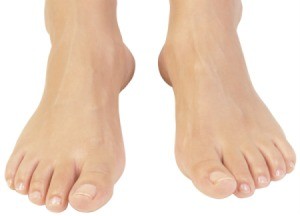 On my feet the toes and top of the foot are red, and I mean RED! I do not know what is causing this. One of my doctors thought it was caused by a medicine - but that did not turn out to be correct. This has been like this for about a year. How do I wear sandals with my feet all red!
Any help?
Penny from Pittsburgh, PA
Answers

June 3, 2007
1

found this helpful
Best Answer
I'm not a doctor but here are some thoughts. Several things come to mind. One is that you have an allergy that can be caused by your laundry detergent, or your fabric softener or even your shower soap or shampoo. Residue can be left on and act as an irritant. When your feet get hot and sweaty, the allergy gets worse. The second is that you have some kind of fungus that is triggered by heat and moisture, the kind of conditions that occur when you get hot and sweaty and stay in shoes for long periods of time. The next is that there is a friction irritation from staying barefoot in shoes for extended periods of time. I get that when I go without socks and stay in shoes, but it usually resolves fairly quickly.
Since you didn't mention if you have itching or just redness, it really is hard to tell. My best advice is that if your doctor is having trouble identifying what is wrong, see a dermatologist. If you have poor circulation in your legs or swelling especially in the summer, it is best to let a professional deal with it rather than trying to get home remedies for a condition that may get worse. Good luck getting rid of it. (My husband once had a case of poison ivy start like that on his feet. His doctor misdiagnosed that but it soon became painfully aware what it was) Best of luck to you.
By Kim Ch (Guest Post)
June 5, 2007
0

found this helpful
Did you get a red pair of shoes wet? red socks? Friction between nylons and tight shoes?
By (Guest Post)
June 5, 2007
0

found this helpful
Go to another doctor-maybe a dermatologist.
By Ann (Guest Post)
June 6, 2007
0

found this helpful
Mine was caused by an egg allergy.
Read More

Answers