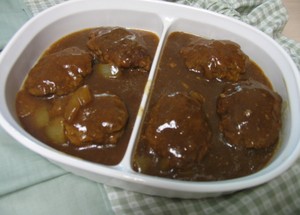 Salisbury Steak
Ingredients:
1 - 1 1/2 lbs. Lean Ground Beef
1/3 cup Bread Crumbs or Cracker Crumbs
1/4 tsp. Salt
1/2 tsp. Pepper
1 Egg
Small Onion Sliced (I use half) (Optional)
1 Can Condensed Beef Broth
1 - 4 oz. Can Sliced Mushrooms (Drained)
2 Tbsp. Cornstarch
2 Tbsp. Water
1 - Packet Brown Gravy Mix (prepared) or 1 - Jar/Can Brown Gravy
Directions:
Mix First 5 ingredients together and shape into ovals about 3/4 inches thick. Cook patties in a skillet turning once until brown. Add onion mushroom and beef broth heat to boiling. Reduce heat cover and simmer for 10 minutes. Remove patties to a casserole dish and keep warm. Heat mixture until boiling.
Mix water and cornstarch together to make a paste. Add to boiling mixture with a wire whisk and whisk until gravy begins to thicken. I don't think the gravy is hearty enough for me so I also add 1 packet of brown or mushroom gravy prepared according to package directions and add to the beef broth gravy. I then pour the gravy over the patties in the casserole dish and bake at 350 degrees F until bubbly.
Serve with rice, mashed potatoes or noodles.
Source: This recipe is from my personal recipe collection and my recipe website called Mommys Kitchen - http://tinamommyx3.blogspot.com/.
By Tina from Mesquite, TX
Editor's Note: Tina's site has nice step by step instructions with pictures for her recipes.
Answers:
Tina's Salisbury Steak
Thanks for the recipe. I checked out yur blog and you have some yummy recipes on there. I have bookmarked you so I can swing by one day when I have more time.
http://www.savingspotpourri.blogspot.com/ (10/06/2008)

Tina's Salisbury Steak
A good sounding recipe I'm anxious to try. I checked out your web site and was very impressed. Good links too.
I'll be spending a lot of time there. Thanks (10/07/2008)

By ThriftyUser