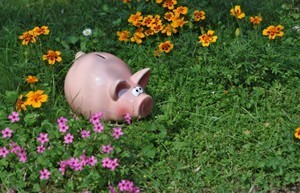 A beautiful flower garden doesn't have to cost a fortune. The secret is finding ways to get the best value for your investment. For gardeners on a tight budget, here are 10 great tips for stretching your flower gardening dollar.
1. Avoid The "Instant Garden" Mentality
A garden is a work in progress, and one that is never quite finished. Smaller plants come at smaller prices. This especially true of perennial flowers, trees, and shrubs. Buying small plants will cost you a little more in the way of patience, but after a few years, small plants will catch up to their more mature (and more expensive) nursery mates. In the meantime, you'll be able to buy twice as many with the money you've saved.
2. Divide And Trade
This is the cheapest and easiest way to increase your garden stock and the most fun! Spring is the perfect time to divide many perennials, and gardeners who have been gardening for awhile usually find themselves with extra plants to spare. Acquiring plants from family, friends, co-workers and neighbors also adds meaning to your garden, and for nothing more than the cost of digging. If you don't know anyone with extra plants, keep an eye out for local gardens that catch your eye. Pay those gardeners a compliment by asking them if they have extra plants they would be willing to share. If they agree, a pair of pretty gardening gloves or a batch of your homemade jam are nice ways to show your appreciation.
3. Minimize Your Losses
You can save yourself a lot money (and a lot of potential heartache) for the cost of a little preparation and planning. Invest in a $15 soil test you will avoid wasting a lot of money (and time) on fertilizers and soil amendments you don't need. Stick with plants that are suitable to your USDA hardiness zone, and avoid pushing plants not adapted for certain environments. Example: planting full sun plants in partial shade.
4. Start Your Own Seeds
Seed packets are cheap and usually contain the potential for 50 or more plants. The cost of most seed-sowing equipment (flats, grow lights) is also usually a one-time investment that can pay for itself after the first season. As an alternative to buying seeds, ask friends and neighbors to save you seeds from their gardens.
5. Buy Multi-Packs Or Flats
Save money by purchasing plants in bulk. Take a friend or neighbor shopping with your and divvy-up the flats so you each walk away with a variety of beautiful plants.
6. Shop End-Of-Season Sales
You can save big money on perennials by shopping the end-of-season sales at garden centers and nurseries. Don't wait for fall to start scouring for these bargains. Many smaller greenhouses and roadside stands close up shop soon after the volume of spring shoppers start to dwindle. In some parts of the country, this can be as early as mid-summer.
7. Deadhead
It's free, it prolongs the life of your flowers by encouraging more blooms, and it's very relaxing!
8. Buy Self-Sowing Annuals/Biennials
It's been said that "perennials are an investment and annuals are an expense." This certainly isn't the case for self-sowing annuals and biennials. Many cottage-style flowers (e.g. bachelor buttons, cosmos, poppies, snapdragons, hollyhocks, etc.) are wonderful self-sowing plants. As long as you provide the right conditions, they are sure to find a way to pop up year after year in your garden.
9. Shop Gardening Club Fundraisers And Plant Sales
Many garden clubs and botanical gardens have annual plant sales. Look for announcements at coffee shops, grocery stores, or search the Internet for events in your area. Beyond the cost advantages, you'll often find excellent and unusual specimens that are dependable performers in your area, all at very reasonable prices.
Tip: These sales sell out fast. Get there early and prepare to hustle!
10. Get Educated! Knowledge Is Power
Take classes, read books and magazines, watch gardening television shows, attend local gardening days! Nurseries and county extension agencies routinely offer free (or low cost) classes to area gardeners throughout the year. This is a great way to meet others who share your passion for gardening and gives you the opportunity to learn from the experiences of others.
Comments

Judi
Bronze Feedback Medal for All Time! 239 Feedbacks
May 22, 2009
1

found this helpful
Thanks for the info! Another thing thatI've learned the hard way is to plant natives rather than what's pushed by the nursery and those things you "can't live without". If they can't survive in your area you'll do without anyway when they die.

Allison
Bronze Feedback Medal for All Time! 231 Feedbacks
May 28, 2009
0

found this helpful
Also, find out which plants grow quickly and buy lots of those. Lamium, some geraniums (perennials), and brunnera spread fast and self seed. I'm also big on fragrance, as a little can go a long way toward making your garden seem complete as you build it.
www.oldhouseweb.com/.../816.shtml