Making a Flower Bed
Solutions
Share on ThriftyFunThis page contains the following solutions. Have something to add? Please share your solution!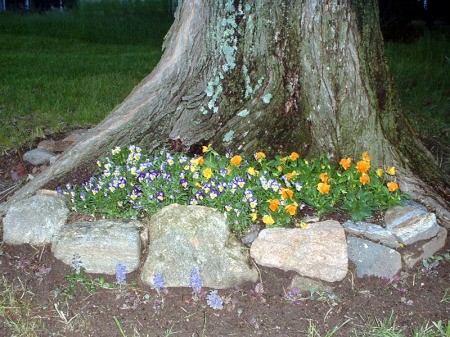 Photo Description
It was getting dark when I took this picture. The strange arrangement of colors is due to the fact that the flowers weren't labeled and not in bloom when I bought them. At the base of the rocks are some newly planted Ajuga reptans. They will soon spread and cover the bare ground.
What is interesting here can't be seen in the picture. The Ajuga was a gift. The Pansies and Viola were on clearance last Fall for 10 cents per six cell pack. It's not the prettiest little niche garden, but when I consider it cost less than a dollar; I appreciate that I can be thrifty.
Most of all, I appreciate Mother Nature.
Photo Location
Tarheel State (North Carolina)
Even if you don't have garden space you can get a few homegrown foods by adding a few choice vegetable plants to the scheme of your flower bed. Just pick your favorite veggies in unusual varieties. Good greens are lettuce, mustard, turnips, spinach, kale - curly or flat, come in all shades of green, red, purple, yellow and black.
You can get cabbages in purple, red, bluish, as well as green. If you get the winter decorative cabbages they even come in pink!- and they're still edible. You can grow beans as a great vine with flowers that are purple or red.
There is a super ornamental pepper with all the hot colors, yellow, orange, and red, that covers the plant with edible peppers. And of course my most favorite, tomatoes, can be found in small or tall plants and the yellow, pink, red or even white fruit. They all add just as much color and texture as flowers but with the plus of produce.
By Trace from Wartburg
Imagine endless garden beds filled with beautiful fragrant flowers that come up effortlessly year after year without any help from you. Okay. Now wake up. You're dreaming. Most gardeners I know would be happy to spend less time watering, weeding, and maintaining their flower gardens. And while it might not be realistic to dream for zero maintenance, a low-maintenance flower garden can be a dream come true.
Building Soil
Healthy soil is the cornerstone of reducing garden maintenance. Fertile soil that is rich in organic matter is easier to work, results in fewer cultural problems, and reduces your overall workload. Make building and maintaining healthy soil your number one priority and you've won half the maintenance battle.
Get to know your soil. Have it tested to understand what amendments you might add to maximize the growth of healthy plants.
Feed the soil. Then let the soil feed your plants. Keep up the health of the soil by top-dressing it with leaf mold, grass clippings, homemade compost, or decomposed manure on a regular basis.
Don't pay for weeds. If you're buying topsoil, check the source carefully to be certain you won't be bringing weed seeds and diseases into your garden.
Weeds and Weeding
A weed is just a plant growing where you don't want it to. In some cases weeds can even be beneficial additions to your garden! Don't aim for eradicating weeds. Instead, set a goal of keeping them under control.
Weed for shorter amounts of time more often. Try weeding for a few minutes every day or two rather than for three to four hours every two weeks.
Exercise patience. The first years are the worst years. When your garden is young it's a given it will require more weeding. It takes time for plants to grow and develop enough foliage to sufficiently shade the ground and prevent weed seeds from germinating.
Don't let weeds go to seed. One weed can produce thousands of offspring through its seed. If your garden is being overrun with weeds, focus on removing the weeds that are going to seed first.
Use mulch around ornamental plants to keep weeds down and moisture in.
Don't let weeds fall between the cracks. Use the largest stones you can afford for patios and walkways.
Garden Plants
Put the right plant in the right place. Choose flowers that are right for your zone, your local growing conditions, and the sun and wind exposure in the spot where you plan to plant them.
Group plants together that have similar growing requirements, e.g. moisture-tolerant, drought-tolerant, shade-tolerant, etc.
Plant native trees, shrubs, and perennials to help reduce the need for watering and increase resistance to disease.
Design low maintenance plantings for containers. Choose "self-cleaning" varieties, repeat bloomers, and plants with striking foliage for long-lasting color. Avoid flowers that require constant deadheading.
To grow annuals without the yearly fuss of planting, take advantage of the easy-growing self-sowers like bachelor buttons, California poppies, cosmos, and tall verbena.
Don't be too hasty to replace your lawn with flowering ground covers. Less lawn doesn't always mean less maintenance. Some ground covers require constant weeding and annual pruning to look their best.
Fail Proof Flower Bed. For an awesome, fail proof flower bed, select a location for your flower bed, being careful to remember what you want to grow, with or without sun. My favorite flower beds are under trees, surrounded with blocks.
Read More...
May 24, 2016
0

found this helpful
This is a page about tips for cost efficient flower gardening. Having a beautiful flower garden doesn't have to be too expensive.