Robin
Diamond Post Medal for All Time! 5,887 Posts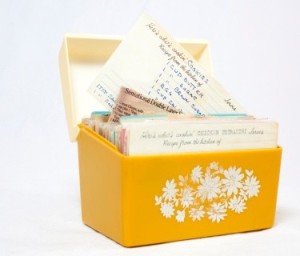 Everyone knows that recipes are my "thing." I am blessed to have not only been born into a family of cooks, but also to have married into one as well. I have access to thousands of recipes from family members and friends, including the cookbook that my mother had published. While cookbooks are obviously a great resource for recipes, there are so many other places to find great recipes, too. Here are a few examples:
Your local newspaper: Our daily paper has a weekly column called "The Amish Cook." Talk about good recipes! If you have access to any kind of Amish recipes, I highly recommend you try them! There are quite a few Amish in our area and they are known for their cooking expertise. I have always thought what fun it would be to someday have the opportunity to go and spend a day with them just watching and learning from them. Who knows? Maybe I will get the chance yet!
Recipes can also be found on the back of food labels. I just got a lovely, super easy recipe for lasagna that I got off the back of a Campbell's soup can.
I have even found recipes in fiction books. These, of course, are not as easy to come by but they are still, many times, delicious recipes. Kind of a fun idea to include in the book, too, in my opinion.
Friends, relatives and neighbors are one of the best sources for recipes. I have hundreds of recipes from friends, relatives and neighbors that have been clipped from various other sources or have been written down on a 3x5 inch card, etc. This year for Christmas, I am making recipe "books" for both of my girls. They will include as many of their favorites as I can possibly think of.
I will focus on inexpensive recipes and recipes that will stretch far for my oldest daughter because she has a family. For my youngest daughter, I will focus on the cheaper, easier fixing and easier freezing type recipes since she only has herself to cook for.
Recipes are everywhere if we will look for them. The places I have listed here are only a few of the places you will find them. I'd encourage you to keep your eyes open and you will be pleasantly surprised with what you will find!
Here are two recipes that I have found and I have listed where it was that I found them.
Grandma Ferrell's Caramel Apple Pie (Newspaper)
Crumb Topping:
1 9-inch deep dish pie crust, frozen
3/4 cup flour
1/4 cup old-fashioned oats
1 cup sugar
1/4 tsp. salt
1/2 cup butter, room temperature
Filling:
5 medium - large Cortland or Ida Red apples, peeled, cored and chopped
1 cup sugar
2 tsp. flour
3 tsp. melted butter
1 tsp. cinnamon
1 tsp. lemon juice
1/4 tsp. salt
Caramel Sauce:
1/2 can sweetened condensed milk
1/2 cup light corn syrup
1/2 cup sugar
1/4 cup brown sugar
2 tsp. butter
1 1/2 tsp. vanilla
Preheat oven to 400 degrees F. To prepare topping, combine all ingredients in a bowl and mix by hand or with a pastry blender until crumbly. To prepare filling, combine all ingredients in a medium bowl. Pour into pie crust. Pile topping on top. Bake 1 hour or until a knife easily slides into the center of pie with no resistance. If pie is browning too quickly, reduce temperature to 350 degrees F after 30 minutes. Let cool.
To prepare caramel sauce, combine all ingredients, except vanilla, in a small, heavy saucepan. Bring to a boil over medium heat, stirring constantly. Reduce heat to low and cook, stirring constantly, until mixture reaches 244 degrees F on a candy thermometer. Remove from heat and stir in vanilla. Let cool and drizzle 1 teaspoon over each apple pie wedge. You'll have caramel sauce left over. Serves 8.
---
Beef And Mushroom Lasagna
This came from the back of a Campbell's soup label.
1 can Campbell's cream of mushroom soup
1/4 cup milk
1 lb. ground beef
2 cups Prego Fresh Mushroom Italian Sauce
9 cooked lasagna noodles
1 cup shredded Italian-blend or mozzarella cheese
Heat oven to 400 degrees F. Stir soup and milk in small bowl until smooth. Cook beef in skillet over medium-high heat until well browned, stirring often to separate meats. Pour off fats. Stir in sauce. Layer 1/2 beef mixture, 3 noodles and 1 cup soup mixture in 2 qt. shallow baking dish. Top with 3 more noodles, remaining beef mixture, remaining noodles and remaining soup mixture. Sprinkle with cheese. Cover baking dish. Bake 30 minutes or until hot. Uncover baking dish. Heat broiler. Broil 4 inches from heat 2 minutes or until cheese is golden brown. Let stand 10 minutes.
Read More

Comments

I am not looking for a specific recipe. I just really need some help in the cooking department. I am new to cooking and work full time so I need help finding quick, easy, but good recipes. I am on a limited budget. I look online a lot, but I would prefer ones that someone has made before and comes recommended. Thank you for your time.
By Julie from MI
Answers

Jess
Silver Post Medal for All Time! 267 Posts
September 15, 2009
0

found this helpful
If you are looking for a good selection of recipes, I would get a Better Homes and Gardens cookbook. It has a red check cover and there are several different versions. I have tons of cookbooks but this is the one that I reach for time and again. Few of the recipes are very complicated and there are photos and cooking tips interspersed. I received one of these when I was about 20 years old and I still use it 20 years later.
The best thing for cooking and working full time is a slow cooker (crockpot). Soups and stews are perfect for the upcoming fall, and there are tons of casseroles or layered meals that will just cook all day long.
Here are some links to recipes I have already posted on ThriftyFun. I am a "foodie" so I always make cooking a little more complicated than maybe it needs to be. I tried to find the most straightforward recipes possible. :)
Sausage Stew: www.thriftyfun.com/tf59439654.tip.html
Chicken and Rice Soup: www.thriftyfun.com/tf40928821.tip.html
Chicken Stir Fry: www.thriftyfun.com/tf74304301.tip.html
Spaghetti and Meatballs: www.thriftyfun.com/tf26523770.tip.html

September 15, 2009
0

found this helpful
Julie, try www.allrecipies.com. Each recipe has been tried and rated by people like you and me. I Love this site and can spend hours on it just looking. Happy Cooking and God Bless!

September 15, 2009
0

found this helpful
I would recommend you get a good crockpot and a crockpot recipe book from the library. When I worked full time, it was nice to have the crockpot and dinner was ready when I got home.

christi
Bronze Recipe Medal for All Time! 52 Recipes
September 15, 2009
0

found this helpful
I didnt cook anything unless it was in the microwave or throw something frozen into the oven until I got married 5 years ago. Since then I have become a pretty fair cook. Its just trial and error. Use foods you and yours already like and make your recipes from that.
allrecipes was recommended, its a good one because you can hit search ingredients and you can put certain ingredients into it and get recipes with those specific ones, also has place for stuff you dont want in it.

September 16, 2009
0

found this helpful
Here is a site with many many crockpot recipes.
Take a look.

Lizzyanny
Bronze Feedback Medal for All Time! 226 Feedbacks
September 16, 2009
0

found this helpful
Hi, The allrecipes.com site is my favorite. I am on there at least 6 to 8 times a week looking for what to do with whatever I have in the fridge. It has never failed me. They have many (often over 200) detailed reviews of a recipe. the recipes are all rated up to 5 stars. I only look at the 5 star recipes with lots of reviews. the reviews will tell you what they have done to adjust the recipe. This really helps. Recipes can be printed in 3x5 or 4x6 to fit in your reciped box. Good Luck!

September 16, 2009
0

found this helpful
Email me, I'll send you some specific quick easy recipes. Simple but quick and good.
shelli.martin AT imagenational.com

September 17, 2009
0

found this helpful
Maybe you could write what your favorite things to eat are and we could send quick/easy recipes for those foods.
Answer

this Question