Lilies are easy to grow, being relatively disease and pest free. They like moderate to hot weather and lots of sunshine. They can grow in partial shade if they have 4 to 6 hours of sunshine every day.
They are very hardy and will grow just about anywhere in any type of soil, but will benefit if you add some type of fertilizer. Lilies also love water. You should give them at least 1 inch of water a week, or a good soaking every three days.
Lilies will be one of the hardiest perennials in your garden.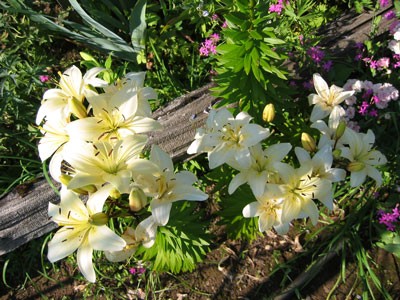 By Sandra
Answers:
Tips for Growing Daylilies
I agree that daylilies are easy to grow. I have over 100 different kinds of daylilies in my yard with more, I'm sure, in years to come. They are reliable bloomers (as long as the deer do not eat off the buds on the scape).
The picture you are showing is actually, I believe, an Asiatic lily, not a daylily. They are also easy to grow and reliable bloomers (once again, as long as the deer do not eat them). Asiatic lilies do not need the water that a daylily could use, though, or they will rot. (05/26/2005)
Tips for Growing Daylilies
Daylilies can be almost too hardy. I inherited some rather ugly orange ones when I bought my house. They have literally taken over the garden. I have dug and dug, but still can't seem to get them all out. (Point your hungry deer in my direction, please!) I wish mine were like the beautiful Asiatic lilies pictured above. (05/27/2005)

By Claudia
Tips for Growing Lilies
What you are seeing on the lily stem are called bulblets. Some lilies have lots of bulblets. These are little seeds of the lily. If they drop on the ground, most will overwinter and you will have many more lilies in years to come. If you like the lily and want more, then let them, the bulblets, ripen and fall off, cover with a little soil and leave them.
This is a problem with some lilies. I had to literally sift through a 10 by 10 foot bed to clean it up from one of the lilies I used to have. I still am getting the occasional lily coming up but now I will zap it with Roundup because I do not want that lily in my yard anymore. It's like an invasive lily. It was pretty and I did win the best lily in our garden club show in summer one year, but...

You can let the lily bloom and then as soon as it is done blooming cut the stem to about 8 inches so it still has leaves left to replenish the bulb for next year, but no bulblets left to reproduce for you. (06/08/2005)