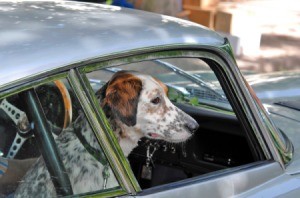 There are many things to consider before deciding to take your beloved pets in the car with you, whether you are running errands around town or traveling. Someone earlier suggested they make great car company, and this is true. But you could be burying your company after the trip. So here are some guidelines to use to help decide whether to take your pet in the car.
The Weather Comfortably warm weather can become dangerously hot inside a closed car, even with the windows down a little. And the same principle is true in the winter. It gets dangerously cold in the car very quickly once the heater is turned off so you can go into the store.
Where you are going and how long you will be out of the car. Even if you are just running in long enough to use the restroom, that 5 minutes is enough time to build the temperature up in your car to dangerous levels. It only takes seconds. If you are simply running errands around town, leave your pets at home. If you are traveling, have one person stay in the car with the a/c or heat running while the other goes in, then alternate. If you are stopping to eat, go through the drive-thru so you don't have to turn the car off.
The type/breed as well as the health of pet you have. Most important here is the overall health of your pet. Young pets and older pets are much more likely to be effected by temperatures, but all pets are susceptible to it. Also certain types of pets (cold blooded pets) can actually cook inside. Certain breeds, even certain colors, of pets are more susceptible. Long haired pets, dark colored pets, all absorb the heat more so than an light colored, short haired pet.
So use your head. A good way to determine if it's safe to take your pets is for you yourself to go out and sit in your car for 30 minutes with the windows rolled to the degree that you would leave them for your pets. No A/C, no heat, and no shade because you may not be able to find a shady spot in the parking lot. Or even if you do, shade moves with the sun so what's shady now may not be in a few minutes. If you can sit there for 30 minutes (because you may be delayed in a store, restroom, etc. for at least this long) and be comfortable without sweating or getting cold with a sweater on (remember they have coats on that they can not take off), then it should be safe to take them. But if you get even a little too warm, it could be dangerous for your pet, so leave them at home!
By Cricket from Parkton, NC
Comments
July 7, 2004
0

found this helpful
Good article about the dangers of leaving your pet in the car, but the picture of a dog with it's head out the car window is also a big no-no. Many dogs are injured or killed every year when they are struck by debris or fall from a moving vehicle. Same thing for riding in the bed of a truck. If you must take your pet traveling with you, treat them like the rest of the family and make sure that they can't move about (or be thrown about) the vehicle. Many pet carriers can be buckled in (similar to buckling in a carseat) and there are special dog harnesses that buckle in as well. Help prevent traffic accidents by keeping your pet safely in the back seat, not standing in your lap (potentially blocking your view or distracting you from traffic) or interfering with the use of the brake pedal. They really will survive much better waiting at home for you instead of being left in the car while you run errands. Are the few extra minutes you spend with them on the way to the store really worth the risk to their lives and the heartache if they die from heatstroke or a car accident?
By Harold (Guest Post)
July 8, 2004
0

found this helpful
Boy, the dog in that picture sure is cute. It's hard to bleive that in some countrys people actually EAT them.
July 10, 2010
0

found this helpful
I think that it's a great idea to take your pets along with you in the car when you are just riding around town. It not only gets them used to different situations, but it lets them know that car trips are fun, and do not always mean a trip to the vet. Of course, all the above cautions are good to be aware of, and please keep your pet safe by strapping them in their "doggy seat-belt", or strapping their carrier in.
Make sure to bring water for them to drink, and if the trip is to be a tad longer than expected, maybe a snack, and a potty break.
I've traveled around town, and on trips with my pets, and enjoy the company greatly.
August 19, 2011
0

found this helpful
Great advice, Cricket! As much as I have loved all of my pets and want to have them with me constantly I've never taken them anywhere other than to or from the destination we are going together whether that be a trip to the park, a family or friends home or the dreaded vet. No way could I ever leave a pet in the car alone for even two minutes! To me it would be the same as taking a chance of leaving your human child alone in the car :-(
Read More Comments