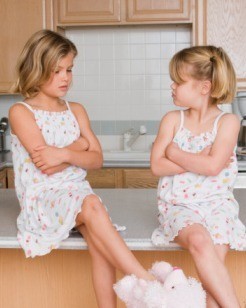 I have a tip for children bickering. I have passed this tip along and had reports back at how amazing the results. I used this until my children were grown and now my grandkids get a dose.
Have the 2 kids that are bickering, either sit on the couch facing each other or stand facing each other with the tip of their noses touching for a set amount of time (not as long as time out).
Who gets the front seat? No problem but they have to sit with their noses touching. My daughter and son both agree that they would refrain from arguing because they did not want to have to stand or sit that way.
Most of the time giggling would happen before the time was up and they were friends again.
By Meemaw from FL
Comments

Elizabeth
Bronze Feedback Medal for All Time! 108 Feedbacks
October 21, 2009
0

found this helpful
Good idea! I had a problem with tattling. She did this he did that type of thing. My mother-in-law was at our house visiting and she stopped it. She fixed a tail out of an old panty hose leg and they had to wear it for 15 min.
Well the tattling stopped fast. I also told them there was a difference in tattling and if they or someone was in danger or hurt or needed attention and we went over those things as well.

October 21, 2009
0

found this helpful
I have done that with my boys too. My boys are now 40, 38 and 36. So that has been around a long time. It works great.

October 21, 2009
0

found this helpful
We had to hug one another as kids...talk about yuck! LOL

October 17, 2010
0

found this helpful
I did the staring bit, they had to stare at each other and usually they'd start giggling.
The sitting in the front seat was solved as many chores are. I have twin boys and they have even-odd days. If I'm driving on an even day, the even-day boy gets the front seat.
If it's an odd day, the odd-day boy gets the front seat. They take trash to the curb by even-odd days also. I've been with them since they were 8 and now they're 15. It's worked all the time.
Read More

Comments