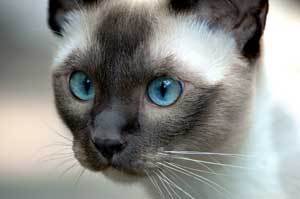 Breed Description:
The Tonkinese is the result of crossing the Siamese with the Burmese. This medium-sized cat is medium-bodied in every way. It is neither long and svelte like the Siamese, nor rounded and cobby like the Burmese, but somewhere in between. This cat is quite muscular and surprisingly heavy. Its head is a modified wedge, with a slight dip between its almond-shaped eyes and prominent whisker pads. The Tonkinese has a short, glossy coat that is soft and silky to the touch.
History & Origin: In the United States, the Tonkinese and the Burmese can both be traced back to Wong Mau, a small brown cat imported to California from Rangoon (Burma) by Dr. Joseph Thompson in 1930.
Character & Temperament: The Tonkinese exhibits characteristics from both the Burmese and the Siamese-most often the Burmese. Although it can be willful and mischievous, it is good-natured, friendly and gets along well with other household pets. This breed is very good with children and has a quiet, pleasant voice that is seldom heard. Clever, active, and intelligent, the Tonkinese needs a lot of companionship and does not like to be left alone for long periods.
Colors: Three distinct coat patterns, mink, full-body, and pointed-that come in four different colors: deep brown, blue, champagne and platinum.
Coat Type: Medium-short in length and lying close to the body.
Color: This breed's short coat can is easy to maintain with weekly brushing. Claws should be trimmed and ears cleaned only when necessary.
Health Considerations: Prone to upper respiratory diseases as kittens; sensitive to anesthesia and vaccines.
Trivia: Although relatively new to the United States, the Tonkinese was depicted in "The Cat-Book Poems" of Siam during the Ayudha period (1258-1767).
Read More

Comments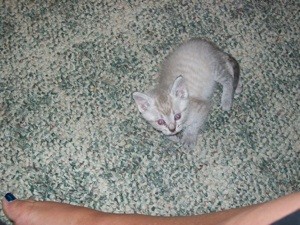 Does anyone know anything about Tonkinese kittens? If so, can you tell me if my kitten is one? Also, he still doesn't meow. Thank you.
By Becca from Niles, MI

Answers
July 21, 2009
0

found this helpful
He sure looks like the two Tonkinese I adopted, and the 6 more one of them ended up having! God Bless, Sheila in Decatur, IL
July 21, 2009
0

found this helpful
I don't know anything about Tonkinese but do not worry if your kitty never meows :-) I had a Persian once who made a little squeaking sound when she tried to meow and it sounded so cute :-) She lived to be fifteen and that was just her way of talking :-)
Oh, and hello to you and all in Niles :-) I have lots of cousins there and in Cassopolis ;-)
July 21, 2009
0

found this helpful
Thank you to eveyone that replys. The kitten was found in a cold air duct about 3 weeks of age, there was 3 of them and was the only one that made it, and he is doing really good he is about 12weeks old now and his name is Lucky.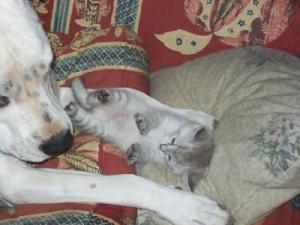 July 21, 2009
0

found this helpful
What a cutie! My Maine Coon doesn't really meow. She will make a warbly sound if she is locked in a room or out of food or something but she is mostly quiet. It sounds like this is common.
July 21, 2009
0

found this helpful
A Tonkin is a blocky, small Siamese cat, different from the standard, wiry Siamese. I had a Tonkin many years ago, she lived to one month shy of 21 years. she meowed pretty much normally. This looks like a shaded silver tabby to me. GoogleImages that name and look at the pictures, some look a lot like yours.
I still have my big cat ID books, and they show Tonkan's which are more like the Siamese in build, so I have seen both very blocky Tonkan's (like mine) and rather streamline ones-but not as streamlined as a Siamese.
If you GoogleImages Tonkin cat, one webpage shows up. Tonkinese cat may do better.
We are owned by 4 cats and have one who visits. one moans-a Norwegian Forest cat. Had him 3-4 years before I ever heard him say "meow", and he hasn't said it since. Sounds just like a moan when he talks. His partner in crime, a mirror image of him but with Siamese ancestry, also doesn't meow. He chirrups. brrr'p! brrr'p!. A tabby marked calico who died 3 years ago either said "Ma-Ma" or Mow-Mow", or talked a blue streak. she had a huge vocabulary. but generally she just said "Ma-Ma". we have a big, burly orange tabby. he squeeks. He talked like a tom before we fixed him, but when they talk about men speaking in a higher octave, it sure happened to the orange tabby.
And we have a teensy, tiny torti-point Siamese. she "crickets" when she's content, (sounds like a little cricket has got into the house), and she also squeeks and also meows like she has larengitis, "maaahh" soft and raspy. there's a tabby point tom next door who talks like a standard tom (deep and throaty) though he's fixed. it may be based on breed, Calico's often talk funny. Siamese are loud and insistent. a cat that doesn't talk? I've had some quiet ones, including our moaner, but never a silent one. I've heard of one, perhaps a Turkish Van? not sure.
I have seen/heard of some wonderful silver tabbies.
Which reminds me, each breed has it's own personality. for instance, orange tabbies are truly great lovers and will gladly become your best friend, and black cats are truly stubborn. "no" is not part of their vocabulary unless they say it. if you say it to a black cat you might as well have said nothing. as long as the two of you understand and accept this, the black cat is as wonderful as any other cat, but they will own you, not the other way around! lol!
July 21, 2009
0

found this helpful
Our cat is a white & has a black tail, and 2 grey spots. Blue eyes also. He didn't talk or Meow at all unless he is afraid or hurt. This didn't happen until he was over a year old. Now that he is 7 yrs old, he will look at you and like he is asking a question, make a small noise. He is very healthy and loving.
There is no need for him to talk as he is very spoiled. Your kitten is a darling, even if he never meows, he will communicate with you.
August 7, 2009
0

found this helpful
I had a Tonkinese once. It sure looks like one. My cat used to be very vocal, though. When I talked to him he would say "MEOW!" (Very loudly) He was so loveable and followed me everywhere. I wish I could get another one. You are so sweet to rescue him.
Answer

this Question