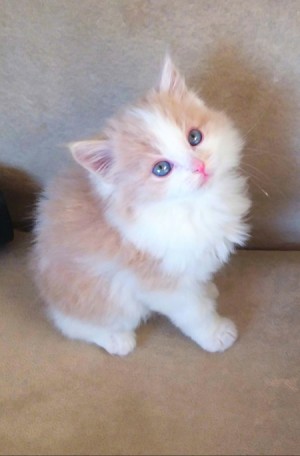 I just recently bought this gorgeous little angel. Can someone please tell me what breed she is? She is all white and cream (almost with a pinkish hue) on all four pink paws and nose. Her forehead protrudes just a tiny bit and she has a tiny pink nose and permanent blue eyes.
I've never seen a kitten prettier than her in my entire life. I think that she has Persian genes. She may be mixed, but I think she is either mostly Persian or Ragdoll because Ragdolls have blue eyes, but Persians are also known for having blue eyes. She's definitely not a Siamese, Balinese, Siberian, Maine Coon, Turkish Angora, or Turkish Van. She's so rare and unique looking.
I would love to hear your thoughts on what breed she could be? She is extremely fluffy with velvety soft fur and very delicate. Very soft, affectionate and loving personality. She is also a lap kitten. Not all kittens and cats are, but she is. She loves to climb on to my lap and lay on my chest.
I am also open to any name suggestions! I have not named her yet. Thank you for taking your time to read this, and I'd love to hear your thoughts.