I just got a 12 week old, red nose pitbull. The potty training has been going well and she is doing very good. My major problem is I cannot get her to stop biting. It does not hurt now but I am afraid that when she gets older it will and I need to get her to stop biting now before it gets any worse.
I went to the vet and they told me that when ever she bites squirt lime juice in her mouth but this has just got her really mad at the lime juice bottle when she sees it. The vet also told me that when she bites, put her on her back and hold her mouth closed until she relaxes. I have tried this also but sometimes when I let go she still snaps back. What can I do?
Animal Behaviorist.
Please contact your local animal shelter or humane society and ask to speak to the Animal Behaviorist. Most, if not all, shelters/humane societies have one on staff to help troubleshoot behavior problems so that people do not give up their pets for behavior issues that can be fixed. I live in the Chicago area & The Anti-Cruelty Society in Chicago has given advice to some of my friends & they helped eliminate any behavior issues their pets had. Please look in your local yellow pages or go to www.petfinder.org
Otherwise, please enroll her in obedience classes. Good luck & thanks for adopting an adorable Pit Bull (the breed definitely has an undeserved bad rap).

By Petfinder
Find a New Vet
I would change vets. Anyone who would suggest the ancient wrong method of putting a dog on it's back (supposedly to show alphaship of the human) is WAY out of touch, & the method is cruel. And also with the squirting thing. I would get mad too. I agree with the other poster to get her into a puppy obedience class BUT, make sure they use only praise & reward methods. No jerking, punishing etc. methods that are outdated. But for starters you can end play when she bites. Just say no bite & immediately leave the room, play stops. Watch her & when she's doing anything right, praise her & give her a treat. She needs to be rewarded for all good behavior & ignored for any negative.
By Vic
Exercise
They first thing you need to do is make sure your dogs are getting enough exercise. Pits are athletes and need a ton of exercise. I have a 4 mo red nose right now that never bites or chews. If your pup or dog does try to bite/nip/mouth what you need to do is take your thumb and press down on the tongue until the dog yelps (mine never does), this will make your puppy really uncomfortable without hurting it. If you use a spray bottle they just learn to avoid that. This is the best method but you have to start young, you don't want to be getting chewed on by a dog with its adult teeth.

By Ryan
Training a Pitbull to Not Bite
For puppies, nipping is play behavior. Responding to it by rapping them back or even shouting at them may be interpreted by them as part of the play. If a puppy is nipping you or your kids, ignore them. Stop playing with them, look away, fold your arms so they can't get your fingers. They quickly learn to play in a more human friendly manner. Consistency is key. Do this every time. Teach your kids.
Toe biting is a little more tricky if they like to bite your toes, feet, ankles as you're walking. A firm NO is more effective than just stopping and ignoring them. They will discover too quickly how to get you to stop.Dogs are a lot smarter than most people give them credit for. Any time you hurt a dog, they remember for ever. They are extremely forgiving and loving, but like us, they remember pain.

Aggressiveness in dogs is often a sign that the dog doesn't feel completely safe. When meeting people, always be sure to let the dog meet them on his terms. If the dog is a little shy, let him hang out behind your legs, let the dog sniff the person first before the person reaches out to pet them. Petting on the head just looks so cute, but a dog may be concerned about why someone is raising their hand over their head, especially when they can't really see the hand. Let trust build rather than just assume it should already be there.
Pit Bulls are very muscular and strong and may be more prone to attacking than running out of range. As a Pit Bull companion it is your responsibility to discover his special needs concerning interacting with humans. For anyone else seeking formal obedience training do some serious research of the club or organization you will be using. Sit in on a few sessions before enrolling your dog. Trust your instincts.

By Sheraone
Training a Pitbull to Not Bite
I know that what I'm about to say is going to seem cruel to you guys but I have 3 pitbulls, 2 red nose and a Colby blue. My boyfriend & I also live with a friend of ours that has 2 other pitbulls. My Colby was a hellian to deal with when he was from 8wks-3 months. We started using a method called Puppy Bootcamp. When he did something he wasn't supposed to he was made to sit in between our legs on the floor with his head down with no contact with anybody for a couple of minutes. After about 2 months of this he started correcting himself and is starting to show the youngest puppy what he is and isn't allowed to do. My Colby just turned 7 months old and is very well trained and behaved. It may have been an odd way to discipline, but he knows who is boss in the house and he knows it's not him.
By Arron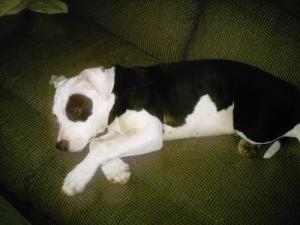 Be Patient
I also have a pitbull and we've had her since she was 8 weeks old. She is now almost 5 years old. Puppies like to play and biting is form of playing from their perspective, but obviously you can't have a biting pitbull, play or not. Make sure you stay consistent with whatever punishment you decide on. Be firm and speak very firmly and direct. I used to roll up a magazine and hit against my hand really loudly and shout NO. She eventually got the hint and she hasn't bitten since. Have patience, you'll get there.

By Daniel
Flat Palm
Flat palm and push the side of her mouth away from where she's biting with a firm voice saying "NO" or something along the lines. Enclosed is my 11 month pup Rika.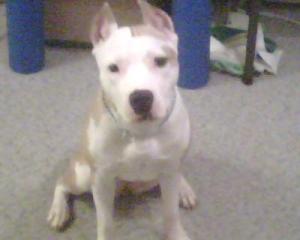 Combining Training Methods
I use a combination of training techniques that I learned from watching the Dog Whisperer, Cesar Milan, and Victoria Stilwell from the program "It's Me or the Dog." My dog, Rex, came to me at six months old. He was a wild man with no manners. I was afraid of him. I did a lot of research.

Now, I am definitely the pack leader, and Rex respects my commands. He knows about 23 different words and commands such as sit, wait, leave it, down, potty, walk, ride, get it, toy, etc. I find that if I use a specific word for the behavior I want, Rex responds almost immediately. When I am finished exercising or playing with him and he continues to want to be excited or mouthy, I use the word "enough" in a firm tone. He knows to quit the behavior.

To stop puppies from biting, you can use a high pitched squeal and turn away from the dog and ignore it for a period of time. This will teach them that if they want to play, they can only be as excited and mouthy as you will let them. Consistency is the key. If you train your dog 2 or 3 times a day for 10-15 minutes, you will see your dog transform before your eyes.

Training, for me, was fun. You can use a treat as a reward or your dog's favorite toy. Rex is now a year old and is the love of my life. He still has a lot of puppy left in him, but all that training was well worth it. I now have an obedient dog that is an example for his breed. (06/21/2008)

By RexMom08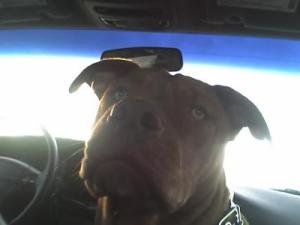 Loud Noises
When my pitbull puppy did that I would spray her with stuff that would smells and taste bad. If/when that didn't work I bought a cage and put her in that till she calmed down, then I put her outside and made sure no one would go near her. When that didn't work I made loud screech noises every time she would bite and after a little while she got the point. Now she doesn't bite and is very friendly. When she gets excited she'll nip, but not hard. Try those and see if they work.

By Amanda
Be The Boss
As others have said "You have to be the boss". We have a very affectionate "pink nosed pit" we call "Rusty". My family of five have all given him all the love a dog could ever have, and a great deal of training, with as much patience as possible.

My contention is a pitbull is a special breed, they deserve a lot of attention and care. The more you give to them the more you will get back, don't get frustrated, be patient, it will pay off. I strongly suggest doing a great deal of reading on the specifics of training a pitbull. This will pay off in the long run. Love is a key factor. You have to deal with one issue at a time, resolve it, reinforce the training and if necessary solve the next issue in the same manner. Never give up, time will cure all problems you may encounter with the breed. Lots of hugs and kisses never hurt! (01/21/2009)

By DB
Training a Pitbull to Not Bite
I have a 17 month old red nosed pit bull and what I've found works the best is when they go to bite, press open their mouth, put your thumb under their tongue, and press while holding on to the bottom of their jowl. This prevents them from biting and they don't like it so they learn to stop. Hope this works. Try it for about a week. PS. Don't press so bad they yelp or it hurts, just get their attention.

By christina l.