alt="Pitbull Puppy That Bites">
I have just recently adopted a Pitbull puppy from our local rescue facility. I was not informed that it was a Pitbull but a Boxer mix. She is very playful and I would say could be a good dog. It is hard to explain her behavior. When we get home from work she licks and plays. Then we may sit down and pet her and she starts to bite.
She's being playful, but it goes on all day and all night. When we try to sleep she jumps at us
and try to bite our face. I know she's being playful, but no punishment is helping. She is about three months old. I'm starting to take her on
long walks to see if it will help with her energy. I am very patient with her and have trained her to sit. I know if someone else adopted her
she would be on the streets or back at A.W.O.L. Please help.

Thank you,
David C. from Independence, KS
Answers:
Pitbull Puppy That Bites
I have a large dog that gets bored during the day and tends to act out in the evenings. I found it helpful to buy her a toy that engages her
mind as well as her mouth. I got her a BusterCube. It cost about 20 bucks, but I think it was one of the best investments I've ever made for
her. There are other toys that are similar but you have to search petco.com or petsmart.com .
With the BusterCube, you fill it full of their food, or treats, and then the dog keeps busy all day, pushing it around to get it to dispense the
food. It really keeps my dog occupied and helps her a lot. (03/08/2007)

By azDana
Pitbull Puppy That Bites
Get The Dog Whisperer's (Cesar Millan) Books and watch his show on TV. I raised my Pitbull useing his techniques and she is a great dog.
(03/08/2007)

By Lori
Pitbull Puppy That Bites
I, too have 2 Pit mixes. As puppies, they played and bit lightly. As they grew older and stopped teething, so did the little bites. I think it
was teething/playing mix. Neither one did it after teething was finished. (03/16/2007)

By Vanet U.
Pitbull Puppy That Bites
Almost all puppies go through this phase, its perfectly normal. Long walks are great. Puppies have a short attention span so keep a stuffed
animal type or baby toy around to distract and redirect her. You can use a bitter apple spray on your hands (or on things you don't want her to
bite in general) to keep her from biting or "mouthing".
If she does sneak past and bite your face, don't let your face show a reaction. Stand
up or hover over the puppy with your nose in the air, act aloof. Your puppy will try and lick or nibble your chin. This is good dog language.
Don't become frustrated if your puppy is clumsy or over excited when doing this, just remove yourself from the situation (stand up). I have
rescued and raised several Pitbulls for therapy work over the past 5 years and I can assure you that your puppy is just trying to communicate
to you in dog language. (05/06/2007)
By Amanda
Pitbull Puppy That Bites
I have grown up with Pit Bulls I have an eight week old right now They are very loyal dogs. I was attracted to the breed when my parents were
breeding them. They are very athletic as am I. They do tend to be a little nippy, but you have to teach them who's boss in a growly voice say
"No Bite" they will catch on quickly. Pit Bulls are one of the best dogs you can have. I used to have Toy Poodles. They were a lot worse, they
bit and did all the same stuff. Pit Bulls are very smart they learn quickly with the proper owner you should be just fine. Good luck. (05/15/2007)

By KT
Pitbull Puppy That Bites
I recently got a Pitbull Boxer mix from a friend. They said that they could no longer take care of her. I got her when she was about 3 months,
and she is now 11 months old. My Pitbull does the same thing. When we get home she is so excited to see us and she is so loving. When she begins
to play with us, it consists of lunging and biting at us. She is just playing, but this is how she thinks she plays. Needless to say, she is
deaf. They say that deaf dogs play and when they get excited they bite as well. This is because they do not know they are hurting you or that
they are doing something wrong. Testing your Pitbull to see if they are deaf is hard. We didn't think anything of it for months. I hope this
information helps. (06/18/2007)

By Kelly
Pitbull Puppy That Bites
I own two Pit Bulls right now, one is full blooded, he's a puppy right now and a Blue Tick and Pit mix which is only a little older than the
full blooded one. Peanut (fullblooded one) does the same thing, he likes to snap. It isn't that he is mean or is angry or wants to hurt you. Most
dogs go through a series of chewing and wanted to just bite on something because they are cutting teeth. Pit Bulls are worse about it. They
can't help it, but for some reason in their breed, they chew more.
The best thing for you to do, is to buy him/her a raw hide bone, or even pig ears. It's hard enough for them not to just eat it, but it also
gets soft enough for it to soothe their gums. As I always say, Pits aren't mean, its the owners that make them mean.(not saying you are) Pits
take alot more attention than most dogs. They are really strong and have very strong jaws even as little puppies. The best thing to do, is even
when your not busy, and yes it sounds weird, but rub the puppies gums, trust me, they love it. Well, hope I could help. Good luck. (07/23/2007)

By Pitbull Lover
Pitbull Puppy That Bites
Over the years I have had many Pits, raised them all from pups. Currently I have a 2 year old fawn Pit who had the same problem. If you but a
spray bottle with a mist option on it, fill it with water and spray them in the face everytime they begin gnawing on you it will break them. It
is safe and doesn't hurt them, but it should only take about a week to break them. (08/27/2007)

By layinlower690
Pitbull Puppy That Bites
Biting, mouthing, nipping, if you were to watch two dogs play, you'll see this and the wrestling. With the biting, mouthing, nipping, I always
re-directed the behavior. As a beginner dog trainer, I do believe that dogs don't really generalize too much, but associate. The puppy probably
sees you as a playmate and plays with you as if you were another dog.

For biting, mouthing, nipping, I recommend re-directing. While playing, use a nice rope bone or a soft toy. Soft toys are recommended for puppies
or adults that are trusted to not tear it apart. Play the game of "tug". If the dog or puppy begins to mouth or bite your hand, say "Ouch!" in a
high-pitched tone, much like a yelp. Ignore the dog for a few seconds. Continue to play when the dog calms down. When you're holding the dog,
and it begins to mouth/bite your hand, re-direct. Put a toy in the dog's mouth.
The mouthing and biting may be caused by teething. Examine the puppy's gums, are they inflamed? If so, they may be teething. The "Teething
Period" lasts about 4-6 months. By the age of 6-6 1/2 months they should have lost all their baby teeth.

Never ever get physical with a dog. Aggression breeds aggression. The dog may even run from you or become a fearful biter. Some may even
recommend hitting the pup or dog with a rolled magazine or newspaper "only" so the dog does not associate your hand with slaps. Flicking the
dog's nose and slapping the dog lightly, what happens? What happens if the dog were to snap at you and you pulled your hand away? You've just
empowered the dog. You've showed the dog that when it snaps at you, you'll pull away.

I hope this helped a little. I do have a dog and am looking forward to getting a Pitbull puppy in a few months. (02/24/2008)

By Meee-Shelle
Pitbull Puppy That Bites
If It is teething I've heard that taking a favorite toy or rag and getting it wet and freeze it. Then let the dog chew on it to sooth the
teething pain. I would also like to add that it's not the breed. Most all puppies do this. (02/25/2008)

By mellissa68
Pitbull Puppy That Bites
It's in the nature of Boxers to bite feet or ankles. That's how they play. So if your Pitbull/Boxer puppy is doing it, it's a normal thing for
them and I found that the word "enough" in a deep tone really works. (09/09/2008)

By Tyler
Pitbull Puppy That Bites
My puppy is 13 weeks old, the breeder said she is half red nose and half blue nose Pit Bull and he had both parents there. She was the only one
out of the litter to have 2 colors. I believe her coat is called fawn with mask? Her name is Sophie and she chews everything. I just replace the
thing I don't want her to chew with a bully stick or her toys. It's working so far. (10/25/2008)

By Ari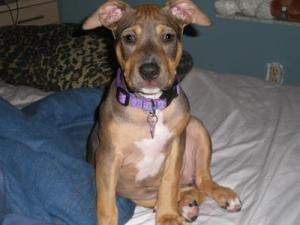 Pitbull Puppy That Bites
Also, socializing them with other dogs will teach them how to play nicely. (11/14/2008)

By Danielle
Pitbull Puppy That Bites
My husband and I have had several Pitbull pups and all of them liked to chew. We have our youngest Hunni who is only 6 weeks old. We have bought
here a toy that is called a Kong you can get it at any pet store. These work very well. This is a pic of our sweetheart that past just 2 months
ago. We love and miss you Dojo. (01/17/2009)

By Pookie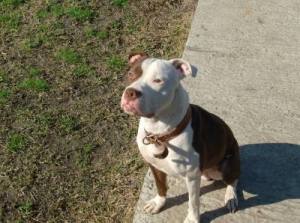 Pitbull Puppy That Bites
Well, Red is a Pit Bull mix. He loves to play in a way that people may think would be scary. He's about 17 months now and he like to play as
if he is going to bite my hand or arm, but never actually bites down. Its called a soft bite, its the same type of bite that mothers use when
carrying their young. However, the soft bite is not instinctive and needs to be learned.

A trick I picked up from the vet is when he does bite hard, quickly and firmly press down on the skin that lies under their tongue, while
saying "No biting." Its uncomfortable, but it doesn't hurt. Your thumb would be wet from slobber, but hey, it works. After you do this this,
your dog should lick your hand in a submissive manner. You have to understand a puppy is just like a child that doesn't know their own strength.
If you don't let them know that its hurts then they won't change. Good luck. (01/27/2009)

By Scott D.
Pitbull Puppy That Bites
Crate training is very important. Don't leave your puppy out at night. They need they're special place where they can calm down. If at a puppy
age you leave them out at night and they can go everywhere in the house, they will own the place. They need to earn that right when they grow
older.
(01/28/2009)

By Dom
Pitbull Puppy That Bites
My name is Jasmine and I'm a freelance Canine Behavioral Therapist. Like many other postings have said, every dog is different, just like
people. Something that works for one may not work for the next. The best thing you can do to start to rehab process is to firmly say "no" and
turn and ignore your dog. Only say "no" once and continue to ignore. Eventually it starts to tell them that unwanted behavior is ignored and
therefore no attention "at all" (good or bad) will be given to the dog until the desired attitude is met. Constantly correcting a dog that looks
for attention feeds their drive to get more. Whether its positive or negative attention; in their eyes it's all the same as long as they're
getting it. This will go for any attention seeking behavior at any age.

Please try this out and don't give up. They are strong willed dogs, so what may take a Lab a week to break could take a Pitt 3 weeks. But like
I said this isn't true for every dog, some Pitts (like mine) love to be corrected and really enjoy training sessions. The biggest thing is to
dominate your dog. Only give attention when you want to give it, not when they come up all cute asking for a belly rub, especially with bully
breeds. Dominance is key. Do not use physical strength. You may overpower them as a pup, but once they mature you will never win a physical
combat against a bully breed. If you or anyone have any questions or comments please contact me. I'd love to help. (05/05/2009)

By jas1012