I would really like some information about Pitbull puppies and whether their early puppy-hood habits, such as biting, are going to be the same when they grow up? Chino (my puppy) Is very well behaved but bites a lot just to get what he wants!
Whitney from Auckland, NZ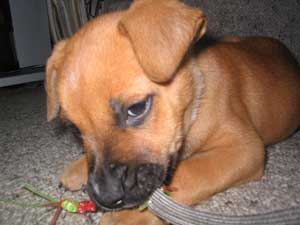 Answers:
Pitbull Puppy That Bites
Is he biting people or things around him. All puppies tend to chew. Does he have lots of toys to chew on or play with? (11/09/2006)

By maddiva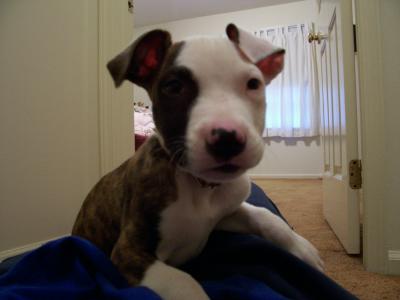 Pitbull Puppy That Bites
Some of these comments are so far fetched that I cannot believe that people would post. Well enough of that I have a pitubll female and I would not trade her for anything in the world. When she was a puppy and would bite at me I would tap her nose and tell her no in a firm but not loud voice and after a few times she understood. Just like when she want to jump I put my knee up and tell her no and she no longer jumps If you crate train her do not use her crate as a punishment place this is her safe zone. It is not good to feed any bones they will splinter and get stuck in their throat. (11/18/2006)
Pitbull Puppy That Bites
Yes in early years they do bite but they will grow out of it unless you let them keep doign it. I have 3 brendel pits and 2 blues. So it took a while but they do get outta it. Sorry for my slang. Im not a good typer. But yes if u treat them good they will be.. my pit scooby is a lap dog haha. So No worries they will grow out of it as long as you have a good heart and good entintions and have times u can spend with them. They are the best companions and I trust mine to protect me. They are my life. (12/07/2006)

By Tori
Pitbull Puppy That Bites
Puppies like to chew and they will chew on you. They are teething. With pups that I have had, I told them "No Bite" when they tried to bite me and gave them a chew toy. You need to be consistent and never let them bite anything but their chew toys.
(12/27/2006)
By Susan