My German Shepherd is 2 months old. She is so aggressive all the time, she bites me and when I punish her she attacks me. I can't really control her. She does not obey me at all. What should I do?
By shirin from Tehran, Iran

Answers:
Training an Aggressive Dog
A puppy should never be "punished" for biting. A puppy should be trained and disciplined to learn the difference between biting and chewing as a puppy is still teething and doesn't know the difference. It's okay to say "ouch" very loudly and turn away from the puppy for a few seconds (ignoring them for a few seconds hurts their feelings and makes them think twice as they really don't want to alienate you.)

Ultimately, you the pet parent, need to learn the difference between puppy gnawing, puppy chewing, and true aggression. Seriously, would you "punish" a baby for chomping down on your finger?

Babies and puppies and kittens never need to be "punished", but will always grow and benefit from being "disciplined". The two root words (punish and discipline) are not equal synonyms. Punishment involves shame and too often, pain. Discipline involves teaching and instruction in a purely constructive manner.
Be kind and patient. Please. AKC (American Kennel Club) "Puppy" and later "Obedience Classes" (these are not restricted to pure breeds or dogs intended for competition) are your best bet for confident ownership and confident dog growth. Please check into these classes at a local chapter/branch of the AKC in your area.

Edited update from Cindy. I just reread you post and realized you are not from America and most likely don't have access to a "local" AKC! My apologies. None-the-less, since you have internet access, please look into sites that explain "American Obedience Classes for dogs" I think it will offer you great insight. Honestly, dogs really just want to please their humans and the kinder you are while letting them know you are "the parent", the better and better they will be your best friend forever! Good luck and best wishes! (12/28/2010)
By Cindy
Training an Aggressive Dog
Your dog is still just a baby. I doubt she's really being aggressive, she is still just a puppy that need to learn to behave. When my dog was a puppy, she would jump at us and bite us. When we'd try to grab her to make her stop, she thought we were playing and would bounce on us, grab us with her paws, and bite us more! This is how they play with other puppies.

There are a lot of resources here in the Thrifty Fun archives. The one under this column is titled 'training an aggressive dog', you might want to do a search on training a puppy. Good luck, I think you'll love your puppy when she learns what is expected of her. (12/28/2010)

Training an Aggressive Dog
Is your shepherd puppy from a registered breeder? Ask their advise because no canine control council member wants their kennel "prefix" to receive adverse complaints about their animals and will assist you with this problem this is my beautiful boy "eigenschaft heartbreaker" check him out on google good luck with your new puppy. (12/30/2010)
By NEWFIEGIRL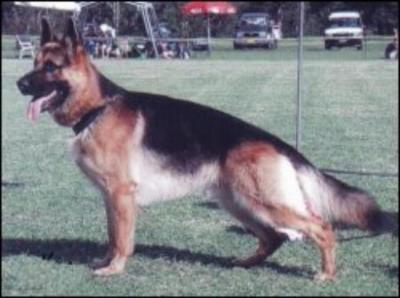 Training an Aggressive Dog
I have found that positive feedback for good actions and ignoring bad actions has worked with my animals.
Your dog is still a puppy and hasn't learned to communicate with you. When Tikko does something aggressive or something I do not approve of, I growl. When she does something positive, she receives a pat, belly rub and the word good. Consistency will work. She is our 16th pet, and our third "last" dog. (01/07/2011)

By tikko marie