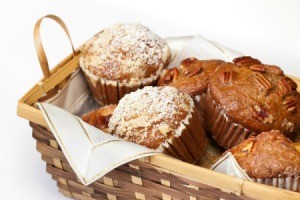 I used to always shy away from taking cupcakes to parties and potlucks because I could never figure out how to transport them without buying expensive cupcake caddies. Simply putting them back into the tins means you get frosting all over your hands when removing them.
The super-simple solution? You can use the cupcake tins, but need a "filler" to lift the cake up a little bit. The perfect filler is those gatorade, juice, milk caps that can't be recycled. Just drop a cap (or two if they are slim) into each cup in the tin and set the cupcake on top. This will give you enough leeway so that you can pick them up by the liners instead of the tops.
If you have some large cereal boxes (family size, or Honeycomb are usually pretty big), you may be able to slide the tins in to keep them covered in the car.
By Sara from Fort Worth, TX
Read More

Comments