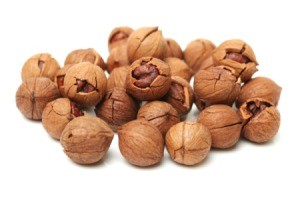 Does anyone know how to prepare and roast Hickory nuts to be cracked? My husband and I have a Hickory tree that has dropped an abundance of nuts into our driveway. We have collected a bunch of them, and have taken the outer husks off. Now to crack the nuts, it is a real challenge.
They are very hard, yet just springy enough to resist being cracked open. Apply enough force to open the shell, and it shatters into uneven pieces. The nut meats are sweet, but take a lot of effort to pry out of the crevices of the shell.
To make a long story short, can I roast/dry them in the oven or in a pan, to make the shells drier, and more brittle for cracking? Does anyone know how it's done? Will roasting make the nuts shrink?
Sue from Clyde, North Carolina
Answers
By velsgal from Missouri (Guest Post)
November 11, 2008
0

found this helpful
Best Answer
Our neighbor taught me to do them. We bake them @ 200 degrees for 2 hours. If you do them too long they dry out. This has worked for us...hope it helps you too! Blessings!

December 17, 2010
0

found this helpful
Best Answer
Now all this is good information. Thank you all! I remember cracking these things as a kid and mom would use them in cakes!!! I remember all too well trying to crack them as a child with two bricks - put the nut on one brick then hit it with the other. No fun at all, but as a kid it was well worth the effort!!
We now have several hickory trees that put on an abundance of nuts each year.
Normally, we rake them into a pile , put them in a wheelbarrow and take them to the woods for the squirrels. I also put a few in 5-gallon buckets for my sons to use in the fire for cookouts. They give the meat a really good hickory flavor. Now that I know how to crack them easily. I'll gather some for cakes and see if the memory of Mother's cake is serving me well.
Thanks again to you all!
By Bettye (Guest Post)
November 11, 2008
0

found this helpful
I recently learned the hard way that the pointed end should be slit or knicked with a knife to let out steam or the shells will explode in the oven and you have nutmeat bits to clean off the sides of your oven.

November 11, 2008
0

found this helpful
Go on eBay for a Duke or a Reed's Rocket nutcracker. They're not expensive and they're very effective.
By Diana (Guest Post)
November 12, 2008
0

found this helpful
As a young girl we used my dad's vise grip to crack them. We never roasted them, just ate them raw! YUMMY How lucky you are to have this tree. I have many fond memories of going with my dad to pick up nuts.

December 17, 2010
0

found this helpful
I have had good results by soaking the nuts in water overnight, then putting them in a food dehydrator (or oven on low) for an hour or two : they split open enough to pop them open for meat access. Then you can roast the meat to your desired doneness.
Answer

this Question