First off, if your chicken is suffering from heat stroke, its comb and waddles will be scarlet red and they will start panting really hard. Often they will fall over or keep sitting down and panting. They will be staggering like they're drunk. They will also likely be passing very green pale dookie which is showing that their liver is in distress.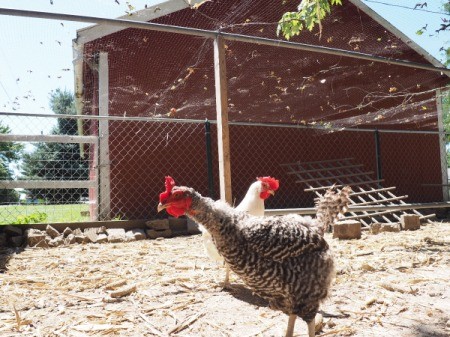 Quickly remove them from the sun or coop. Grab a towel, large rag, or even a t-shirt. Start the hose water going to get the hot water out and cool water flowing. Quicky mix some electrolytes and sea salt in a pie pan or low container that they can drink from while laying down.
Place the chicken in the shade on the t-shirt or towel and start soaking their whole body gently with the hose. If they struggle, wrap them in the wet towel and keep the cool water flowing over their back, under their wings, their stomach and bottom, and as far up their head as you can. The water will pool up on the towel and cool their feet and keep some water underneath their body. If you find a spot they're comfortable with and they struggle less keep the water flowing over them for as long as it takes. If they are drinking too, that's a good sign.
Keep touching their comb with the inside of your wrist, like you would a baby bottle, to check how their body temp is doing. If it feels cool, stop the water and wrap them in the towel and keep them still for a while by holding them on your lap. They will start shivering after a while. Keep checking the temp of their comb. If the comb remains cool (but not cold) then you can let them go be with the other chickens, but only if they are able to walk and showing no more major signs of distress.
Keep and eye on them to make sure they keep drinking and are getting around OK for the next few days. It is a good idea to up the amount of electrolytes you provide. You should also salt their drinking water (1/2 tsp. salt to 1 gallon water). If one shows signs of heat distress the rest aren't far off. They may not get that bad, but you don't want to risk it. A treat of watermelon helps as well.
Keep an eye on your birds all day on hot days, or have someone check on them for you if you don't have a temperature monitor or camera on your coop. Make sure plenty of shade is available too. My birds had shade and plenty of water with electrolytes, but one still went into heat stroke for the first time just the other day. Chickens are like any other animal or person, some are more susceptible than others.
Be sure not to submerge a chicken in a bath of cold water. It can cause them to go into shock and they can die. The cold water poured on them cools them a bit slower. It works fast enough to save them, but not so fast they go into more shock and die. Watch the bird for an hour or two. If they start panting, they need to be cooled off again. If your chicken is eating and drinking a lot that's a very good sign.
It is best to return them to the flock as soon as possible as this lowers their overall stress. They need to keep calm to be able to get their body back to normal. Plus being with the flock can get them to focus on rehydration.
One other note is to maintain calm soothing tones and slower motions to help them relax and lessen their stress. Be sure the hose is on gently so it doesn't hurt their sensitive skin that's not used to being wet. If you have a spray nozzle, use the shower spray option. Don't turn the hose way up it will freak them out and make them want to get away. Slow and steady!