Treating a Dog With Tapeworms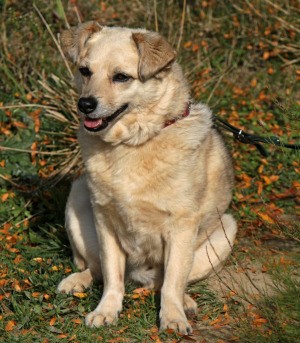 Tapeworms are an intestinal parasite that your dog can become infested with by eating fleas that have the worm eggs in their bodies. This is a guide about
treating a dog with tapeworms.
Questions
Ask a QuestionHere are the questions asked by community members. Read on to see the answers provided by the ThriftyFun community or ask a new question.
My dog is excreting worms. They are white and sometimes pink. I don't know what to do. Are there any pills I can buy for him without going to the vet?
By Yinette
Answers
July 2, 2009
0

found this helpful
Best Answer
Please do not self-treat a dog or cat. Take the stool sample to your Vet, if the pet has worms, they will give you treatment depending on what type of worms they find and the weight of your pet.
Jennifer
Northern Virginia
August 30, 2010
0

found this helpful
Best Answer
Food grade diatomaceous earth for intestinal worms. Natural, easy, safe.
December 1, 2010
0

found this helpful
Best Answer
Yes, there are many different kinds of worm pills you can buy without going to a vet. Go to your local pet store, and ask them what they recommend for the type of worm that you describe.
Is there a home remedy for a puppy that has a tape worm?
By teetee from north Ft Myers, FL
Answers
April 25, 2011
0

found this helpful
Best Answer
Diatomaceous Earth, MUST BE FOOD GRADE for intestinal worms. Do not use garden or pool grade diatomaceous earth as it has poisons in it. Feed and seed store usually carries it or order on the internet. Inexpensive. Effective. Not a poison. Sprinkle over food and intestinal worms are eliminated. Easy and dosage can be every day for awhile. Dosage not critical. Not a poison. An effective natural product. Small dogs/cats 1/4 teaspoon a day. Adjust as to size. Many benefits. Check internet. Use as a blessing. Puppies are born with roundworms. Tapeworms come from fleas. Eliminate fleas with dry 20 mule team borax in carpets. Read my previous posts on pet health. Puppy love is the beginning of a best friend.
April 26, 2011
0

found this helpful
Best Answer
Hello, I am sorry to tell you that there is not an over the counter medication to treat your pet for tapeworms. I have worked for a Veterinarian for over 27 years. Please take a fecal sample to your Vet and have them check the sample for any parasites. There may be more than tapeworms. Good luck.
August 19, 2012
0

found this helpful
I have tape worms in my dogs. There is a mixture of things to make tape worm medicine. I have lost the recipe. I know you use fish medicine in it. Can anyone help me?
By Shelbie from Forest, LA
August 20, 2012
0

found this helpful
If you have actually seen the tapeworms in your dogs they are all infected and the only person who can diagnose the correct treatment/dosage is your veterinarian. In the best interest of the dogs hope this helps.
August 20, 2012
0

found this helpful
Tradewinds for Dogs is the best medicine for tapeworms It is over the counter. Also, there is safeguard for dogs and puppies, but it only treats the type of tapeworms that come from eating rodents and animals, and not the more commo type that comes from the pet ingesting fleas.
Tradewind is the best and you can find it at drsfosersmith.com...or at feed supply store. Sometimes you can find it at stores but not usually.
For roundworms and such I use Nemex and have been very happy with it as well. The Nemex will get them all but not the tapes.
June 12, 2012
0

found this helpful
What home remedy can I give my dog to get rid of tapeworms?
By Amanda
Related Content