November 26, 2010
1

found this helpful
Best Answer
The best birthday party ever:
lots of balloons on the floor when she wakes up
streamers hanging from her door when she wakes up
open gifts one at a time all day long and play with each gift as it is opened
party hats
those blow out party thingies (have a race to see who can blow the fastest)
musical chairs
freeze
stroller race (let your child sit in the stroller, and put another 2-y-o or baby doll in the other stroller; form 2 teams; on your mark, set, go; each team has to race to a destination and back with stroller and tag his/her teammate, who then races to and from and tags the next teammate until all the teammates have raced; the team whose last teammate runs back first wins--tons of fun for everyone)
It does matter if you have a good birthday party for your children. They may not remember the exact stuff, but what they remember that day is how they felt, that you made a big deal. It is a great way of creating memories each year, my mom always makes my birthdays special. By age 4, the child will begin anticipating his/her birthday party and all the ways you make it fun. My child's party was very inexpensive, but it was very memorable and fun. We took lots of pictures and talked about them for a couple weeks afterward (cementing the memory in her mind and reliving the feeling she felt). Next year, we will pull out those pictures again in anticipation of another, but different, party.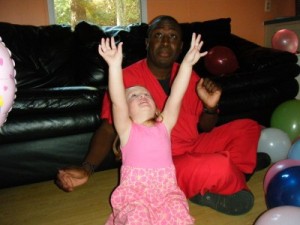 November 16, 2010
0

found this helpful
Just have cake and ice cream with kool aid. The cake can be home made with just two candles on it. She won't know the difference or care either one.
You could have a few balloons for decoration. Keep it small. I am a firm beleiver that parites don't have to be big show type things, seeing which family can outdo the other.