EllenB
Gold Post Medal for All Time! 858 Posts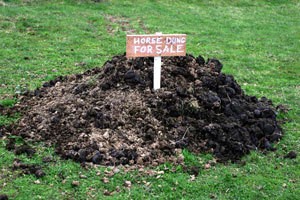 If you took a biology class in high school or a botany class in college, you probably learned the basics of plant chemistry and maybe even learned a useful tidbit or two about using organic fertilizers. Unfortunately, if you're like me, most of that information has long since faded from your memory. Because shopping for fertilizers can be so overwhelming, here's a refresher course on what you need to know.
The 1-2-3's of N-P-K
Nurseries and garden centers offer a dizzying array of fertilizer options. There seems to be a specialized formula for nearly every plant, problem or purpose imaginable-poor soil, no soil, all-purpose, multi-purpose, heavy-duty, etc. When you look at fertilizer labels, you'll see three numbers listed (e.g. 10-10-10 or 5-10-10). The first number stands for nitrogen, the second for phosphorus (also called phosphate) and the third for potassium (also called potash). These are the three primary nutrients required for plant growth and they are always listed in the same order. Nitrogen first (N), Phosphorus second (P) and Potassium third (K). Plants also need certain macronutrients, micronutrients and trace elements, like boron, calcium, iron, copper, etc. These are sometimes included in prepackaged fertilizers or are found naturally in the soil.
Nitrogen Promotes Leaves
Nitrogen is required by all plants, but it's especially crucial for leafy plants, lawns, shrubs and trees. It promotes the growth of leaves, and assists in the metabolic processes necessary to convert sunlight into food for growth. It also assists in promoting root growth. Too much nitrogen will result in lush green leaves, but at the expense of weakened stems and fewer flowers.
On the other hand, too little nitrogen results in slow growth and small, pale yellow leaves and long spindly stems. Most gardeners use too much nitrogen. If you start out with good quality soil, you usually only need half of what you think you need. Overuse can result in run-off that contributes to ground water pollution.
Organic sources of nitrogen include fish emulsion, bloodmeal, cottonseed meal (not for acidic soils), compost and manure.
Phosphorus Promotes Flowers
The role of phosphorus is to promote strong stems, encourage plants to flower, promotes root growth and helps the plant withstand stress. Fertilizers formulated especially for flowering shrubs, annuals, perennials, flowering vegetables (like cucumber and squash) and some house plants, often contain higher amounts of phosphorus. Phosphorus remains in the soil longer than nitrogen and so it should be used rather conservatively. Using too much phosphorus with inhibit a plant's ability to take up additional nutrients from the soil. Too little phosphorus, and the plant's leaves will develop a purple tinge and growth will become stunted.
Organic sources of phosphorus include bone meal, rock phosphate (not recommended for alkaline soils) and cottonseed meal.
Potassium Promotes Overall Health
Potassium is favored by root vegetables and annual flowers. It promotes root growth and helps in building proteins, photosynthesis, and fruit quality. It also helps plants resist disease. Potassium helps to regulate water intake in and out of a plant's cells, which enables movement and gives a plant the ability to regulate water-loss and respond to its physical environment. Potassium is taken up in greater amounts by plants than nitrogen or phosphorus, but it's usually needed in lower amounts (unless your soil is particularly deficient). Too much potassium will effect the plant's ability to absorb important secondary nutrients and results in course-textured fruits. Too little potassium and plants develop spindly stems and spotty or curled, pale-colored leaves.Organic sources of potassium include wood ash (not recommended for alkaline soil), sheep and cow manure, kelp or other types of seaweed, and green sand.
Deciphering N-P-K Ratios
Some plants need more of one type of a primary nutrient than another. A fertilizer label that reads 10-10-10 means the package contains 10% nitrogen, 10% phosphorus and 10% potassium. It would be considered a 'balanced' fertilizer. Conversely, a label reading 5-10-5 contains only 5% nitrogen, 10% phosphorus and 5% potassium. It would be considered higher in phosphorus. The numbers on premixed organic fertilizers are often smaller than on synthetic fertilizers (e.g. 2-5-2). This is because they tend to be released more slowly into the soil and last longer.
You Can't Substitute Good Soil
Most fertilizers will clearly describe what they are intended to be used for and the proper amounts for application. Always follow label directions carefully. Soil with poor structure that contains few nutrients can never be amended or corrected simply by overcompensating with fertilizer. It's always best to start with a soil test and nutrient-rich soil and add fertilizer only as necessary.