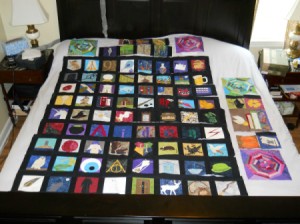 There is light at the end of my two year long tunnel, regarding the Harry Potter paper pieced quilt I began in the spring of 2011.
As you can see in the photo, I have added the sashing to the smaller blocks. There is one final 5 inch block in process: Nearly Headless Nick. Then I will be stitching together the rows and adjusting the sashing to incorporate the larger spiderweb blocks and the 10 inch Harry Potter ones. Next, will be deciding on the border and backing. Finally, the sandwiching of the layers and the quilting itself. Whew, almost makes me tired just thinking of what is left. But the rest should hopefully go faster than what has been done so far. The plan is to finish it before my grandson graduates from high school; he is in the fifth grade. Just kidding.
The spiderweb blocks were inspired by a pattern I found online at: quilterscache.com. The 5 and 10 inch HP blocks can be found on Jennifer Ofenstein's site fandominstitches.com.
The blocks off to the right side will be the bottom row.
This has been a fun project, but the next one, if paper pieced will be made using larger blocks :)