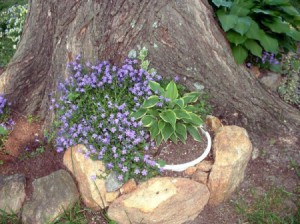 I keep a pretty little plant in my rock gardens with the botanical name 'Campanula Portenschlagiana'. That name might be difficult for most people to pronounce, at least without a little practice. It's common name is 'bellflower'. It just makes sense to me to to call the plant 'bellflower'.
It's a different story with datura. There are probably ten different flowers for which people use the common name 'Angel Trumpet', including 'Datura', 'Brugmansia' and several lilies including 'Crinum'. When they say 'Angel' or 'Devil Trumpet', I never know which flower they mean. In this case, I think it's best to call datura by the easy to pronounce botanical name, 'datura'.
A lot of times, using the botanical name rules out any confusion. I think it's these times, you should learn and use the botanical name, particularly if it's easy to pronounce.