I need crafty ideas on what I could make with empty formula cans and baby food containers. Especially in crocheting or plastic canvas. Other ideas would be great too. Thanks
Pat from Corydon, IN

Answers:
Uses For Formula Canisters
Please don't fill them with edibles or check out this site before you do:

http://www.care2.com/greenliving/toxic-baby-formula-prompts-inquiry.html

This is an excerpt of the article:

"JANUARY 21, 2008: Bisphenol A, a chemical found in many children's and infant products, is the subject of a congressional investigation.

Recently, a study found baby formula companies used cans lined with a resin containing bisphenol A, a chemical linked to hyperactivity, reproductive abnormalities and pediatric brain cancer in lab animals as well as suspected of causing breast and testicular cancer." (08/08/2008)

By tracey
Uses For Formula Canisters
You could also call your schools and see if the art teachers could use them for a craft or craft supplies. (08/08/2008)

By Diana
Uses For Formula Canisters
Thanks for your feedback. Wasn't really what I was looking for, but did give me other ideas that I didn't think about. I'm still looking for crochet or plastic canvas patterns.
Thanks (08/08/2008)

By Pat
Uses For Formula Canisters
If you crochet without the need of a pattern, why not? Measure the circumference and make a vibrant colored crochet cover for them and use them as plant pot containers. The plastic lid can be wedged down in the bottom so that it won't rust and an old saucer or round plastic margarine container put on top of the lid to catch any water from the plastic or pottery pot which holds the plant and soil. It would look pretty with herbs growing in them sitting on a window sill. (08/14/2008)

By cettina
Uses For Formula Canisters
Hi Pat,
My Mother-in-law made me a 'toilet paper roll caddy'. She used kitchen towels to cover the cans instead of crocheting or using canvas. I think canvas would be the best material to use because you can better personalize it and it would also be easier to hand wipe clean. She cut the bottom out of the bottom can, cut both top and bottom out of the middle can and cut the top out of the top can and kept the plastic lid to keep the rolls covered. She kept these together by using duct tape.
The ideas are endless when your creative juices get flowing. For a kid's bathroom you can 'glue' a stuffed animal to the lid, boy's bathroom a race car or truck, man's bathroom, a 'TO DO LIST' with tools :)

Have fun (08/14/2008)

By Laurie
4 Formula cans makes a Rapunzel castle for your little girl
I used 4 formula cans to make this Rapunzel or princess in a castle project for my little girl.
You will need a tool to cut open a window on the top can. I used a drill to open a couple of holes and snipper pliers to cut out the window piece. Make sure you bent the sharp edges inward, clamp tight with pliers and cover with duck tape to protect your little one's fingers.

The materials you need to complete this project are very simple: 4 formula cans, 5 pieces of the regular 11"x8.75" (A4) white papers with brick pattern printed on them to cover the castle outside walls and the inside walls and ceiling of the top can as you can see it through the window.
I just use the Image Search on Google and obtained a brick pattern and duplicate it until it covers the full page. Even a black and white printer will do the job nicely. Then you need to make a cone top for the castle with a circular pattern measuring 6" radius. You also need a toothpick to glue the little flag on to place on top of the castle.
You will also need duck tape to tape the 4 cans together, with the top can positioned upside down with no lid. This will allow a long enough chamber to house a Barbie size doll in the top 2 cans, while you cut a hole through the plastic lid of the 2nd can so you can fit the doll legs through.

They will be slightly bent to fit in. Finally, you can place your favorite princess doll inside the window upon completion of the castle. You can also paint a couple of vines climbing on the castle wall to decorate it. (10/15/2008)

By Mazz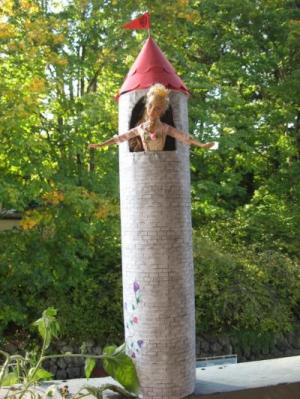 Make educational toys
I use my formula cans to make some simple educational toys for my baby. First decorate the cans with gift wrap, then I cut out square and round shapes from the lid to fit her toys through. You can also save up tops from canned bread, thin or thick bottle lids of different sizes for your baby to slide through the lid of the formula can. So it serves as storage for small toys and also allows your baby to play with objects of different shapes and sizes. (10/15/2008)

By Mazzlee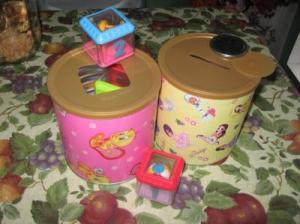 Uses For Formula Canisters
You can make phonics containers. Put a letter on the can and place small toys/objects/pictures of items that start with a particular sound. Example, T, turtle, toe, tee-pee, triangle, toy etc. If you have several letter/sounds, the child could sort by initial sound. :) (12/03/2008)
By Kerry
Uses For Formula Canisters
I'm so excited that you mentioned crochet, I've been pondering the same dilemma for months. I put a grommet in the lid of a large and small can and string balled yarn through it. I also use the patterns for toilet paper roll covers to make the smaller cans decorative holders for many odds and ends. (12/12/2008)

By cheshire_cat_evicted