Uses for Formula Cans
Solutions
Share on ThriftyFunThis page contains the following solutions. Have something to add? Please share your solution!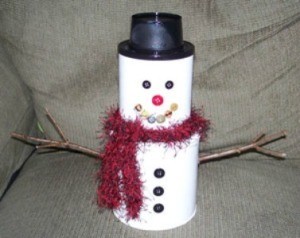 I made this snowman out of empty formula cans and an empty pudding cup. I took empty 12 oz. and 25 oz. formula cans and painted them white. I painted the top of the 12 oz. black and the pudding cup black. I glued them all together and used tree branches for the arms. I then made a quick scarf out of scrap yarn and glued on the buttons.
By Jennifer from Riverview, Florida
Read More Comments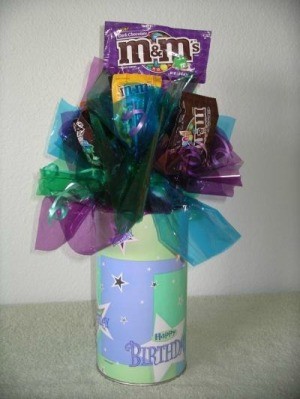 Creative uses for empty formula containers as suggested by the ThriftyFun community. Post your own tips here.
Birthday Centerpiece
I used them as centerpieces for my son's 1st birthday party. For the larger formula cans, I taped gift wrapping paper to the outside. Then I taped candy and cellophane to a skewer and poked them into foam that I put that into the bottom of the can. Cute candy bouquets centerpieces!
By Judy
Grease Can or Container
I paint them, after you remove the paper and you can put all kinds of items in them. Also, punch holes in the side in a pattern and place a candle in the can.
I also use my empty cans for the gas grill to catch the grease from the food.
By Lisa
Several Great Ideas
We use our old formula cans for many things. I had some cute metal buckets I wanted to put flowers in, but didn't want to ruin by filling with dirt, so I used formula cans to fill with dirt and plant my flowers and I sat them inside of the buckets.
My husband used a ton of them in his garage to organize all of his things. He put bungee cords in one, electrical tape in another, etc.
We were able to help out a teacher one year that did an arctic survival lesson every year with her students. They put together their own survival kits in coffee cans and then took them on a field trip and were taught different lessons of survival if you are stuck in the snow and winter weather. For some reason that year, very few of the students could come up with coffee cans so we donated a lot of the large formula cans.
They are perfect height to store watercolor brushes in or markers, crayons, etc.
I recently saw an old article of a magazine that was showing how they had spray painted old coffee cans (formula cans would work) and showed how you could stencil decorations or whatever on them and then you screw two or three of them to a piece of wood and then hang the wood wherever you want the cans. If you use them to store your dog brush, leash, treats, etc. in you could paint paw prints on the cans and dog bones, etc. You could hang it in the garage or by the door for easy access to walk or care for your pet. Or you could hang under a window as a window planter, etc. If you use for a window planter, use an ice pick or hammer and nail to make several holes on bottom of can to drain water.
WARNING: If children are using the cans be sure that they do not have a sharp edge where formula lid was taken off. I wrapped duct tape around the lip of mine that I used for markers and pressed it tightly. The plastic lid still fit on the can well.
By Tawnda
Keep Plastic Cutlery
I put pretty contact paper around them (including sharp edges) and store plastic knifes and forks in them. It is handy to just grab them out of the cupboard for picnics.
By Joyce
Dallas Cowboys Light Covers
We did a Dallas Cowboys theme room for our game room. I bought scrapbook paper and put blue stenciled stars on the outside. Then I poked a hole in the aluminum and made it about an inch and a half wide. I put the big tacky white Christmas lights in it, hot glued them on, and made lanterns to go around the top of the room. Super cute and cheap.
By Kaleigh
Baking Kits Or Baked Goods
I've used formula cans and cans from hot chocolate as containers for my holiday baking. I clean out the cans and then decorate them by covering them with wrapping paper. wall paper, painting, or even fabric. Then I fill them with cookies.
For the large formula cans I did a similar thing, but instead of cookies I filled them with materials for kid gifts. I put in the materials and instructions for a craft, or the ingredients and recipe for a baking kit, or once I put in all the accessories for making a snowman - hat, scarf, buttons, etc.
By Trix
Christmas Tins
You could cover the cans in Christmas themed paper and fill the inside with baked goodies or candy. Put a bow on the lid and there you go!
By melissa
Jack-O-Lanterns
For Halloween, take them and paint them orange. Cut out eyes for a jack-o-lantern face. Place some sand inside them just enough to give the bottom stability and place a tea candle inside each one in the center and set them all up your drive way, on each side, so far apart and let them light up your path for the trick or treaters and add real Halloween decor to your home. Also you can use the same idea for any holiday, Christmas, snowmen, Easter bunnies, painted on, etc., and use the lids to cut out as stencils, they work great for that.
By Julie
Kids Playhouse and Other Daycare Uses
I am a daycare and we used all the cans and laid them flat and glued them together and built them a play house. No photos of it for it only lasted a week. Other things: we put construction paper around it (or clip out pictures to glue to them) and decorated them for pen holders or money holders and the kids personalized them. Also if you have babies you can put a small toy inside of a Gerber fruit plastic container and take your glue gun and glue it shut and that makes blocks with things like cheerios or buttons in the for the babies to look at.
Back to the formula cans: in the spring we planted grass or a tulip in them and the kids decorated them. Thanks.
By Chris at Here we Grow Daycare
Holiday Storage
Store things like Christmas stuff: strings of lights, tinsel, things that are always hard to find when you need the Christmas ball hooks. Also things to decorate your Christmas packages like name cards, ribbon, stickers, and whatever. That goes for storing away for any holidays.
Imagine finding the Easter basket grass in one place for a change (lol) or all your Halloween make up in one can? If you do not decorate the can, then mark them clearly. You could store all your different holiday stuff in just one area (time saving).
Read More Comments
For thrifty gifts this Christmas, I decided to make cocoa for several people on my list. Instead of buying glass containers, I saved my baby's formula cans and peeled off the labels.
Read More...
Questions
Ask a QuestionHere are the questions asked by community members. Read on to see the answers provided by the ThriftyFun community or ask a new question.
My daughter has kept all the large baby formula cans. Any ideas what she can use them for, or do with them?
By sue
Answers
August 25, 2009
0

found this helpful
I'd cover them (by decoupaging) with fabric, Christmas wrap, gift wrap or cute napkins then fill them with homemade baked goodies (like cookies or homemade candy) for Christmas gifts.
They can also be filled with little crafting kits for kids & adults like:
Homemade Play Dough: Put 3 or 4 different colors in the container, each in it's own zip-lock bag.
Coloring: Coloring kit print out coloring pages from the internet (just Google kids free coloring pages) then make sure they can fit rolled around the side of the inside of the can then put in crayons & or markers & paint.
Embroidery or Counted Cross Stitch: This kit would be for a teenager to make their jeans fancy or do little just-starting projects.
Plastic Canvas Kit: Fill with pieces of plastic canvas then add different colors of yarn or twine.
Stamping Kit: Buy little stamps & stamp-pads at the dollar store & add a small pad of paper.
Fabric Painting Kit: buy puff paint etc & print out directions.
Beaded Animals: For kids 6 - 12. You can buy big beads then print out directions for making beaded lizards, beaded hearts & other shapes. Add 5 or 6 key chain rings & colorful twine.
Cookies: Fill with make your own cookie dough powder & directions.
Spiced Hot Tea, Instant Cai or Cocoa Powder: Have you ever had that tasty hot tea made with instant tea, tang & cinnamon & clove powder? It's very good, I'm sure you can find a recipe on the internet.
Knitting or Crocheting kit for beginners: Get enough yarn to make a hat or a scarf or granny squares & add a crochet hook & printed-out directions, if it's knitting you'll either have to use the needles that are hooked together (for circular knitting) or attach the needles to the side because the'll be to long to fit inside the container.
Yarn Animal Kit: When I was a kid I made a yarn octopus. It required directions, a Styrofoam ball (for the head). You start at the top of the head, cover the Styrofoam ball, then you tie a piece of yarn around the bottom of the ball then braid 8 legs *Presto* you have an octopus.
Seeds: An inside herbal garden. Add 5 or 6 little peat pots & packets of seeds... A baggie of potting soil or those crystals you can grow in (they expand when you add water).
Kits for the Homeless: Each year we like to make up hygiene kits for the homeless. They need things like small sample sizes (so they can fit inside their pockets) of shampoo, toothpaste & toothbrush, deodorant, shaving cream & razors. Also, they appreciate warm socks, gloves, scarves & hats.
Beading Kit or Jewelery Making Kit: Adult, Teenager or Child... Who wouldn't want a kit to make their own earrings, necklaces or jewelry...
Hair Adornments: Make or buy scrunchies, hair combs, hair clips & fancy barrettes... Every child & adult likes fancy things for their hair!
Barbie Clothes: How about a "take anywhere" Barbie or any small doll clothes kit... Something a child can bring along in the car to keep them occupied!
Glove Doll: On HGTV (Carol Duval show) they showed at great idea. It was a doll made out of those small knit gloves that stretch so much. You'd add all the supplies you'd need. Buy the gloves 2 pair for $1 at dollar store. that way you'll get 4 dolls for only $1. Here are 2 URL's to look at:
www.hgtv.com/.../index.html
www.associatedcontent.com/.../knit_glove_doll_for_little_girls...
Here's a picture of the "Glove Doll".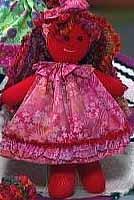 August 26, 2009
0

found this helpful
I buy powered rice milk and save all the canisters by removing the label from the cans. I make all my own hot cocoa and hot cappuccino mixes and give the mixes away during Christmas time. I print out my own labels on the large adhesive shipping labels and stick them on the can which tells you how much mix to use in a cup of hot water.
All the grocery stores and the health food store in my area do not sell powered rice milk but only powdered soy milk. I had to order it from Amazon.com.
August 31, 2009
0

found this helpful
I used one of the tall ones to stuff plastic grocery bags in, then I cut an X is the lid & cut just a small bit of the tips of the X off so I can get my finger in if I need to. It works just like kleenex tissue, I can pull them out as I need them. Takes up very little space & I think I got about 50 bags in one can!
Answer

this Question

...
Archives
ThriftyFun is one of the longest running frugal living communities on the Internet. These are archives of older discussions.
I need crafty ideas on what I could make with empty formula cans and baby food containers. Especially in crocheting or plastic canvas. Other ideas would be great too. Thanks

Pat from Corydon, IN

Answers:
Uses For Formula Canisters
Please don't fill them with edibles or check out this site before you do:

http://www.care2.com/greenliving/toxic-baby-formula-prompts-inquiry.html

This is an excerpt of the article:

"JANUARY 21, 2008: Bisphenol A, a chemical found in many children's and infant products, is the subject of a congressional investigation.

Recently, a study found baby formula companies used cans lined with a resin containing bisphenol A, a chemical linked to hyperactivity, reproductive abnormalities and pediatric brain cancer in lab animals as well as suspected of causing breast and testicular cancer." (08/08/2008)

By tracey
Uses For Formula Canisters
You could also call your schools and see if the art teachers could use them for a craft or craft supplies. (08/08/2008)

By Diana
Uses For Formula Canisters
Thanks for your feedback. Wasn't really what I was looking for, but did give me other ideas that I didn't think about. I'm still looking for crochet or plastic canvas patterns.

Thanks (08/08/2008)

By Pat
Uses For Formula Canisters
If you crochet without the need of a pattern, why not? Measure the circumference and make a vibrant colored crochet cover for them and use them as plant pot containers. The plastic lid can be wedged down in the bottom so that it won't rust and an old saucer or round plastic margarine container put on top of the lid to catch any water from the plastic or pottery pot which holds the plant and soil. It would look pretty with herbs growing in them sitting on a window sill. (08/14/2008)

By cettina
Uses For Formula Canisters
Hi Pat,
My Mother-in-law made me a 'toilet paper roll caddy'. She used kitchen towels to cover the cans instead of crocheting or using canvas. I think canvas would be the best material to use because you can better personalize it and it would also be easier to hand wipe clean. She cut the bottom out of the bottom can, cut both top and bottom out of the middle can and cut the top out of the top can and kept the plastic lid to keep the rolls covered. She kept these together by using duct tape.

The ideas are endless when your creative juices get flowing. For a kid's bathroom you can 'glue' a stuffed animal to the lid, boy's bathroom a race car or truck, man's bathroom, a 'TO DO LIST' with tools :)

Have fun (08/14/2008)

By Laurie
4 Formula cans makes a Rapunzel castle for your little girl
I used 4 formula cans to make this Rapunzel or princess in a castle project for my little girl.
You will need a tool to cut open a window on the top can. I used a drill to open a couple of holes and snipper pliers to cut out the window piece. Make sure you bent the sharp edges inward, clamp tight with pliers and cover with duck tape to protect your little one's fingers.

The materials you need to complete this project are very simple: 4 formula cans, 5 pieces of the regular 11"x8.75" (A4) white papers with brick pattern printed on them to cover the castle outside walls and the inside walls and ceiling of the top can as you can see it through the window.

I just use the Image Search on Google and obtained a brick pattern and duplicate it until it covers the full page. Even a black and white printer will do the job nicely. Then you need to make a cone top for the castle with a circular pattern measuring 6" radius. You also need a toothpick to glue the little flag on to place on top of the castle.
You will also need duck tape to tape the 4 cans together, with the top can positioned upside down with no lid. This will allow a long enough chamber to house a Barbie size doll in the top 2 cans, while you cut a hole through the plastic lid of the 2nd can so you can fit the doll legs through.

They will be slightly bent to fit in. Finally, you can place your favorite princess doll inside the window upon completion of the castle. You can also paint a couple of vines climbing on the castle wall to decorate it. (10/15/2008)

By Mazz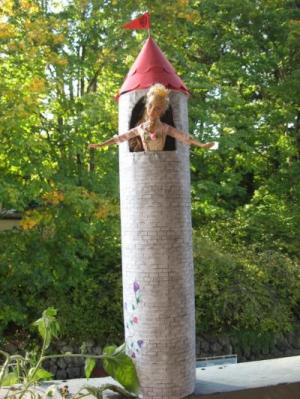 Make educational toys
I use my formula cans to make some simple educational toys for my baby. First decorate the cans with gift wrap, then I cut out square and round shapes from the lid to fit her toys through. You can also save up tops from canned bread, thin or thick bottle lids of different sizes for your baby to slide through the lid of the formula can. So it serves as storage for small toys and also allows your baby to play with objects of different shapes and sizes. (10/15/2008)

By Mazzlee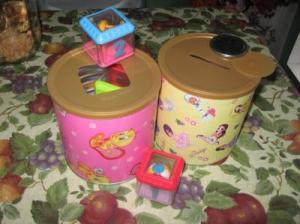 Uses For Formula Canisters
You can make phonics containers. Put a letter on the can and place small toys/objects/pictures of items that start with a particular sound. Example, T, turtle, toe, tee-pee, triangle, toy etc. If you have several letter/sounds, the child could sort by initial sound. :) (12/03/2008)

By Kerry
Uses For Formula Canisters
I'm so excited that you mentioned crochet, I've been pondering the same dilemma for months. I put a grommet in the lid of a large and small can and string balled yarn through it. I also use the patterns for toilet paper roll covers to make the smaller cans decorative holders for many odds and ends. (12/12/2008)

By cheshire_cat_evicted
Advertisement
Published by ThriftyFun.
© 1997-2020 by Cumuli, Inc. All Rights Reserved.
https://www.thriftyfun.com/tf258397.tip.html