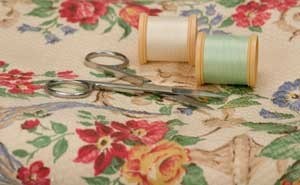 Duvet Cover
While this may sound odd to some of you out there, old curtains can be sewn together to make beautiful duvet covers. Odd, yes, but you'd be surprised how nice this looks." This idea came from HGTV and it is a wonderful idea! I am going to sew a duvet cover this week that Fred, my cat, can't ruin, LOL!
By Maryanne
Cushion Covers
I picked up a wonderful bargain at a Lions Charity Auction - a pair of lined curtains, each 7' long x 9' wide - they were $3 Australian the pair. They are navy blue and white diagonal stripes, a bit modern for my colour scheme so I was planning on dying them a dark maroon as 'black out' curtains for the French doors in my bedroom, (I work nights). Around the same time I found a cane 3 piece suite at the local rubbish tip, perfectly sound, unfortunately it had been previously painted but in style it matched a pair of cane chairs I had on my veranda, (previously bought at an auction for $20). So I have decided to make matching cushion covers so the 4 chairs and 2 seater settee will look like a matching suite.
This would cost about $600-$700 new so not bad for $23 and a coat of paint - and it turns one corner of my large veranda into a cosy inviting seating area!
Next problem - how to keep the dog off the cushions! lol!
Regards
By Jo Bodey
Bags
In the old tent trailer I had made some cheap (they were beige with a tiny vertical black line running horizontally) curtains to divide the kids sleeping area from the rest of the trailer. When we got rid of the trailer I made all the curtains into recyclable shopping bags to get groceries in. 10 years later...still using the bags. One holds snowboots and is hanging from the rafters in the basement. One holds extra plastic shopping bags and is hanging from a nail in the pantry in the basement. One has all the dog clippers and parifanelia for the pets in it.
Make a Dress
Scarlett O'Hara made a dress out of her old drapes! But those were some DRAPES!
By krista
July 26, 2009
0

found this helpful
Top Comment
Once, I had some really nice light weight drapes (separate sets) that had small stains only on the lining side. My idea was with the pleats left in place that they would make a lovely skirts for the most part they were just the right length. I finally passed them onto another person that I believe transformed them into skirts.
Another idea I had was to cut them to a length needed to make bed skirt/ruffle. I would have cut them from the top of the curtains leaving pleats in place, with the rest of the fabric I would have made throw pillows or ottoman cover. I love the thought that they would give a new look to something else.
December 1, 2006
0

found this helpful
I am in the process of using some old drapes as the middle lining of quilts. they are made of a nice heavy material, therefore should provide warmth.
brenda-ohio
July 6, 2007
0

found this helpful
USE OLD DRAPES AND CURTAINS AS OVERLAYS ON DINING ROOM TABLECLOTHS. YOU COULD CUT THEM INTO PLACEMATS OR TABLE RUNNERS OR IF IT HAS SQUARE SHAPE, LAY THE CURTAIN OR DRAPE CROSSWISE OVER TABLECLOTH; PLACE A SMALL PLACE MAT IN THE MIDDLE TO HOLD YOUR CENTERPIECE.