Uses for Jack-o'-lantern Pumpkins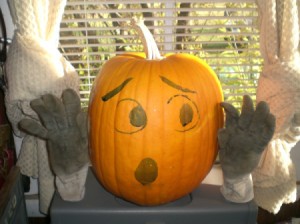 Pumpkins aren't just jack 'o lanterns! They are one of the healthy vegetables for us.
Now that my children are adults I don't necessarily carve my pumpkins that I grow for decorations and if I do want to decorate them, I will use paint instead of carving to give them double purpose.
But some folks use their pumpkins even if they carved them previously and say that even a soft freeze doesn't do them in, if you grab them soon enough after!
Here are some things to do with your Halloween pumpkin after Halloween:
If you haven't already taken out the seeds, do so, then slice up your pumpkin and put it in a crock pot for a few hours. It will become soft enough to peel the skin off (use a peeler so you don't waste any of the pumpkin meat) then puree it, drain it and use it for a pumpkin pie or wherever pumpkin puree is required in a recipe.
Freeze the puree (I make it and spread out "flatly" for easy freezer storage) in one cup bags for future recipes if youd like.
Pumpkin soup is delicious too! Check online. I have a Pueblo indian pumpkin soup recipe that I make for Thanksgiving for my family.
Of course pumpkin seeds are great to eat. I rinse mine off then boil them in lightly salted water for 30 minutes and then dry them (either in the oven at 200F until dry or in my dehydrator).
Some folks dehydrate pumpkin chips by slicing them thinly and sprinkling their favorite spice on them (like brown sugar and cinnamon). To be honest, I tried it but wasnt very impressed with the taste although you may like it. I ended up grinding mine up, see below.
Dehydrate slices of pumpkin meat then grind them up for future use. I am not big on canning and have limited freezer space right now so this was an ideal way to preserve my pumpkin. You just need to reconstitute the pumpkin before using in recipes.
I am sure you have some great recipes of your own. Just remember that pumpkin can replace squash and sweet potatoes in some recipes as well!
Enjoy!

Comments
Read More

Comments
After Halloween have a fun pumpkin smashing event for the family and friends. Try different methods to find the best or most fun technique. Then compost the remains.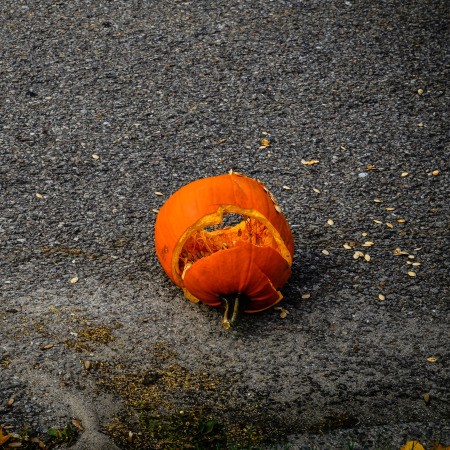 Advertisement
Categories
Pages
More
Categories
Published by ThriftyFun.
© 1997-2020 by Cumuli, Inc. All Rights Reserved.
https://www.thriftyfun.com/Uses-for-Jack-o-lantern-Pumpkins.html