Don't throw away apples accidentally frozen with their skins on. I just recently had a bag of apples freeze when the fridge decided it needed a change. lol. I was determined not to waste them. I let them warm up just a little. By that, I mean, just about twenty minutes. I cored them and was amazed to discover I could peel them! Easily! Not pare them, peel them. It was so neat.

So I thought, hummm, what now? Well, I found the color of the pulp was just a shade darker and the flavor had increased a lot. The first ones I accidentally froze were Red Delicious, and in my opinion, they are not bakers or cookers, just eaters. I ended up with the best tasting apple pie ever, apple cobbler, dumplings and applesauce.

I didn't have to use as much brown sugar either! In fact, I created a recipe I intend to enter into a contest. Even if you have apples you think have seen their day, freeze them. Just because they are old you can freeze them and do something with them. Now, I don't mean soft, icky, throw away ones.
By Jacqueline Laura Young
Read More Comments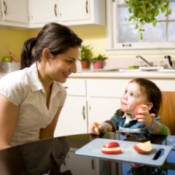 Make applesauce from those apples that your child takes one bite out of and won't finish. I just cut out the bite, cut up the apple and either serve the kids sliced apples or put them in a pan with a little water, cook until soft, smash or run through apple sauce maker.

If you use an applesauce maker, there is no need to remove the peel. Freeze flat in zip lock bag. It takes up less space in the freezer and you can break off just what you need.

By Jane
Read More Comments
I have had apples in the fridge for almost 3 weeks already. What can I do with them?
By meds r
Answers
September 26, 2011
0

found this helpful
Best Answer
Make applesauce!
September 27, 2011
0

found this helpful
Best Answer
You can peel, core and slice them into apple rings and dry them. It makes a great low-fat and healthy snack.
September 27, 2011
0

found this helpful
Best Answer
Core and slice some and put them in the skillet with a tablespoon of butter and some cinnamon and a little brown sugar and stir until soft and serve as a side dish with pork or you peel them and do the same and serve them over vanilla ice cream for a yummy dessert.
September 27, 2011
0

found this helpful
Best Answer
My horses love them! And after feeding them an apple or two, I can tell they love me too :)
Answer

this Question

...