I'd like ideas for making crafts out of the plastic coffee cans. I'd like to make useful items to sell at a bazaar. I have so many of these containers. It seems so wasteful to throw them away.
Artlady from Edmond, OK
Answers:
Uses for Plastic Coffee Containers
I wash, dry and save egg shells all winter so that I can spread them around my Hostas in the spring. This keeps the slugs off your plants and the canisters are a great place to keep them. After using an egg, rinse out the shell, let dry on paper towels and then crumble in the can. (06/17/2008)

By PeggyLee
Uses for Plastic Coffee Containers
We use them for piggy banks. My youngest 3 are 5, 4, and, 2 1/2 and it is hard to find any that are not ceramic. Use felt, wrapping paper, construction paper, along with stamps, crayons, stickers, and markers to decorate. A pair of scissors and a slim metal file makes a good hole in the lid and the file smooths out the rough edges. We superglue the lids on the younger 2, but my 5 year old likes to count the money daily. They make them about once a month (even when their other isn't full yet). (06/18/2008)
By momoffour
Uses for Plastic Coffee Containers
I saw some Halloween decorations made from them somewhere online. The cans were spray painted black on the inside and orange on the outside. Then the eyes, nose, and mouth were cut out of the can. With a tea light placed in them, they were very cute and professional looking. This kind of decoration idea can be done for other holidays, too. Paint green and punch holes in shape of tree, yellow and punch holes in shape of star. They look great lined up down a walkway. (06/18/2008)

By huskey
Uses for Plastic Coffee Containers
The containers could be used to make a string of lanterns. Spray paint the coffee can, lid and all, attach it to a string of lights (the icicle Christmas lights). One lantern per little icicle. Of course, the lantern has little holes cut out. Star shaped, circles, your choice. This lantern would protect the lights from rain and snow.

They could also be made into luminaries. They would lie on the ground and would line a walk-way, wall, or path. Spray lantern and the wire any color. They could be sprayed orange in the fall for a pumpkin party. (06/18/2008)

By Jan
Uses for Plastic Coffee Containers
I have seen them painted and decorated and filled with different items to be sold at church jumbles. I have seen art kits, first aid kits, sewing kits, gardening kits, and so on. (06/19/2008)
By Kerry
Uses for Plastic Coffee Containers
I remember a website last Christmas that said if you go on the website of the coffee company, they have ready made seasonal stickers you can cover the cans with. They fit perfectly over the Folgers labels. Look up the website and see. (06/19/2008)

By Sharon
Utensil Holder
Try using it to hold your under sink items, such as that wet brush after scrubbing pots. (10/21/2008)

By By Kelly
Uses for Plastic Coffee Containers
Here's a really neat project I found for coffee cans. I will be posting all the details on this later. But, for now, here's a picture. It's a birdhouse made out of a plastic coffee can. (11/28/2008)

By Artlady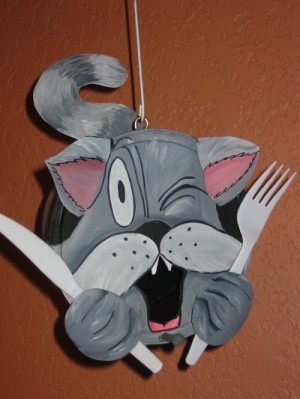 Uses for Plastic Coffee Containers
I've done this once and plan to do it several more times. I taped off around the label part of the plastic can and spray painted the label with "Chalkboard" paint available at the local Walmart or home improvement store. Then I can use the can for whatever I want, by writing on it with chalk. So far I've used mine for raffle and door prize drawings for our PTO meetings and functions.
(12/27/2008)

By Vikki
Uses for Plastic Coffee Containers
I use them for when someone is sick. The kids use them for sand toys. The hubby stores tools in them.
They are good for keeping toilet paper dry when camping. I also, put all the sandwich meats and cheese in them to keep them dry in the cooler.
(03/02/2009)

By crunchberry
Uses for Plastic Coffee Containers
I also use mine as compost buckets as Melody has and find that odors do not waft out, because of the tight seal. These are perfect as paint buckets, small toys, and blocks organizers. I told the kids that the coffee odor was the smell of "magic". (05/14/2009)

By captarlo
Uses for Plastic Coffee Containers
I am going to have some fun. I have collected a lot of the Folgers plastic coffee containers. I think I will go to the store and purchase some paint for plastic and design my own flower pots; punch holes in the bottom and use the lid to catch drainage. (07/12/2009)

Uses for Plastic Coffee Containers
I use the red plastic containers for the "dead" batteries that are in need of being charged. Once charged they go into the green containers and are ready for use. (08/01/2009)

By Flashman
Uses for Plastic Coffee Containers
A butt can for those who smoke on the porch. Add a little water to the bottom and they can put their cigs in them when done. (08/01/2009)

By Reeseewi
Uses for Plastic Coffee Containers
I have a limited space for all my crafting supplies. So I store my supplies in them and also I save several back to use for the small projects I am working on. We have to drive almost 100 miles to our doctor's office so I will pull out a couple of things to work on 1 for the ride up 1 for waiting room time and another for the ride home and by the time we are home I have 3 projects almost finished. (10/04/2009)

By dcsprsmm