Reusing Wood Pallets
Solutions
Share on ThriftyFunThis page contains the following solutions. Have something to add? Please share your solution!

You can take an old window and pallets and turn them into a beautiful primitive window hutch. My boyfriend made me this for Christmas one year.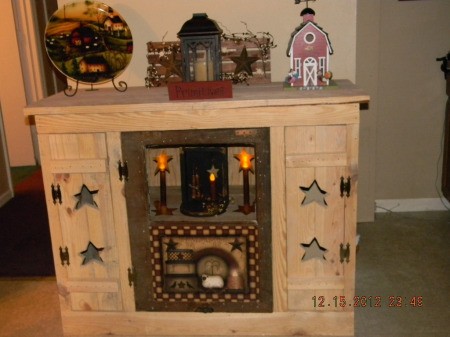 Get 4 wooden shipping pallets and two 8 foot steel fence posts. Lay two of the pallets on the ground away from the house. Have someone hold the other pallet on end then drive one of the steel posts into the ground about three feet. This will leave five feet sticking out above ground. Do the same at the opposite end leaving the pallets standing against the post. Now you are ready to stack your firewood.

When you have the wood neatly stacked take a measurement about halfway down from the top on each side and over the top. This is the size of the poly tarp you will need to cover the wood.
You're not done yet. You will need to get an "S" hook for each of the eyelets (grommets) in the tarp. You will also need a one gallon milk jug for each of the "S" hooks. Fill the milk jugs about 3/4 full of water, DO NOT put the top back on, leave it open so the water can expand and freeze without splitting the milk jug. Now hang a milk jug from each of the eyelets using the "S" hooks.
When you need wood just remove a couple of the milk jugs and throw the tarp back. After getting the wood, cover the pile back up again and replace the milk jugs.
This works really well, it give you good dry wood for burning. The bottom pallets allow air to circulate on the bottom of the pile so you won't have any rotten wood to remove in the spring. Try it you like it.
Source: I read this in a Popular Mechanics magazine many, many, years ago.
By Herman from Midland, MI
Lights, Camera, Action! - A Children's Stage
Do you have a child that is longing for the bright lights of Hollywood? Do you have a budding playwright in the family too? Well, here is a way to build her or him their own stage so you can enjoy the fruits of their labors. Any child would love to have this in their backyard to put on performances for you and your friends. But be warned, this may make your house the most popular on the block. This can be made any size that you want as long as you have that many same sized pallets. I have given instructions for a square that can hold a couple or three children acting or three children seated playing instruments.
Materials
For this project you will need to scrounge up:
4 pallets that are the same size
4 pieces of 2 inch PVC pipe, 8ft long
4 mounting clamps or cleats
4 end caps for the pvc pipes
4 long carriage bolts to bolt the pallets together
Screws to mount the pipes to your base
1 piece of 3 quarter inch PVC pipe to hang your curtains on.
Stain to stain the floor of your stage or paint to paint it
An old pair of pocket curtains for the stage
Tools:
Electric Drill with a hole cutting bit
Socket and rachet to fit your carriage bolts.
Electric saber saw or circular saw for trimming wood
Sander
Instructions
First we will start with where to find pallets. You usually can find pallets at your local grocery or hardware store and they would be glad for you take them off their hands. But you must ask first. Try and get full pallets another words with boards all the way across the face or you will be cutting wood to make them solid. Most pallets are made of junk wood and do not have a smooth surface so you will want to take a sander to them to make them smooth. If the wood runs over the edge of the pallet you will want to cut this off flush with the edge of the boards underneath. Now take the first two pallets and using your electric drill; drill a hole in each aligning the holes so that you can bolt them together. Bolt the first together and then add the third and fourth pallets the same way. Now you should have a pretty sturdy platform.
Paint or stain the wood. For fun you could also decoupage or paint designs on your floor. Let dry at least 24 hours and then polyurethane the floor. Next you will be adding your side supports made out of the PVC pipe. You will glue the end caps on and then on the front two you will be drilling out a hole too run your three quarter inch pipe through for your stage curtains. Measure down equal lengths on your pipes and with your hole saw attachment (bit) drill holes on each side of the pipe. Now mount this with your mounting brackets or cleats to the sides of you pallet. Once you have got the front two PVC pipes mounted. Push your three quarter inch PVC pipe through both pipes. For the back two pipes just glue on the end caps and mount them to the pallets.
To use your stage, you will need to get some curtains that are the pocket style and run them across your three quarter inch pipe. You will want to buy some tie backs for the curtains so that your kids can tie back their curtains for their performance. The pipes in the back are put there so that your young artist can take brown painting paper that can be bought at any hardware and tape the scenery across the back of the stage. Children will enter at either side of the stage. To decorate your stage even more, silk flowers or flags could be attached to the side posts of your stage above the curtains. PVC can also be painted with spray paint. Put this in an area for your garden so that you will have room to put chairs out front so that you have room for an audience.
In researching this I found two different sites that have pre-made scripts that for free that your kids can download you just need to email the authors and let them know that you are using there scripts for a backyard performance. These are:
Questions
Ask a QuestionHere are the questions asked by community members. Read on to see the answers provided by the ThriftyFun community or ask a new question.
Q:
I would like to use discarded wood pallets to make a raised bed garden. Has anyone done this with success?
Hardiness Zone: 7a
Debbie in the Draft from Stuarts Draft, VA
A: Debbie,
Wood pallets will work fine. You can disassemble them and dig the boards into the ground a few inches, or secure the frame by pounding a few wooden or metal stakes into the ground on either side of them. Avoid commercially pressure-treated wood that contains arsenic or other toxic compounds that can leech into your soil. Also avoid wood treated with penta (pentachlorophenol). Types of untreated wood that are naturally resistant to rotting include cypress and cedar. Wood pallets are usually cheap or free, so if yours are made from a wood more prone to rotting, you can inexpensively replace them anyway.
Answers
By (Guest Post)
March 22, 2006
0

found this helpful
I have a friend who did this successfully. I will be trying it this weekend! Email me for photos. lindabaldwin @ remove spaces . verizon.net /// just remind me what you're looking for in your email. Thanks.
By Tracy in Brampton (Guest Post)
April 4, 2006
0

found this helpful
Wood pallets? How does this work? Could I use it for my mini-pumpkins?
Answer

this Question

...
Where is a good place to get free wood pallets?
Answers
May 3, 2016
0

found this helpful
So many places it's almost mind-boggling. Good place to start is just going for a drive behind big-box stores like Home Depot.
Wherever you see big trucks making deliveries, whether it's hardware or office supplies or even gardening materials, they're sure to have pallets.
The polite way to go about it is to ask permission and not just take them.
Another source (depending where you live) would be kijiji or craigslist or something along those lines. Try using google and entering your city name and the words "free pallets."
A fellow I know up here in Calgary gets paid to stop by downtown businesses and remove their pallets. He either takes them to the local landfill or drops them off (for a small fee) to anyone who wants them. Perhaps you have someone providing similar services?
Good luck!
Answer

this Question

...
Pallets are often available for free and can be used for many wood building projects. This is a page about making a wood pallet compost bin.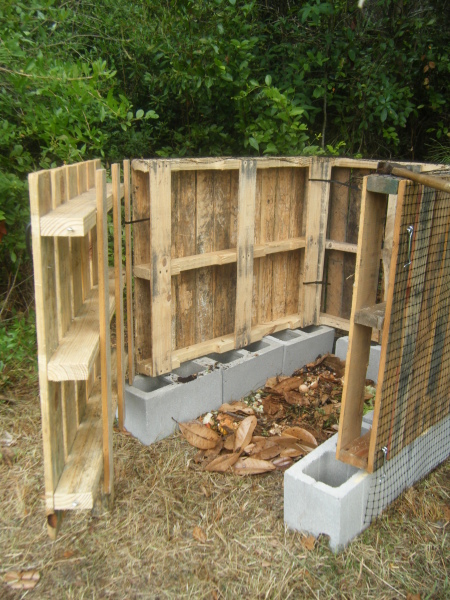 Use pallet wood to install a unique, rustic, and inexpensive ceiling in a garage, shop, or even a studio. This is a page about installing a pallet wood ceiling.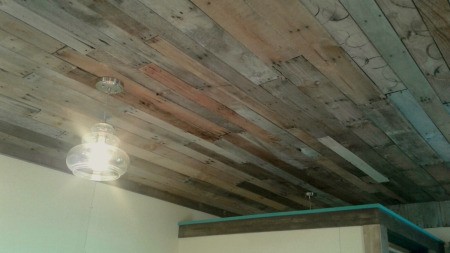 Wooden pallets, which can still sometimes be gotten for free, can be dismantled and reconstructed into an attractive and useful spice rack. This is a page about pallet door spice rack.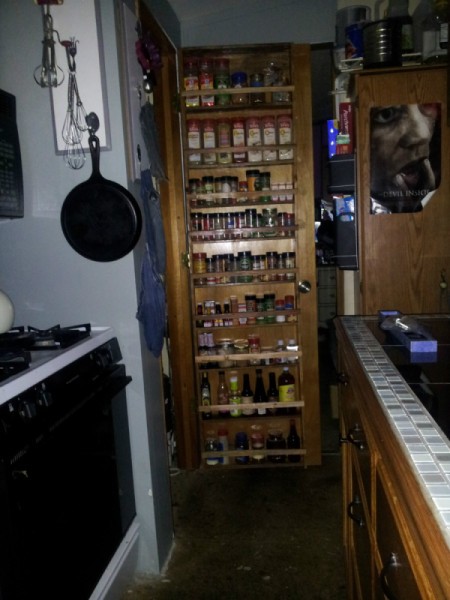 Links
Rancher Girl here from A Building We Shall Go! We converted pallets into flooring for our living room floor. We have provided the complete tutorial at the link below.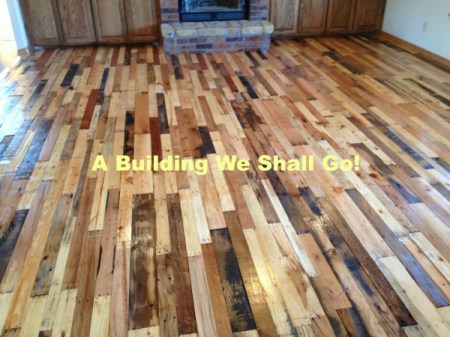 Total Time: It took several weeks to prepare and lay the pallet wood.
Link: http://abuildingweshallgo.blogspot.com/2013/05/the-art-of-pallet-wood-flooring.html
Supplies:
Pallets
Sawzall
Hammer and Nail Punch
Planer
Jointer
Table Saw
Surface Nailer and Nails
Mineral Spirits
Floor Finish