Get 4 wooden shipping pallets and two 8 foot steel fence posts. Lay two of the pallets on the ground away from the house. Have someone hold the other pallet on end then drive one of the steel posts into the ground about three feet. This will leave five feet sticking out above ground. Do the same at the opposite end leaving the pallets standing against the post. Now you are ready to stack your firewood.
When you have the wood neatly stacked take a measurement about halfway down from the top on each side and over the top. This is the size of the poly tarp you will need to cover the wood.
You're not done yet. You will need to get an "S" hook for each of the eyelets (grommets) in the tarp. You will also need a one gallon milk jug for each of the "S" hooks. Fill the milk jugs about 3/4 full of water, DO NOT put the top back on, leave it open so the water can expand and freeze without splitting the milk jug. Now hang a milk jug from each of the eyelets using the "S" hooks.
When you need wood just remove a couple of the milk jugs and throw the tarp back. After getting the wood, cover the pile back up again and replace the milk jugs.
This works really well, it give you good dry wood for burning. The bottom pallets allow air to circulate on the bottom of the pile so you won't have any rotten wood to remove in the spring. Try it you like it.
Source: I read this in a Popular Mechanics magazine many, many, years ago.
By Herman from Midland, MI
February 7, 2017
0

found this helpful
Wooden pallets, which can still sometimes be gotten for free, can be dismantled and reconstructed into an attractive and useful spice rack. This is a guide about pallet door spice rack.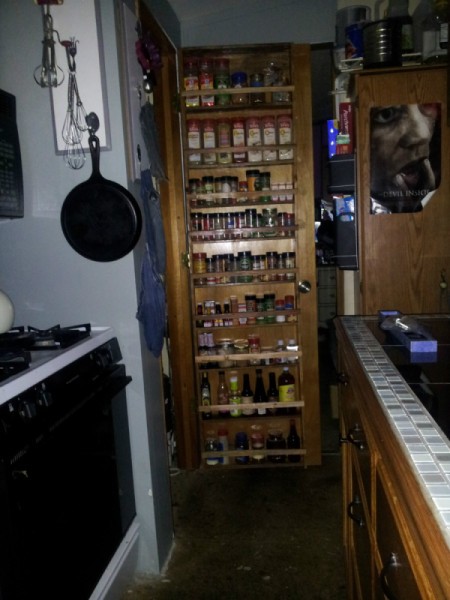 Q:
I would like to use discarded wood pallets to make a raised bed garden. Has anyone done this with success?
Hardiness Zone: 7a
Debbie in the Draft from Stuarts Draft, VA
A: Debbie,
Wood pallets will work fine. You can disassemble them and dig the boards into the ground a few inches, or secure the frame by pounding a few wooden or metal stakes into the ground on either side of them. Avoid commercially pressure-treated wood that contains arsenic or other toxic compounds that can leech into your soil. Also avoid wood treated with penta (pentachlorophenol). Types of untreated wood that are naturally resistant to rotting include cypress and cedar. Wood pallets are usually cheap or free, so if yours are made from a wood more prone to rotting, you can inexpensively replace them anyway.
Answers
By (Guest Post)
March 22, 2006
0

found this helpful
I have a friend who did this successfully. I will be trying it this weekend! Email me for photos. lindabaldwin @ remove spaces . verizon.net /// just remind me what you're looking for in your email. Thanks.
By Tracy in Brampton (Guest Post)
April 4, 2006
0

found this helpful
Wood pallets? How does this work? Could I use it for my mini-pumpkins?
Answer

this Question

...
Where is a good place to get free wood pallets?
Answers
May 3, 2016
0

found this helpful
So many places it's almost mind-boggling. Good place to start is just going for a drive behind big-box stores like Home Depot.
Wherever you see big trucks making deliveries, whether it's hardware or office supplies or even gardening materials, they're sure to have pallets.
The polite way to go about it is to ask permission and not just take them.
Another source (depending where you live) would be kijiji or craigslist or something along those lines. Try using google and entering your city name and the words "free pallets."
A fellow I know up here in Calgary gets paid to stop by downtown businesses and remove their pallets. He either takes them to the local landfill or drops them off (for a small fee) to anyone who wants them. Perhaps you have someone providing similar services?
Good luck!
Answer

this Question

...