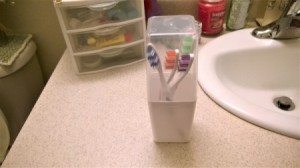 I have a tender spot in my gums, so yesterday I went to get some soft toothbrushes from the dollar tree. Choosing the packaged kind, I happened to look down at the other choices not at eye-level.
I found this container with six brushes inside. I picked it up and sat it in the basket near my 3 pack of white plastic glasses I was going to get for having a drink cup in the medicine cabinet. That is when it hit me.
Checking out without the glasses was the tip today. When I got home, I not only had my white glass, but a container I could use for tons of things.
Just the three I came up with was small kitchen utensils, paint brushes and pens, and craft supplies. They have to be on the lighter side, as this is just plastic and has a narrower base than the top. But for things it will work on, it works great.
Other things you could use it for are:

Another glass
Keeping herbs fresh in the fridge
A place for crochet hooks, craft scissors, short knitting needles, Popsicle sticks, etc.
Using it for a plant starter
Making a faux planter for centerpiece
Anything you can think of!
So I got three things out of my dollar purchase! N-JOY!