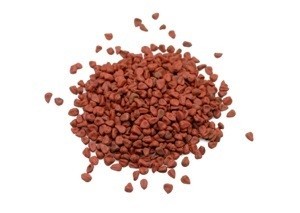 Also Known As:
Annato, Achiote, Achuete, Roucou, Urucum, Colorau, Bija
Description:
Annatto seed is used as a red food coloring and for flavoring. Annatto is used for coloring cheeses such as cheddar and also for butter. Most often found in Caribbean, Latin American and Filipino cuisine.
Uses:
Annatto has a peppery flavor with a hint of nutmeg. You can fry the seeds is oil and then discard the seeds and just use the oil, 1 teaspoon seeds to 4 Tablespoons oil. It is used in dishes such as ukoy, a shrimp and veggie fritter from the Philippines.
Recipe:
Here is a recipe using annatto:
Storage:
As Ground spices go they should only be stored for 6 months in airtight containers away from light. Whole spices can be kept for two years in airtight containers stored away from light.
Substitutions:
This seed can be used as a substitute for saffron's color but not flavor.
Interesting Facts:
The seed has been used for body paint and lipstick by some South American Natives. In India the pulp is used as an insect repellent. This seed has been linked with some food related allergies, people who have dye allergies may want to use this seed with caution.