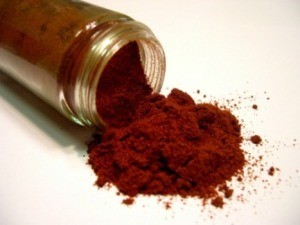 Paprika has always been the first spice to end up with bugs in it. If you will keep it in a jar with a tight-fitting lid in the refrigerator from the time you buy it until the last of it is used, you'll probably never see a bug.
You can also freeze it for 24 hours which will kill any bug eggs which is lurking just waiting to hatch out in a more comfortable environment for the little buggies. The eggs are most likely in the paprika when you buy it. Depending on how it's kept, you might be able to avoid the eggs hatching.
Eating the eggs will not be harmful nor will you be likely to even know you are eating them. Chili powder, and other blends containing any type of peppers can have the same type of bug eggs.
Other spices such as coriander may become buggy from association with paprika, but it won't happen if they are tightly sealed in glass containers, refrigerated or not.
I've not seen a bug in any spice or herb in years, but I do keep the most vulnerable ones refrigerated or in the freezer. Freezing will not affect the quality at all, and since they are dry, they are easily measured even when left frozen. You might have to stir them a little with a thin-bladed knife or the handle of a spoon before measuring.
Good spices and herbs are expensive cooking and baking items, so protect them to save money.
Source: Old habits learned from my mother and grandmother who treated their spices, herb mixtures, extracts and flavorings like they were as precious as gold; which they are in the hands of a good cook.
By Julia from Boca Raton, FL
Comments
Read More

Comments