Homemade Seed Tapes
Solutions
Share on ThriftyFunThis guide contains the following solutions. Have something to add? Please share your solution!
If you have trouble planting small seeds such as carrots and radishes without having to do lots of thinning of young plants, the perfect answer is seed tapes.
We just planted radishes and carrots in our garden using seed tapes that we made. Start with a piece of toilet tissue. Length is not important, but 5 sheets long is easy to work with. Cut it into strips about an inch wide. Lay the strips on the table, and measure off in 1 inch increments.
Put a tiny spot of Elmer's glue at each inch mark and, using a toothpick with a little glue, place a seed at each mark. You could make a pencil mark for each inch, but what I did was to lay a ruler down and glue a seed at the inch marks lined up with the ruler.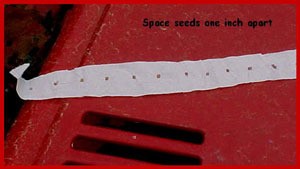 As they dry, check them often to make sure they are not sticking to the table. When completely dry, roll them up and store them in an old envelope marking the outside with the kind of seed they are: Danvers Half Long Carrots, French Breakfast Radishes, etc.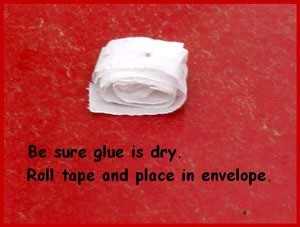 When you are ready to plant, make a shallow trench and lay them end to end in the trench; then cover them with soil. Pat the soil down and gently water the row. Cover with cardboard strips to keep them from drying out before they can germinate. Check every few days until the sprouts break through the soil; then uncover them. Keep them watered. When you start to harvest them, take every other plant to make room for the others to grow a little bigger.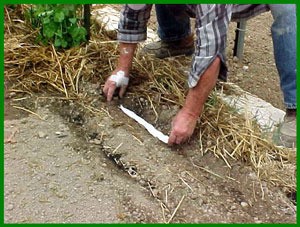 I empty the packet of seed on a plate. I unroll masking tape in front of me. Sticky side up, I dampen my index finger. It helps, to pick up the seeds. I then place two seeds, down on the tape, then two more seeds down on the tape, six inches apart. Add two more seeds down until you run out of seeds. I roll up the tape on a Popsicle stick, or a stick from outside, or an ink pen. I don't use pencil because of the lead inside.
At planting time, I use a stick to help unwind. I plant 6 inches under, loose soil mixed with one part sand 3 parts potting soil. I plant straight, to the garden. I cover if before, last frost. There is no danger of root shock. My plants are always straight. They do well. I store my seeds in a dry plastic zip lock bag, with a paper towel to absorb any moisture. I store all my seeds this way.
Seeds have different spacing and depths (it's on the package). Rather than digging individual holes and having inconsistent depths and distances of my garden plantings, I created my own seed tape for a neater prettier look. It works great for flower beds too. Plus it reduces seed drift, when seeds move around, I think due to birds or other critters digging in the garden. It is helpful with those smaller seeds, as well as, for kids helping, or even for the elderly who don't have the mobility they used to.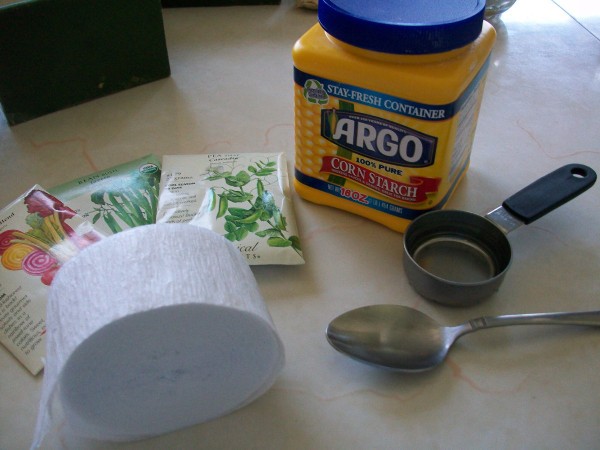 Just fold some (left over party decorations) white rolled crepe paper in half, dip your seeds into a water/cornstarch mixture (for glue) and insert them into the center of your folded crepe with a spoon.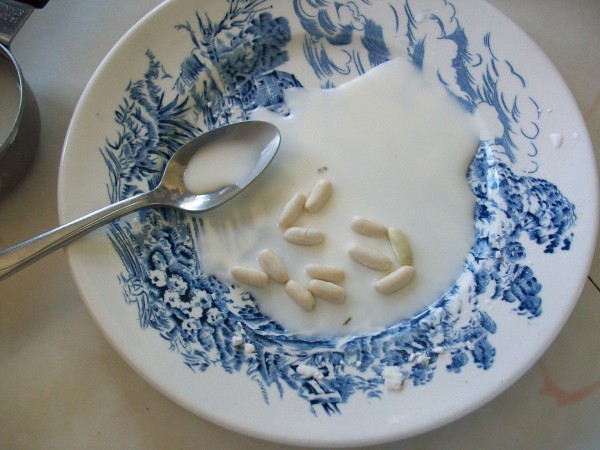 You can keep a ruler close by to space them correctly or even dot the paper with washable marker for accuracy or kids' sake!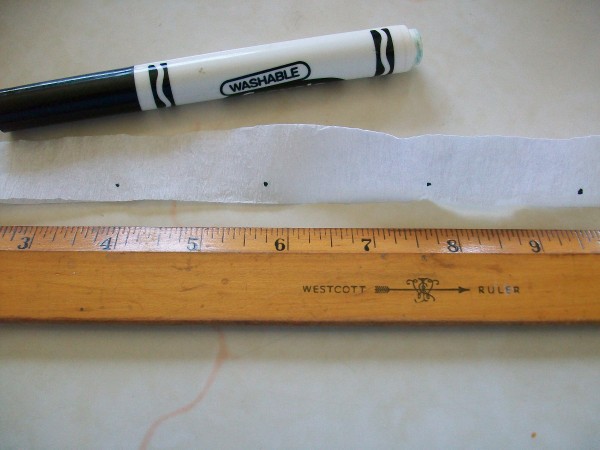 Fold the paper back together and either dig your row and drop it down or save them to do the entire garden together.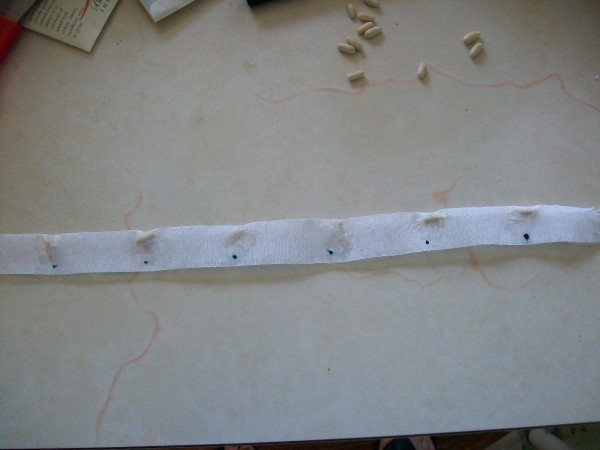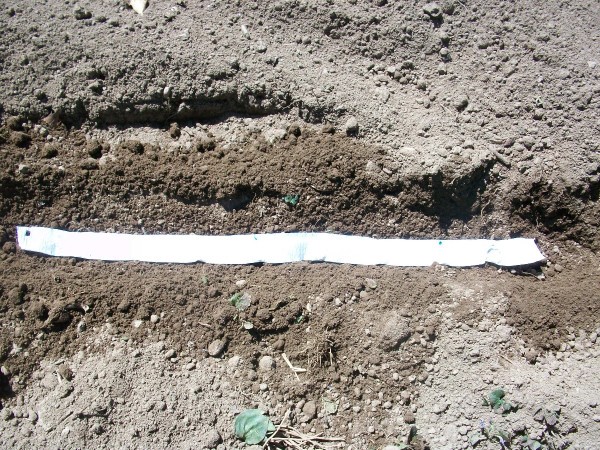 I think they sprout sooner, as well, since the crepe holds the moisture closer to the new seeds, helping them sprout sooner!
Contrary to popular belief most seeds will germinate for several years. Now is the time to make seed tapes from those leftover seeds from this year's garden.
Read More...
I thought of this just today. It's a bit time consuming, but it does have its advantages. It's another one of those 'knit one, purl two' thingies, meaning you can pick it up when you have a few minutes and stop at any time.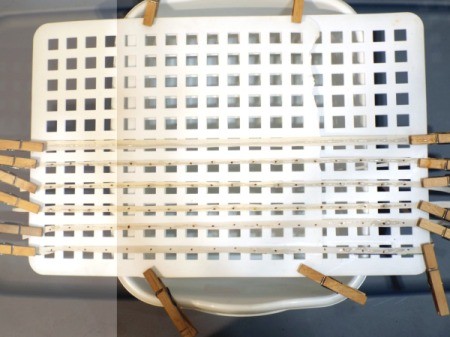 Read More...
Once winter turns the corner toward spring, it seems like garden tasks can stack up quickly. One technique that is a real time (and money) saver during planting is using seeds tapes.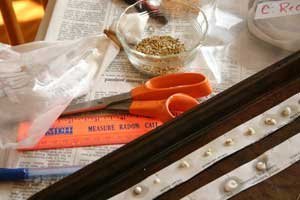 Read More...
I've made seed tapes by mixing a little flour and water together, painting it onto paper towels, and sprinkling the seeds on. They stick to the flour and water and the paper towel rots away in the ground.
Read More...
April 18, 2005
0

found this helpful
This is great for small seeds. Dissolve cornstarch and water in saucepan Put pan over heat and stir so mixture wont get lumpy. When the mixture begins to boil and thicken remove from heat and let cool.
Read More...
Questions
Ask a QuestionHere are the questions asked by community members. Read on to see the answers provided by the ThriftyFun community or ask a new question.
How do I make homemade seed tape?
Hardiness Zone: 3b
By Joe Hyde from BC
Answers
May 25, 2010
0

found this helpful
Mix 1 tablespoon cornstarch in 1 cup of water and boil till thick and translucent. This is your "glue." Then cool it.
I use a cheap brand of toilet paper, but I know others use newspaper or paper towels. You want a paper that will rot away quickly in the soil. Use strips for rows or wider pieces for square foot gardening.
Dab the glue at the appropriate spacing for your seed variety -- or closer if you are willing to thin if necessary. You may want to put the glue in a zipper bag and cut off the corner to dispense small dots.
Place a seed on each dab, or several seeds if that kind is a poor germinator like parsnips. (Don't double up on beets or swiss chard as they have multiple seeds in each "seed" already.) Let dry. You may then roll it up and store until ready to plant. Be sure to label the bag if you do this!
Plant at the appropriate depth. Use fine soil to cover the seeds to be sown very near the surface. Keep moist until established.
Enjoy! You can do fun things with this, like alternating seeds of red and green lettuces, purple and green kohlrabi, etc.
May 25, 2010
0

found this helpful
P.S. This is a good winter project. Also good for kids. And definitely easier on the back!
Answer

this Question

...
Related Content