Uses for Video Tapes
Solutions
Share on ThriftyFunThis guide contains the following solutions. Have something to add? Please share your solution!
OK, some of you are thinking "this woman has too much time on her hands" but since I quit my job several months ago, I have been continuously going through my house and downsizing. Yesterday, I was straightening up in our video/DVD armoire. I found numerous video cassettes that through the years I would record my soaps on so that I could watch them to relax when I got home from work. I also found some that you use to get with different products like a lawn mower, etc. I got to thinking about what I could do with these tapes. Especially since I DON'T tape nor watch my soaps anymore. (It's funny how you are relaxed, even while cleaning out your home.)

Anyway, I decided to take one of the cassettes apart. After all, the tapes were useless to me. I took the 5 or so screws out of it and pulled it apart. I looked at the two spools that had the video tape on them. I pulled all this off and of course, put it into the recycling bin along with the other casing. I then decided to use the spools and put ribbon on them (gift ribbon that you curl with your scissors and thin satin ribbon for crafts or other projects). I hate the thin paper rolls that the ribbon comes on that get bent and not hold the ribbon straight! The paper rolls will now go into the recycling since I am using the plastic spools which can be used over and over again when you run out of the ribbon! This is a win, win situation for the environment.
If anyone has any other ideas of using any other part of the casing and such, please post it on the website. I am ALL about recycling everything I can!
Source: Me. I figured that something inside that cassette could be used for something else.
By southeastgeorgiapeach from Jesup, GA
Over the last several days, I have been redoing my storage room. Taking things out and in is ridiculous when the chamber in my pneumatic closer no longer works.

I used to prop it open with a hammer, but I needed it so much in the store room I had to find a replacement. I tried three different types of caps which all caved. Then it was a rock, then a couple over sized glass nuggets. Nothing worked.
Then I was taking some VHS movies to our donation station and it hit me. This works perfect for keeping the door wide open and I am as happy as a clam. I will be doing a craft/project soon with some so keep an eye out for it!
N-JOY!
Well People! It looks like DVD's Are The Next Greatest Thing, so what do we do with our old broken Video Cassettes now?
One thing if you got the patience most videos can be either fixed or the tapes transfered to other unwanted videos. It takes patience and steady hands.
Other ideas?
1. You have at least 1 winder wheel which can be used for storing strings ribbons wires or whatever can be wound up
2. The hard plastic of the cassette itself can be used as a support either flat or standing as the underpart of displays like on a Chistmas or holiday display.
3. The video taken apart you can find assorted parts which creative people might be able to use in other projects. The screws that hold the Cassette together might be used in other small type construction.
4. The box the Cassette came with maybe a small gift box
5. A wall note pad and pencil or pen keeper.
6. The heavy Plastic Video cases could store anything from office supplies to a pretend purse and make up case for your children
7. These cases are about the size if some paperback books.
8. My last idea The cassette itself. It would be a neat place to hide money or valuables. Who would even want to look through 20 or more Video's when they broke into your home?
I hope others have more ideas, because I have got a lot of Videos.
Thank You,
Mr. Thrifty
New Uses of Video Cassettes (without even dismantling them). Making a plant stand table. You do this by gluing 2 videos on the sides to 2 videos on top, again you can decorate or not.
Read More...
Questions
Ask a QuestionHere are the questions asked by community members. Read on to see the answers provided by the ThriftyFun community or ask a new question.
January 16, 2001
0

found this helpful
What are some good uses for old video tapes? Especially ones that can't be used again for recording because they are worn out. Can they be recycled?
Answers
January 16, 2001
0

found this helpful
Use as a gag gift, by making up a funny label appropriate to the theme you want to convey and applying the label to the tape.
Unravel the tape so you have a lot on the outside of the cartridge for effects and also for security incase there was something on the tape that you would not want viewed by chance.
I used this as a birthday gag gift, "Everything you wanted to know about (name) but were afraid to ask about!" staring (person's name). "Yesterday's stud muffin, today's sexy senior", staring (person's name),you get the idea. This got a lot of laughs in our group.
Best of all it's recycling and saves money on a funny gift; have you noticed how pricy the gag gifts are? create your own.
Ms. Syd Barr
Dunkirk, MD
January 18, 2001
0

found this helpful
Use as a cat and bird deterrent. Unravel tape and thread loosely through any nearby trees or bushes.You could also thread the tape around a cane framework.
The noise made by the wind whistling through keeps them away. - Margarete
January 19, 2001
0

found this helpful
Unravel the tape and use to tie up tall plants in your garden. Just be sure to remove it when gardening season is over.
Answer

this Question

...
April 19, 2016
1

found this helpful
This is a guide about making a recycled VHS tape container. For a retro media themed party make a VHS tape container for holding tableware or other items.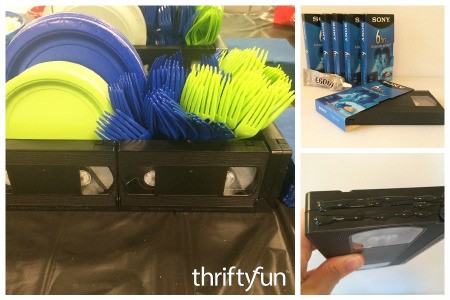 Related Content