I love my movies but it's just not practical to keep them. I have propped up beds, made shelves with them and today, it's a vase for faux flowers.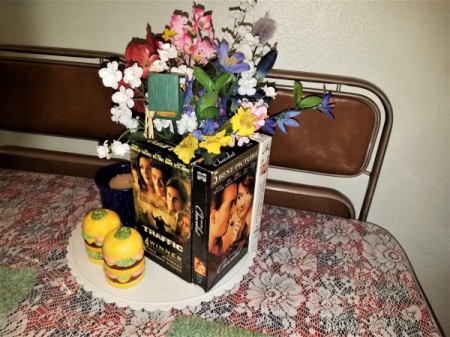 With a turntable (you don't have to have one, or even a bottom for that matter) and some hot glue, I made this for my kitchen table. I only made one mistake and that was not getting one of four movies with the front out but at least I didn't get one upside down!

Hot glue the first one to the base, or just set it somewhere you can start gluing the others to it.

The bottom of the movie will be glued to the base, and cooled.

Then, along the edge of the first, and at the bottom if you have the base, like a "square pin-wheel".

Keep going like you did and the end one should slide into last place like a glove.
For the last one, you will need to glue the bottom or just the side of one and the other side of the last one.

When everything is glued, put your flowers in and stand back to "N-JOY!!" your work.
NOTE: Because your flowers are fake, you don't need a bottom but if you want one, a cardboard, like from a cereal box or calendar, or plastic from a large cottage cheese tub will work well.