Marty Dick
Bronze Post Medal for All Time! 169 Posts
October 13, 2008
0

found this helpful
Thanks for the WONDERFUL idea. Most of us have hundreds of those things lying about.

October 13, 2008
0

found this helpful
the tape itself is good to crochet with !
I have done this & it is wonderful !
here's some ideas :
images.google.com/images?sourceid=navclient&ie=UTF...

October 14, 2008
0

found this helpful
Seems like I also read where they used it as a secret place to stash cash or small valuables inside the tape housing but kept in the case in with the other vcr tapes. You have to make sure everyone in the house is on the same page though so no one throws it out, gives it away or loans it out to someone.

October 14, 2008
0

found this helpful
I think the tape itself could be used as ribbon for gifts like "movie night" where you wrap up a dvd and micro pop-corn packs etc.

October 14, 2008
0

found this helpful
Thanks for the idea of crocheting with it! I will check that out.
Now, this is a great idea and I grabbed my camera as soon as I read it. I have these in my bedroom, and if the tape is backwards on the shelf, it means I can tape on it...etc. My own little code. I was looking at one the other night and realized how much it reminded me of a cats surprised face!
Big eyes, a little round place for a nose, and a sneer of a grin if I have ever seen one! You might have to put some electrical tape over the one side opening, but that is easy enough. Some cute glitter for whiskers and making the top corners into ears! What a cute way to celebrate "Halloween"! than with a black Cassette Kitty!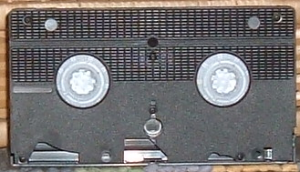 cettina
Bronze Request Medal for All Time! 64 Requests
October 14, 2008
0

found this helpful
like the other posts, i used the video TAPES themselves and crocheted a beautiful evening bag for myself. whenever i use it - which is often - EVERYBODY tells me how fantastic it looks AND IT WAS FREE using stuff i nearly threw away!
go to myrecycledbags.com theres masses of stuff you can do.
By Barb in tennessee (Guest Post)
October 14, 2008
0

found this helpful
Do you have problems with a woodpecker rat-a-tat-tat-ing on the side of your house? Or birds in your garden eating up your tomatoes, or the big black birds taking over?
The film inside the videos or cassette tapes can be used to scare them away....for a while anyway. Cut the film into long lengths,6 feet or so, tie a knot at one end, and put the long streamer where it will blow in the breeze,and shoosh the birds away. The light shines on this film,and it moves with the slightest breeze.
A friend paid much money to an exterminator to stop a woodpecker from making holes in the side of her house. Well,the woodpecker was back again the next fall!! She put several of those "pom-pom-shakers (that the kids have at football games) on the side of her house. Used Duct tape.
The woodpecker has not returned this year. But the funny thing is, he moved to another house in the same neighborhood. They can hear him rat-a-tat-tat-ing away.
Y'all are so smart with these ideas!