April 19, 2007
2

found this helpful
I wanted to add another photo to update this article. I took a picture yesterday.This was taken 10 days after planting the tapes. As these plants develop, I will pull every other one to make room for the others to grow a little larger.
Harlean from Arkansas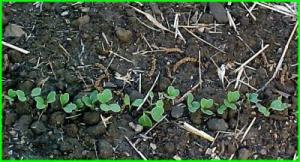 By Faith (Guest Post)
April 19, 2007
2

found this helpful
What a wonderful idea. Thanks for sharing. I'm just wondering if it would work with flower seeds?
By Marlene (Guest Post)
April 19, 2007
2

found this helpful
For many years I had a huge garden an I canned and froze everything our family of 6 ate - fruits, vegies, pickles, relishes, catsup, the whole works. When planting time came around, I always mixed my carrots and radish seeds together. The radishes come up quicker, they break the ground for the carrots, and they are ready to eat sooner, thus freezing up space for the carrots to grow. Simple solution. Give it a try!!!It would work with other plants, too, I'm sure.

April 20, 2007
2

found this helpful
Awesome! What a great post! I struggle every year with certain small seeds. Most years I get almost nothing because I never get them thinned enough!
I have heard of seed tape you can buy but I just couldn't see another hefty expense. Thanks again for the wonderful solution!

April 20, 2007
2

found this helpful
THANKS FOR A GREAT TIP!! I'M TEACHING MY GRANDSONS TO GARDEN AND WE'RE MAKING SOME TAPE AS PER YOUR TIP AND THEY ARE HAVING A BALL.ALSO I'M MAKING SOME WITH FLOWER SEED FOR MOTHERS DAY THAT THE KIDS AT THE DAYCARE CAN PUT IN THIER CARDS.THANKS AGAIN FROM THIS OLD GARDENER.

KS Granny
Bronze Feedback Medal for All Time! 111 Feedbacks
March 15, 2008
1

found this helpful
I'm very eager to try this! I've tried interplanting radishes and carrots, but it doesn't work well for me - I suspect our soil is so coarse that a random two-thirds of the seeds sink down below germination depth, leaving thick clumps of seedlings between great bare patches.
A question, though: I've been advised to use School Glue for these seed tapes because it's water soluble. Is that what you use? Or would Elmer's original white glue do?

April 30, 2008
1

found this helpful
(sent in by email)
I am a home gardener that recently created a pre-printed 1 inch wide strip of paper so gardeners can easily make their own seed tape. The product is called EZ Seed Tape and the site is at http://seed-tape.com Be blessed in all you do! Susan Gregory EZ Seed Tape
By Richard (Guest Post)
September 3, 2008
1

found this helpful
Brillant info! I teach 9 year old and have used your instructions to get the kids to make just over a mile in total. Sold it to mums and made £250 for a local charity. Thanks from all the kids (and me).
By Michelle (Guest Post)
February 6, 2009
1

found this helpful
Why not spread the seeds out 2 inches if you are going to thin out every other seedling? I'm new to this, so please forgive my ignorance.

February 24, 2009
1

found this helpful
Seeds do not always germinate 100% is the reason I put them a little closer and thin, if necessary.
Harlean from Arkansas

March 11, 2010
1

found this helpful
I am going to try this today yesterday I worked all day in the garden I was planting sunflower seeds I had a hard time lining them up along the fence I wish I would have read this first but I have alot of planting to do so I'm going to try this thanks!