If you have trouble planting small seeds such as carrots and radishes without having to do lots of thinning of young plants, the perfect answer is seed tapes.
We just planted radishes and carrots in our garden using seed tapes that we made. Start with a piece of toilet tissue. Length is not important, but 5 sheets long is easy to work with. Cut it into strips about an inch wide. Lay the strips on the table, and measure off in 1 inch increments.
Put a tiny spot of Elmer's glue at each inch mark and, using a toothpick with a little glue, place a seed at each mark. You could make a pencil mark for each inch, but what I did was to lay a ruler down and glue a seed at the inch marks lined up with the ruler.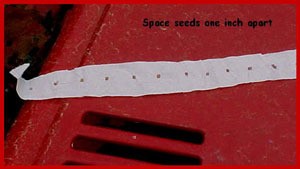 As they dry, check them often to make sure they are not sticking to the table. When completely dry, roll them up and store them in an old envelope marking the outside with the kind of seed they are: Danvers Half Long Carrots, French Breakfast Radishes, etc.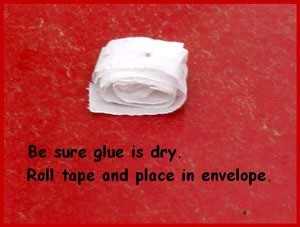 When you are ready to plant, make a shallow trench and lay them end to end in the trench; then cover them with soil. Pat the soil down and gently water the row. Cover with cardboard strips to keep them from drying out before they can germinate. Check every few days until the sprouts break through the soil; then uncover them. Keep them watered. When you start to harvest them, take every other plant to make room for the others to grow a little bigger.