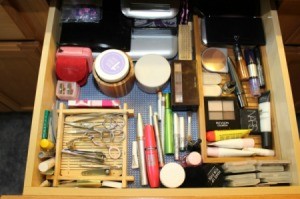 Our bathroom has pretty large, deep drawers. I have found that things slide around a lot in them and everything falls over. To fix this issue I found various plastic baskets, boxes, and trays around the house. I nested as many of these into the drawers as I could.
For my makeup, I found that small trays worked best. I also added some shelf liner, which keeps items in place that aren't in a tray.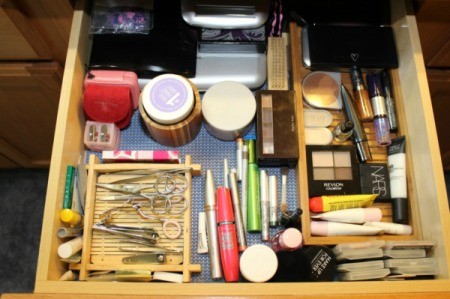 For this drawer, I used a variety of containers. An old votive holder worked well for my makeup brushes. While the bottoms of a few small boxes held little bottles and things perfectly. The spaces created between the containers keep the deodorant, bandaid boxes, etc. from falling over in the drawer. The back basket contains all of our first aid supplies.
Our bottom drawer is where we store all of our backup items. So there is a basket for toothbrushes, floss, etc. I used toilet paper tubes to hold the extra Sonic toothbrush heads. I tried to use every nook and cranny to my advantage.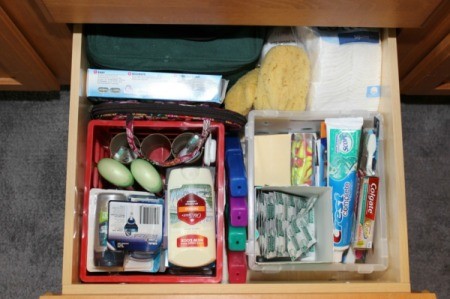 By compartmentalizing the drawers, like items stay together and taller items don't fall over. Nothing shifts around when the drawers are opened and closed either. I love it!