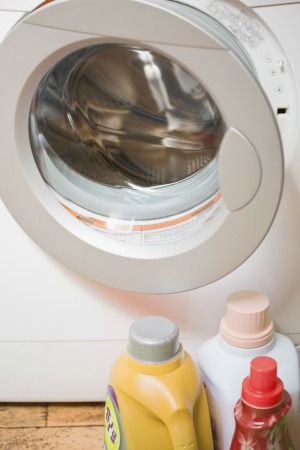 For those of you with HE washers and problems with smelly laundry, I tried everything. Finally I talked to someone who said it is a MUST to use only the HE detergents, not your regular ones. I first ran my washer with no clothes in it, on the hottest setting possible along with a cup of bleach, let it run the complete cycle.
My washer smells clean again! I then ran my wash using the HE detergent and my clothes smell great. HE detergents work differently then regular detergents.
By Terry from Vero Beach, FL
Read More

Comments

I am wondering if anyone can tell me how to soak clothes in a front loading washing machine. My new husband has one - and I sure miss my top loading machine. I'd like to be able to soak my whites. Thanks!
Melanie from Minnesota
Answers

September 1, 2006
0

found this helpful
I have not found a good way to do this with my fron loading machine. I just keep a 5 gallong pail handy and use that when I need to soak something.
Not the best solution but it works. I love my front loading washer and wouldn't give it up.

sandy
Bronze Request Medal for All Time! 87 Requests
September 1, 2006
0

found this helpful
i have found myself using the prewash cycle. it isnt still but at least it is something.

September 1, 2006
0

found this helpful
You know what? A front-loader cleans clothes so well that you usually don't need a pre-soak anyway. I use a pre-wash when needed but basically use only detergent and Oxyclean. I always have a spotless wash.
You are so lucky to have a front-loader! Everyone should have one! I learned this back in the sixties. I've tried to stick with front-loaders ever since.
By annie (Guest Post)
September 1, 2006
0

found this helpful
I wait until the washer has finished filling and then just turn it off. When I'm ready to finish the load - turn it back on.
By Melanie (Guest Post)
September 5, 2006
0

found this helpful
Annie (or anyone else),
Do you add the additional items (such as Oxyclean, borax, whatever) in the detergent slot of the machine then?

September 16, 2006
0

found this helpful
I have found that I don;t need to soak. I use the white cycle and my 3-yrd-old's socks come out like brand new. I use a bleach or oxyclean also. It took getting used to a front loader but I'll never go back to a top loader
By gerbear2 (Guest Post)
November 15, 2007
0

found this helpful
I agree with Melanie; I miss my top loading washer. Clothes that have been stored for a long time, or taken over by the cat, etc. need to be soaked. Using a pail - which I do - doesn't seem like something I should need to do in 2007. Sometimes I want to add something for the last 2 min.
of a cycle & can't. Also I don't notice that my clothes are any cleaner so I use Oxyclean. But if you use Oxyc with your detergent, don't you have to use a powder detergent? Anyother comments or suggestions would be welcome.
By Marsh (Guest Post)
September 14, 2008
0

found this helpful
I miss my top loader. With all the extra water it uses, I feel the clothing is cleaner. Sometimes I forget to empty my kids pockets in the front loader, the finish product is quite messy because there is so little water to flush the tissue paper away.
Pooh! all the "I'm happy" posts are from 2006, the front loaders do not get clothes clean, unless you pre-treat like crazy, bunck! the top loader got simple things like salad dressing out, not the front loaders.

August 19, 2010
0

found this helpful
I just let my washer run about 5 to 10 minutes and pause for how ever long I want to soak the load. Then I turn the washer back on and let it run through the cycle.
Read More

Answers

What is the difference between HE detergent for washing machines and regular washing machine detergent? HE stands for what? It is necessary to use in a front loader washing machine or is it a marketing technique?
Thank you.
By Barbara from Boerne, TX
Answers

August 11, 2010
0

found this helpful
HE means high energy. Using HE creates less suds which is good for a front loading water. Use less water.

August 11, 2010
0

found this helpful
I should have said HE means high efficiency.
Front-load and top-load high efficiency (HE) washers are designed for low energy and high efficiency operation. These washers are loaded with convenience and energy-saving features. However, high efficiency washers do require the use of HE detergents and a substantial investment to purchase, over the traditional washer.
Washer care and maintenance for HE washers also varies considerably from the standard top-loading washer models. Simply stated, HE washers require more care.

August 14, 2010
0

found this helpful
I'm with Barbara on this question. I purchased a good used set last year & have no problems so far. Since I only clean for 1, I do no more than 2 loads a week, & thus use little detergent. So far, HE types. But I'm wondering, too.
Since so many people advise that we need quite a bit less detergent in the wash of any sort for any machine, what about just cutting back the amount of regular or even 2X detergents? Wouldn't that cut suds? Or am I being too simplistic?

August 17, 2010
0

found this helpful
BSVGS Thats exactly what I think, less detergent.
I think it is all a marketing gimmick with the detergents.
I am very frugal and always cut back when I wash.
Thanks for responding and if you find out anything different let me know. Thank you.

September 26, 2010
0

found this helpful
I believe the main difference is that HE is a different concentration and low-suds. (But then, many detergents today are low-suds.) I discussed this question with an appliance repairman and he said normal detergent is okay in an HE machine, but use 1/4 to 1/3 of the amount you'd use for a top loading machine. We find it is more economical to buy the normal detergent and use the smaller amount. We also add about a tablespoon of borax and/or washing soda per load, and use vinegar for fabric softener. In 10 years we have had none of the odor problems some people complain about with front-loading problems, and we are on a well, not chlorinated water.
Answer

this Question

Can I use powdered detergent in a HE front load washer? It is a Bosch?

Michelle from Oxford, GA

Answers
By Molissa (Guest Post)
July 31, 2007
0

found this helpful
I would like to know this as well.
By LEIGH (Guest Post)
July 31, 2007
0

found this helpful
I HAVE A FRONT LOAD WASHER. I USE POWDER IN MINE, HOWEVER I HAVE TO REGULARLY CLEAN MY DETERGENT TRAY. THE POWDER DOESN'T DISSOLVE COMPLETELY SOMETIMES. SO THE TRAY GETS THAT GUMMY PASTE BUILDUP. NOW THAT I THINK ABOUT IT, USING LIQUID MIGHT JUST CURE THAT PROBLEM. THANKS!
By Dean (Guest Post)
July 31, 2007
0

found this helpful
The manufacturer calls for HE liquid soap because any other type of soap generates too much soap suds and will make a mess and you may have to redo your wash to get all the suds out.. The new front loaders use less soap and less water, so I would stick with what the manufactuer suggests.
But that does'nt mean you can't try it once and report your results to see if the manufactuer is correct.
By Nancy (Guest Post)
July 31, 2007
0

found this helpful
We had a front loader for six years (it wore out and we miss it, the water bill goes up after having one). I used nothing but powder in mine because one of the first times I usd liquid it stained the clothes. I just cut back on the amount that I used and it worked fine. Also I think the powder last longer therefore was a whole lot cheaper.
Read More

Answers