By Ellen Brown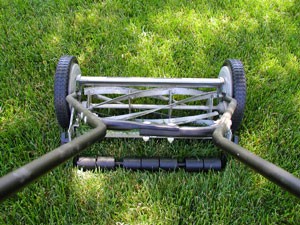 As long as you don't let your lawn grow over 4-5 inches, mowing with a reel mower is a breeze.
Question:
Has anyone used or uses a retro push mower? I am talking about the "old fashioned" ones that you push without gas and are now made of light weight metal? If so, are they pretty good? I have a rather large yard, but it has a lot of flower beds that break it up. I want to cut back on the every week yard service I have. I thought that if I bought one of these I could do a touch up with this type of mower and then have the yard man come every other week. TIA!
Jonnie from Owensboro, KY

Answer:
Jonnie,
Those "old fashioned" reel mowers are quickly coming back into fashion. It's all I've used on my current lawn for the past 6 years. They don't create air, water or noise pollution (although some are noisier than others), they always start, and other than sharpening the reel now and then they need very little maintenance. There's no gas, oil, spark plugs, or small moving parts to worry about and using one is good exercise because the pusher is the motor! Reel mowers are also compact enough that they are easy to store. Today's reel lawn mowers cut much better than the reel mowers of the past and they are much lighter in weight. They are cheap, too! I think I paid $70 for mine new 6 years ago. Many of the current models also come with do-it-yourself sharpening kits and grass catcher attachments. There are a few disadvantages to these mowers, but none that I would consider deal breakers. One is that they don't offer as many mowing heights as conventional lawn mowers and the mower deck isn't quite as wide. Due to their design, it's also more difficult to mow over certain weeds and tall grasses. When I run into this problem, I come back with an electric weed whacker and do a few touch ups if needed. As long as you don't let your lawn grow over 4-5 inches, mowing with a reel mower is a breeze. I say go for it!
Ellen

About The Author: Ellen Brown is our Green Living and Gardening Expert. Ellen Brown is an environmental writer and photographer and the owner of Sustainable Media, an environmental media company that specializes in helping businesses and organizations promote eco-friendly products and services.

Answers:
Using a Push Mower
I have used a very old one and they are hard to push and very tiring. I would say if you are up for the challenge go for it. Mine would cut the grass well I just had way too much lawn to mow with it. (06/30/2006)

Using a Push Mower
I personally prefer the push mowers, because they are less expensive to operate and maintain, environmentally friendly, and good exercise. I have to laugh when I think of how many people pay for gym memberships, and then pay someone to cut their grass, clean their house, etc.
If you are in decent physical shape, this may be a good alternative for you. Take frequent breaks if you need to and bring a bottle of water out with you. You might find that, over time, it becomes easier and easier. (06/30/2006)

Using a Push Mower
An emphatic yes. I bought one, a Silent Scotts, years ago at a garage sale for $1.50 and it is some of the best money I've ever spent. The things I like about it: it's quiet, doesn't stink of gas, cheap to operate, great workout, takes up less space, I don't kill myself trying to pull start it, it's better for the environment, lasts practically forever, less maintenance, and less stress trying to diagnose problems and the problems are sure cheaper to fix. I call it my "lard mower" cause it's lard operated, hardy har.
The things I don't like about it: your yard has to be clean, ie., no sticks, rocks, and the like as they will knock your reel out of kilter. I just rake the yard or pick up the sticks before I mow and get double the workout. The mower needs to be kept pretty clean to cut well. It uses a scissors action rather than centrifugal force to cut, so the edges of the blades must be kept clean from buildup. I use a screwdriver to clean the gunk off. Another minus is that it won't cut tall grass. Surprisingly I get less tired using my reel mower than I did using my heavy gas mower. I wouldn't go back to using a gas mower unless I had a huge yard. Oh, and another thing, I thought that my yard would look bad from cutting the grass and leaving the clippings on top. You can't even tell they are on the lawn, unlike using my gas mower. I think they also make kits to sharpen the edges of the reel, but I've never used one. Yet another good thing, your yard doesn't get that patterned look like it gets from cutting with the heavy mower. I just cut whichever way suits my fancy at the moment. Can you tell I love this thing?
Go for it!
(06/30/2006)
By Susan M.
Using a Push Mower
Yes, this is a great idea. You can even buy a new one. (06/30/2006)

By Carol in PA
Using a Push Mower
I bought one new a couple of years ago and it sat in the box until June this year when my son discovered it and took it - he just loves it - the rotary cylinder cutting blades make a better cut on the lawn and he gets his extra exercise too. Even the grandkids like to have a go. This I'm sure will wear off once the novelty is gone, but all the same I think they're a good value. It cuts down on noise pollution, air pollution, and exercises those jaded muscles. What more could you want? Oh yeah, the lawn looks great. The only reason I didn't use it was I moved soon after I bought it to a place with no lawn. (06/30/2006)

By Sharyl
Using a Push Mower
My grandparents had one they used at their summer cottage in the Allegheny mountains in Pennsylvania. It worked fine for them. However, I tried to use one to cut my grass in Florida, and found it wouldn't work very well with the coarse grass and weeds we have. It also takes a lot of stamina to use it on a large lawn, especially with summer heat and humidity. (06/30/2006)

By SusannL
Using a Push Mower
These work well if you have a "perfect" lawn. I was given one and tried to use it on our yard in the country, but it was more work than it was worth. We have a lot of trees that drop small twigs and acorns, etc., and my push mower would lock up every time I ran over something other than grass. It was impossible to pick up every little twig before I used it, so we gave it to my mom's neighbor who lives in town. They have no trouble with it as they have no small debris to contend with. (06/30/2006)

Using a Push Mower
I too have one and it works well, just keep the blades sharpened and oil now and then. There are new ones on the market now, be sure it is the right size for your arms.

Lot's of luck. (07/01/2006)

By Sherry (hamp2468)
Using a Push Mower
I have a Craftsman manual push mower that I recently bought new from Sears for about $100 and I absolutely love it. It will not get those tall weeds that poke up (the ones that always seem to show up after it rains), but I go back over those with the weed eater when I edge. Otherwise it does a great job and the grass is so healthy and thick now. I bought it for our front lawn because my husband was butchering the lawn with the big mower (no matter how high the blade was set) and after Katrina I spent a lot of time trying to get the grass back so I won't let him touch the front now! The push mower is quiet and non-intrusive so it's actually kind of peaceful to mow, it's much easier for me to use and I'm more likely to pull this out than to ever try to crank a gas mower, and I count it as exercise too! I had not mowed grass since I was a teenager, but I actually enjoy using this (I can't believe I just said that!). The clippings it leaves behind seem to be helping to feed the grass also because it's never looked this good before! The manual mower just seems to do a much nicer job. Now, if only we could get out of this drought. (07/02/2006)

By Mary
I have a Scotts reel mower and love it
Yes, you do have to rake up any twigs so you don't jam the blades. It also helps to set the blades to the highest cut setting. Yes, you might need to touch up a spot with a vigorously growing weed with a weed wacker, but IMO it is worth not buying gas, wrestling to get the blasted gas mower started, paying someone to fix it when it won't start, etc. not to mention hitting a dog deposit I missed scooping before mowing. I have had the reel mower over 2 years now and only need to apply WD-40 to the reel mower before and after use to keep it running smoothly. It pushes "much" easier than any gas or electric mower I have used. My ears don't buzz nor do I stink of gas fumes.

Here is one tip for making pushing a reel mower even easier, rest the handle bar across your hips just above groin level so you propel the mower with your lower body not just your arms and shoulders. I am not exactly fit so this really helps a lot.

Also be sure to apply WD-40 or whatever your mower's manual suggests to the bearings to keep it easy to push. Mine says before and after use. I sometimes give it another squirt halfway through the lawn if it gets harder to push. A friend of mine can't believe how much easier my reel is to push than hers because she never tried wd-40 never having read the manual! (07/28/2006)

By MadCatLady
Using an "Old Fashioned" Push Mower - Reel Lawn Mowers
One annoying drawback to these type of mowers that I hadn't anticipated is that the thickness of the wheels prevent them from cutting close to anything. With a rotary mower the circular path of the blade is made to cut to the very edge of the wheels path (and front of the mower). With the reel type there is a good 3 to 4 inch path where the wheel and gears prevent it from cutting on both sides. This makes for more trimming and trimming in places that wouldn't be necessary with a power mower. If you are mowing a small area or around complex shapes this will be particularly bothersome.

I did a lot of research before buying my reel mower. I ended up with something made in Germany called a "Brill". It has "touchless" blades with a fine gap between the blades. This makes it easier to push and it never needs to be sharpened. I really would not recommend any other reel mower because of maintenance issues. You must sharpen them every year and keep them liberally oiled to prevent rust and make them turn easily. The Brill solves both of these problems.

I haven't see the Silent Scott that was recommended, but I expect that this is American copy of the Brill. Wow, it only took them a hundred years to figure it out. As you would expect, the touchless blades are very quiet and easy to push. The Brill does have a lot of plastic parts, which makes it very light weight, but they also quickly become covered in unsightly scratches from running into edging, fencing, etc. Perhaps the Scott is a bit more durable.

I hope this helps you make an informed decision and not be disappointed in any way with your new mower. Not having to mess with oil and gas, heavy equipment, and not producing unnecessary noise pollution is a true joy!

Happy shopping!
(07/31/2006)

By Reluctant Gardener
reel mowers
I have a collection of early vintage motorized reel mowers the reel type mowers if you have a good lawn they will give you the best look. Sorry to disagree, but the older mowers do indeed do as good a job as any new machine. Our lawns look like bowling greens.The rotary mowers are ideal on long grass or rougher terrain and with reel mowers lawns must be cut regularly.They also do less damage to young grass that has been laid on the first cuts. Once you understand how the reel mowers work they are easy to repair. All mine were throw aways they are heavier because they were build to last, with cast iron motors not alloy. They also have a very unique sound different from other motors, which I love. (05/04/2007)

By rustyreks