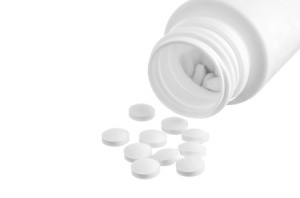 Instead of getting expensive facials, buy some inexpensive uncoated aspirin. Most aspirin has a little coating on it, but that's okay. Simply wet one aspirin with some warm water while gently scratching off the coating with your fingernail. Once it gets mushy, rub in between your two hands and apply it gently to your freshly washed face. Rub gently for about 15 seconds then rinse and pat dry. Your face will be the smoothest it has ever been! I do this about once a week. Try it on your hands also.
Source: www.makeupalley.com
By Peg from Sea Cliff, NY
Answers:
Aspirin Scrub For Softer Skin
I'm curious - then you do what with the aspirin? Do you mix it with something? Where did the idea come from?
Thanks (05/20/2008)

By Marie
Aspirin Scrub For Softer Skin
This trick is one I've heard about for many years, and it comes from the fact that many skin creams for treating acne contain the exact same chemical as aspirin. I never thought of using it just for a weekly facial, but it sounds worth a try. Thanks! (05/21/2008)

By Londa
Aspirin Scrub For Softer Skin
Many people can be allergic to aspirin without knowing it. It will seep right through the pores. Asthmatics have a higher tendency to be allergic to ASA. An alternative would be to use sugar. Wet your face and apply some and scrub for 20 seconds or so, and rinse. Makes the skin feel nice and soft. (05/26/2008)

By jen
Aspirin Scrub For Softer Skin
Dead Sea Salt is the best skin scrub. It can be purchased in bulk at a good price and has many proven and healthy minerals. People even soak in the Dead Sea for the health benefits. There are several online sites that are costly and several which has very good bulk prices. (05/26/2008)
By KathyL
Aspirin Scrub For Softer Skin
This is not really a good idea to be posting without posting warnings, like the allergies mentioned by others or for any one on a blood thinner it is also not a good idea as it does seep into the pores, and people on blood thinners are warned not to use aspirin in any shape or form including muscle rubs. I use olive oil and sugar, it can be used on the entire body, and it is awesome in the winter not only for exfoliating, but great moisturizing as well. (06/11/2008)

By Daun
Aspirin Scrub For Softer Skin
You mix it with honey. (01/06/2009)

By somebody