Due to unforeseen circumstances, my budget for this year's Valentine's Day will be very small. I will not be able to afford expensive food or a lavish dessert, but that does not mean that I want to skimp on the celebrations.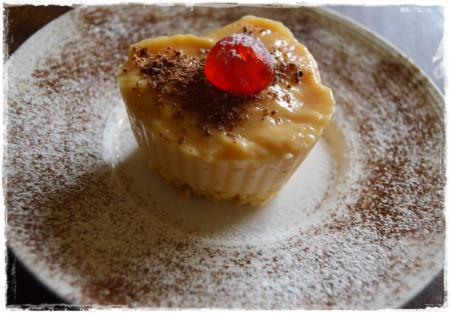 I decided to make a dessert with butterscotch instant pudding, but to add a touch to make it more special. Obviously I wanted to practice first, not leaving it for Valentine's Day, to see if it would look good enough to do the trick.
I used six small heart-shaped silicone molds, which I first sprayed with non-stick cooking spray. I added a crust (made from crushed vanilla wafers and a little bit of melted butter) to the bottom of each mold. Then I filled each mold to the brim with instant pudding and dusted the top with grated chocolate. Into the freezer so that the molds would set.
To serve, I dusted the plate with cocoa powder and icing sugar, turned the heart out on the plate and added a cherry on top. Serve immediately and voila!
Perfect! I think this should do the trick, don't you think?
January 26, 2017
1

found this helpful
Top Comment
Great idea. Any holiday is not a success because of the amount of money spent.
The effort and love that went into the celebration is what will be remembered. Many couples' fondest memories are from times when they had little money
January 27, 2017
0

found this helpful
Instead of expensive instant pudding you can use Birds Custard, just like your Great Gramma used. It is still available, though you might have to look on high shelves in the baking supplies isles.
In addition to lower cost and better taste, you don't need to spray the molds with WD40 or PAM, just wet them with cold water.
Birds Custard is neutral with a very slight Vanilla flavor. You can flavor it any way you want, chocolate, fruit, mint, malt, whatever turns your crank that day.
From living in the bush I got used to using cans of condensed milk. One can of milk, one can of melted snow or water, 1 TBSP of honey, bring to just about boiling. In the meantime mix 1 heaping TBSP Bird Custard powder with just enough water to make a smooth paste. Wash and wet a bunch of small bowls and set them out for easy filling.
Hammer or cut a square of Baker's Semi-Sweet chocolate to small bits and have it ready.
When the milk is just about boiling, stir in the paste and keep stirring. It will thicken fast. When it makes blb-blb-blb sounds, swirl in the chocolate bits for a nice marble and pour the custard into the wet bowls.
Let them cool and enjoy.