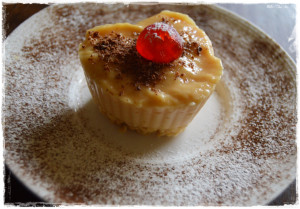 Due to unforeseen circumstances, my budget for this year's Valentine's Day will be very small. I will not be able to afford expensive food or a lavish dessert, but that does not mean that I want to skimp on the celebrations.
I decided to make a dessert with butterscotch instant pudding, but to add a touch to make it more special. Obviously I wanted to practice first, not leaving it for Valentine's Day, to see if it would look good enough to do the trick.
I used six small heart-shaped silicone molds, which I first sprayed with non-stick cooking spray. I added a crust (made from crushed vanilla wafers and a little bit of melted butter) to the bottom of each mold. Then I filled each mold to the brim with instant pudding and dusted the top with grated chocolate. Into the freezer so that the molds would set.
To serve, I dusted the plate with cocoa powder and icing sugar, turned the heart out on the plate and added a cherry on top. Serve immediately and voila!
Perfect! I think this should do the trick, don't you think?