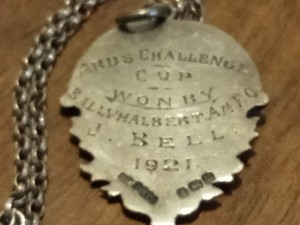 Hi, I was wondering if you could tell me about the silver markings on this 1921 football medal please. Can you tell me if it has a value?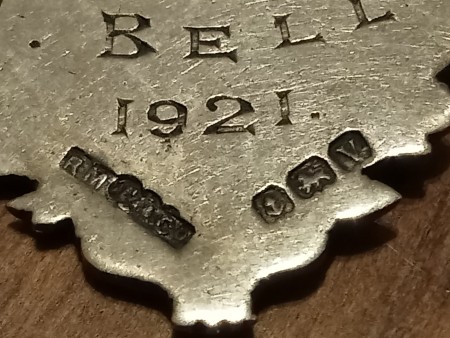 Answers

February 26, 2022
0

found this helpful
Best Answer
Ards Football Club is a semi-professional, Northern Irish football club playing in NIFL Championship. The club is based in Newtownards, but plays its home matches at Clandeboye Park in Bangor.
Name History: Ards (1900-1921); Ards Town (1921-1923); Ards (1923-date).
Ground History: Fair Grounds (1914-1923).
League History: Irish Junior League 1901/02-1914/15; Belfast Combination 1920/21-1922/23
The official Ards FC website: www.ardsfc.co.uk/
Ballyhalbert (formerly known as Talbotston and Halbertston) is a small village and townland in County Down, Northern Ireland.
The separation of the island of Ireland was in 1921.
I found several J. Bell footballers en.wikipedia.org/.../John_Bell
Jack Bell (John James Bell) was born 2 March 1891. He was an English professional footballer
en.wikipedia.org/.../Jack_Bell_
(footballer,_born_1891)
In 1921 he played for Grimsby Town and Loughborough Corinthians. I don't think he won the medal.
Another Bell Johnnie 
www.vintagefootballers.com/.../
He was a Scotland footballer. After the War he joined Dundee in 1919.
The Ards FC website mentions J.Bell that he played with Billy Nixon in the 1965/66 season: "Ards falling to a heavy 6-0 defeat. Ards - S.Kydd, M.Bittles, J.Menary, J.Kennedy, R.Houston, J.Bell, J.Herron, J.McClurg, R.Keogh, B.Nixon, R.Mowat." But he's not the right age - he could not play in both 1921 and 1965.
So the winner of your medal is not a famous footballer.
Sterling Silver 1924 Montgomeryshire Challenge Cup Football Medal Welshpool FC was sold for £14.99 picclick.co.uk/Sterling-Silver-1924-Montgomeryshire...

Judy
Gold Post Medal for All Time! 677 Posts
February 23, 2022
0

found this helpful
Ballyhalbert is in Northern Ireland. You have a piece that is antique, as it is over 100 years old. There was a Royal Air Force base there at one time.
You have a piece of history here, and I would take it to a dealer. It is worth much more than the silver itself.

CDC
Bronze Tip Medal for All Time! 59 Tips
February 23, 2022
0

found this helpful
This silver medal is listed for $38.00:
www.ebay.com/.../282968249750

February 23, 2022
0

found this helpful
Since this is a unique medal, it would be very difficult to place a value as I feel sure it will be almost impossible to find a sold medal like this.
There may be value in the medal or more value in the game that was played or more value in the name - J. Bell. I believe you should pursue asking for information on sites that offer free information or a site like Reddit where members are very knowledgeable in many areas or can send you to a site that can answer your questions.
However, if you want accurate information you will need several more pictures (is that a chain that goes with the medal?) and more information, if possible.
You will need pictures of the complete article - front and back - maybe another picture of the silver marks that may show some areas more clearly. Some of the marks are found on most sterling silver but other marks may be more important.
Actually, a local jewelry store may be able to help you with marks and approximate value (if they're not interested in buying).
I like to ask my local pawn shop owner as they usually know a lot about marks.
If I was looking for information, I would ask my questions on Reddit first and then go from there.
Don't forget: more pictures, measurements, any background information you may have; how did you get the medal? Family? purchase? You will have to join (free) and it is not always easy to post pictures but if you really want good information, keep asking until you get it posted.
www.reddit.com/.../

March 16, 2022
0

found this helpful
I found a Handsworth & District Football League Heavy Silver & Enamel Medal Fob 1921 www.ebay.co.uk/.../163656220075
Fully hallmarked for Birmingham 1921. 44mm x 32mm, weight 18.1g. The price is £96.
Antique Solid Silver Football Medal - CHALLENGE CUP 1900-1 Runners Up B.A.F.U was sold for £10
picclick.co.uk/Antique-Solid-Silver-Football-Medal...
Answer

this Question